The Huobi token, HT, had an instantaneous liquidation cascade dump on the Huobi exchange, causing -90% movement in less than 1 hour. But what triggered this, and how could traders make the best out of this kind of event?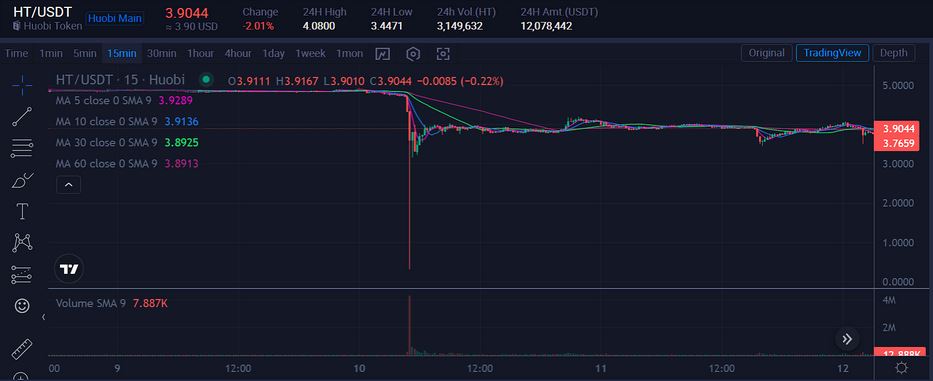 HT Token Price Cascade
Huobi Exchange, which was founded in 2013 in China, offers a digital asset ecosystem that includes spot trading, trading in derivatives, staking, crypto loans, crypto yield products, and more. Now going under the name of Huobi Global, the exchange is targeting expansion across the world but is somewhat struggling with adherence to regulation.
The HT token, after rumors of Huobi's insolvency, saw huge sales come in, which then meant that those who were leveraged long ended up being liquidated, which itself caused more selling pressure, which then pushed more people into liquidation. This reduced the price from just under $5.00 to $0.35 in only 45 minutes.
Huobi's Response
Justin Sun, the owner of Huobi Global, was quick to tweet that the exchange was safe and that market fluctuations and leveraged liquidations were to blame.
He also quickly mentioned setting up a $100 million fund to aid with liquidity.

This shows that with the industry now lacking in market makers, liquidity is thin, and volatility will come fast on those cryptos with thin order books.
HT Price Prediction
HT is predicted to stay relatively stable after most leveraged positions were cleared out in this move, and a return to over $5.00 before the end of Q3 2023 is highly likely, providing the exchange goes through with its word.
How Can Avorak AI Make Users Millions?
Avorak AI, a suite of self-learning products, will first be releasing their automated trading bot as their first product.
The bot will analyze every indicator, allocate weight to each indicator and then decide whether to execute a trade based on this, all within seconds. It will be able to manage to stop losses and take previous trade data to learn which patterns are more successful. This is the standard strategy most professional traders use, taking months to collect data on trades and learn from this, which the Avorak bots have the potential to learn in less than a week.
When this comes to market, events like HT token nose diving then recovering will be easy trades for the bot, and with HT bottoming at $0.35 and recovering to $3.50, with a 10x leverage that would have been 100x, meaning a $1000 trade would have become $100,000.
The potential for this bot is incredibly strong, and those buying AVRK will likely profit from the bots and the token itself.
Want to learn more about Avorak AI?
Website: https://avorak.ai
Whitepaper: https://avorak-labs-and-technology.gitbook.io/avorak-a.i-technical-whitepaper/
Disclaimer: The statements, views and opinions expressed in this article are solely those of the content provider and do not necessarily represent those of Crypto Reporter. Crypto Reporter is not responsible for the trustworthiness, quality, accuracy of any materials in this article. This article is provided for educational purposes only. Crypto Reporter is not responsible, directly or indirectly, for any damage or loss caused or alleged to be caused by or in connection with the use of or reliance on any content, goods or services mentioned in this article. Do your research and invest at your own risk.