---
Blockchain Economy Expo 2020 Dubai (November 14-15, 2021)
We are excited to share the pride of hosting our upcoming event – the Blockchain Economy Expo 2020 Dubai, for the first time in The World Expo history.
It is a great honor for us to be trusted to bring together the blockchain community in the city of Dubai, the high-tech capital of MENA, as part of the Expo 2020 Dubai in Dubai Exhibition Centre on November 14-15, 2021.
The WORLD EXPO is being held for 170 years and for the first time, blockchain technology will be introduced to the world at the same level as countries, international organizations and other traditional businesses.
The Blockchain Economy Expo 2020 Dubai will welcome more than 40,000 Visitors, 300 Exhibitors, 4,000 companies from 150 countries – it will be the first time that crypto community from so many nations and people will congregate under one roof. It's a once-in-a-lifetime opportunity for all of us to come together and redefine the financial and technological world of the future.
Expo 2020 Dubai was planned to start on October 2020, however because of covid-19 pandemic it was delayed till the October of 2021. *And finally, you have an opportunity to attend a blockchain event physically. Yes, you got it right! 100% physically 🙂
Official website:
https://blockchaineconomy.global/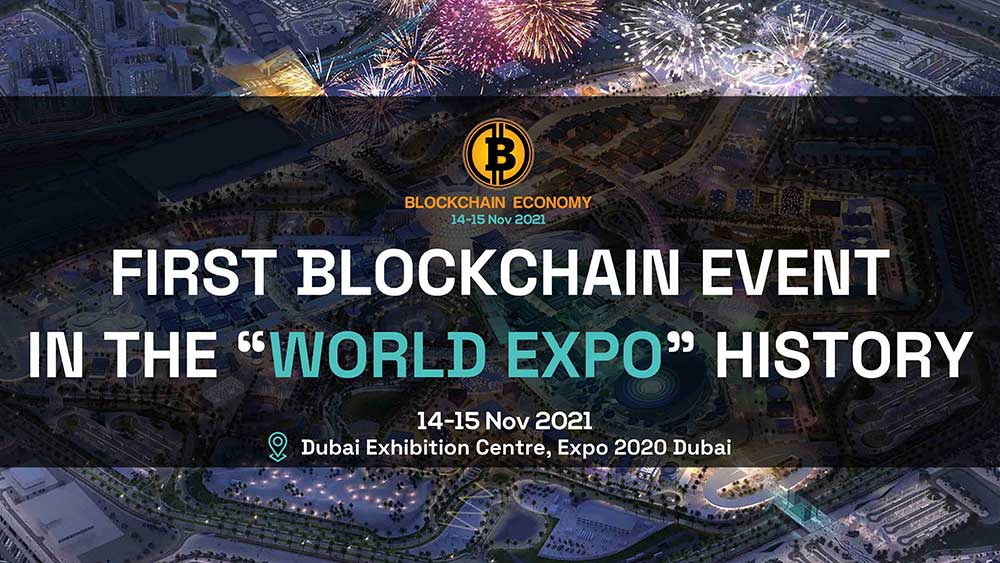 ---
Forex Expo, Cyprus (November 18-19, 2021)
The most interactive and global B2B event in the Forex industry – the legendary Forex Expo with a 20 year history is coming to Cyprus, Limassol this November 18-19.
Get a chance to participate in this fantastic opportunity of an event to further broaden your range of financial opportunities.
It is a completely unique platform for high class professionals which will allow them to explore endless opportunities of the industry.
The best trading experts, companies, money brokers and banks from all over the world are going to share their experience and to find out up-to-date information about forex markets.
Official website:
https://forexexpo.com/

---
Incrypted Verse, Dubai (November 22-23, 2021)
The Incrypted team is charged up once again and wants to give its upcoming event a new height while showcasing the world's foremost innovators in its platform at Grand Hyatt Dubai, one of the luxurious award-winning hotels in the heart of the city. This is going to be a once-in-a-lifetime opportunity to meet the UAE govt. officials & policy makers, investors, startups, pioneers, and highly influential leaders – with all these under one roof with 300+ in-person and 1k+ virtual attendees.
Official website:
https://incrypted.events/incrypted-dubai/

---
WFIS 2021: Indonesia (December 1-2, 2021)
While Indonesia has been one of the fastest-growing digital economies in Asia, financial services, in particular, are now experiencing the benefits of these technologies enhancing the experience of financial institutions and their customers. To accelerate this innovation drive in the BFSI sector, the Financial Services Authority (OJK) is playing a tremendous role to accommodate digital transformation with favorable regulations. Indonesia, a country with 270 million people, has over 50% of the population still unbanked due to geographical and infrastructural barriers.
As per the World Bank, digitizing financial services as well as payments in the private sector alone could increase bank account ownership by 29%. In addition, a growing number of Digital Banks, Fintech Firms, e-Money Providers, Digital Financial Services, and Neo Banks, will further increase banking equity and encourage innovation in the financial sector.
To address the opportunities presented by digital transformation in the BFSI sector and following the success of the past conferences dedicated to Indonesia, Tradepass is proud to host the 8th Edition World Financial Innovation Series (WFIS 2021): INDONESIA, scheduled to take place virtually on 1st – 2nd December 2021. The conference will consist of two knowledge-packed days filled with in[1]depth fireside chats, roundtable discussions, panels, keynotes, and much more. Bringing together over 1000 technology and business heads from 100+ leading Banks, Insurance & Micro-Finance institutions across Indonesia to virtually connect, collaborate and explore a wide range of new-age-future tech solutions for the growing BFSI sector
Official website:
https://indonesia.worldfis.com/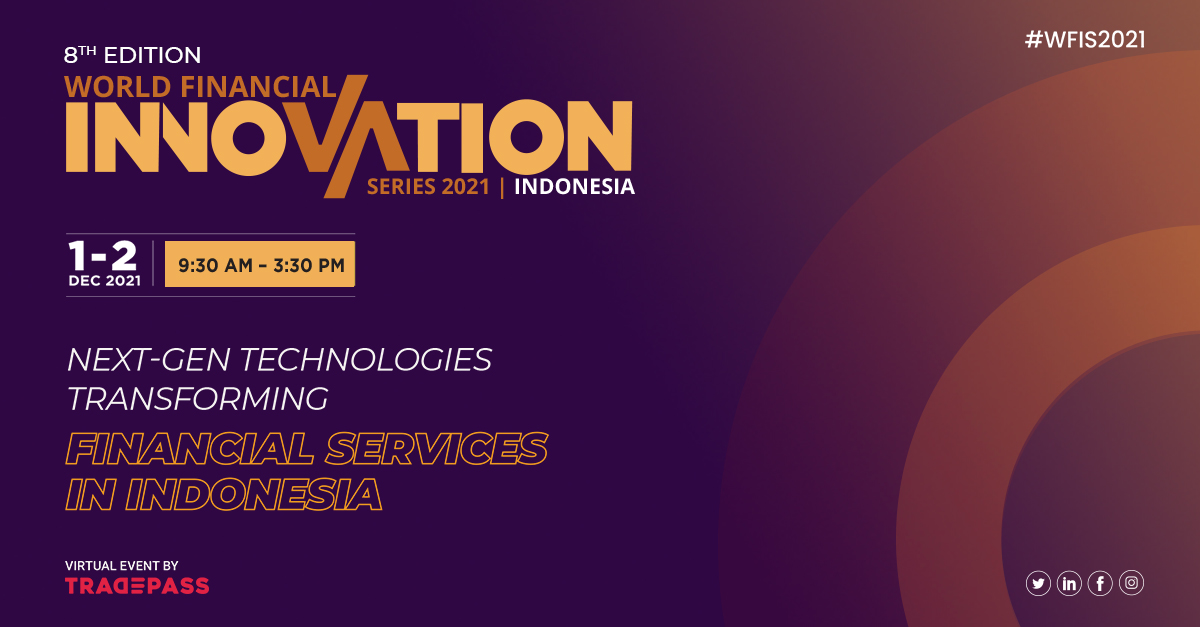 ---
Blockchain Finance Forum: Europe – 2nd edition (December 8-9, 2021)
Blockchain, over the years, has had significant impacts on how financial institutions function which has inspired a good number of such institutions to adopt sustainable operational practices in finance. Europe has been the region that has adopted blockchain in its nascent phase. It can be seen that organisations that are not adopting the shift over to these latest technologies are losing customers and eventually, market share by the day.
Blockchain deployments have projected savings of over $27bn by the end of 2030, which reduces the cost eventually by 11%. Financial institutions acknowledge that distributed ledger technology (or DLT as it is commonly known) will save billions of dollars for banks and major financial institutions over the next decade.
According to the latest reports from KPMG, there is a potential of up to 95% reduction in errors and 40% increase in efficiency. It is also determined that there is a significant improvement in customer experience because of reduced touchpoints and efficient usage of digital channels. Though the valuation of cryptocurrencies is unstable, the potential of blockchain as a technology, specifically for the BFSI sector, is immense to undermine the inefficiencies in the sector. Apart from addressing the inefficiencies, blockchain also reduced the process time in various aspects of operation and gained significance through complete transparency in the processes.
The second edition of the Blockchain Finance Forum: Europe 2021 will count on a series of top-level presentations, interactive panel discussions, and solution-based case studies from experts who have remodelled the financial sector in Europe. It is indeed one of the most meticulously curated platforms to host the public and private stakeholders for blockchain in banking and financial services and also discuss the global best practices to seize the opportunities to generate new revenue, deliver process efficiency, improve end-user experience and reduce risks in business operations that come with it.
Get 10% discount with code: CryptoReporter10
Official website:
https://www.blockchainfinanceforum.com/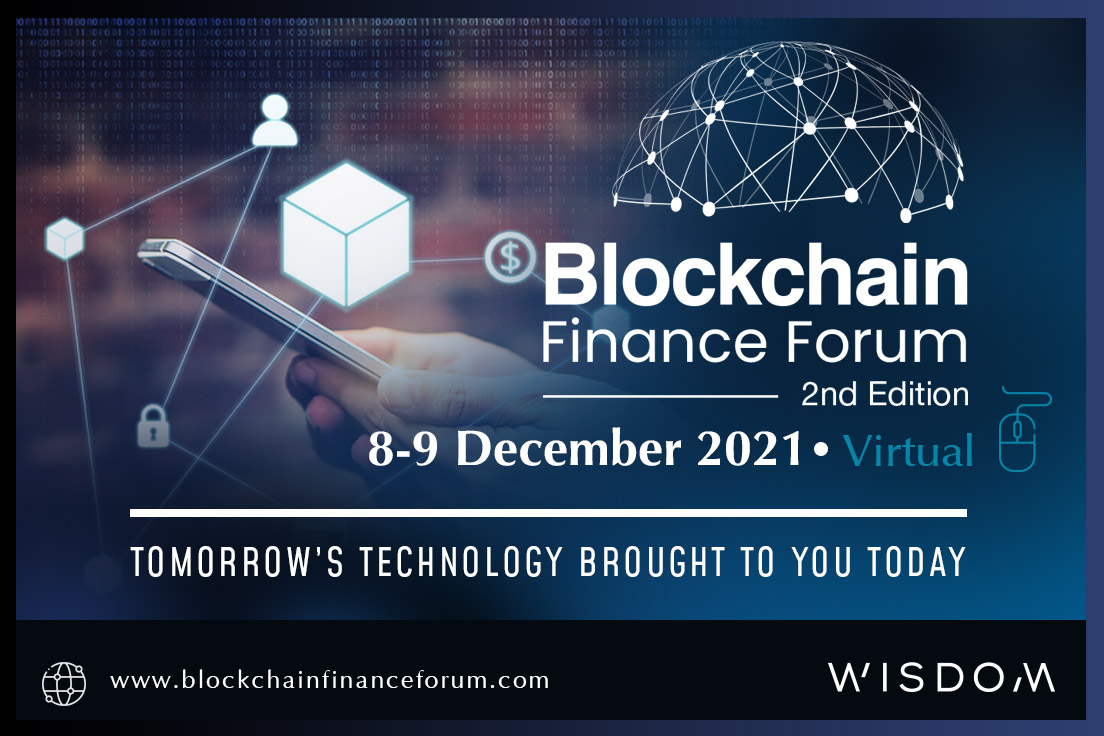 ---
TOKEN2049, Singapore (May 4-5, 2022)
TOKEN2049 is bringing together leading executives, founders and thought leaders to spotlight the latest evolution of cryptocurrency and blockchain technology. Experts from all over the globe converge to share their views on the market while attendees learn from the industry's top pioneers and innovators.​
Meet the early believers, builders and opinion leaders at TOKEN2049, held in two global market epicenters: Singapore and London.
TOKEN2049 is uniting entrepreneurs, investors, developers, industry enthusiasts and global media – and creates unparalleled networking potential.
This is the community that will define what's next in the space.
Official website:
https://www.asia.token2049.com

---