---
China Metaverse Week, Shanghai (May 20-21, 2022)
Metaverse is a new generation technology platform with great commercial and social value. Based on 5G/6G, artificial intelligence, AR/VR, cloud computing, IoT and other new generation information infrastructures, metaverse realizes virtualization and digitization of the real world through large-scale transformation of economic systems, user experience and content of the physical world, and is supported by resource sharing, asset standards and consensus protocols, etc., finally shaped by the continuous integration and evolution of various tools and platforms. According to forecasts by authoritative analysts, the metaverse market will reach $1 trillion in 2025, with a compound annual growth rate of 13.1%.
Under such background, The China Metaverse Week will be held in Shanghai on May 20-21, aiming to build a business exchange platform linking China and the global metaverse industry, together for a opening-metaverse future.
Official website:
http://www.metaup-conf.com/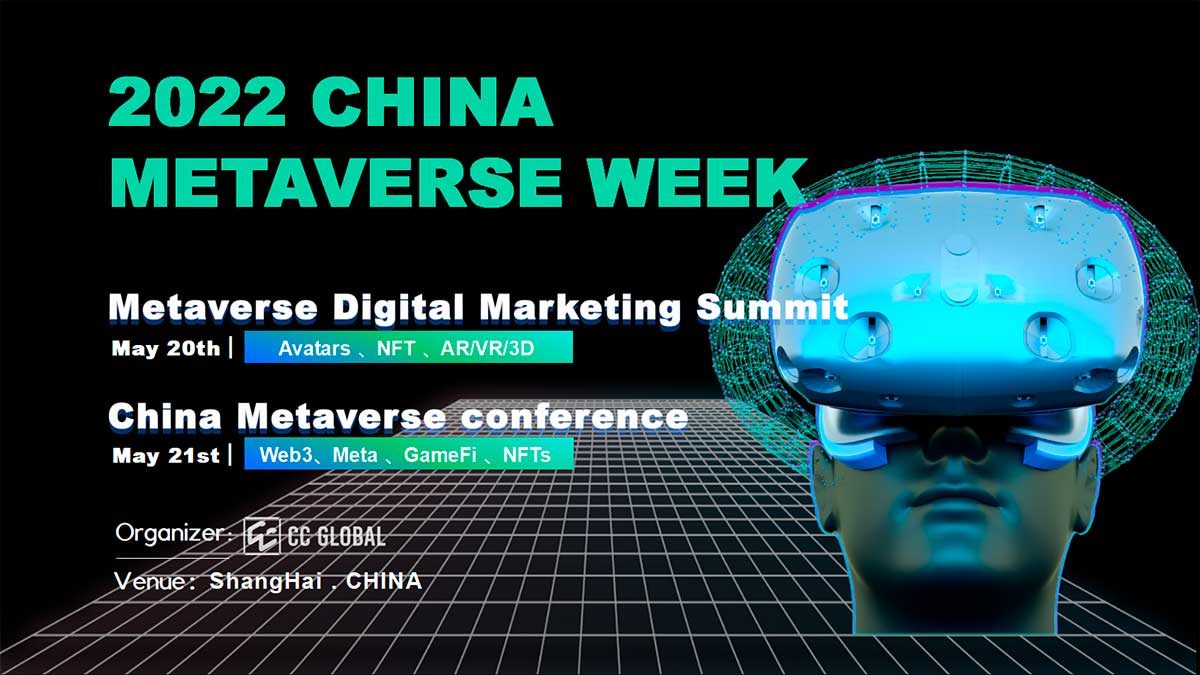 ---
RegTech Africa Conference (May 25-26, 2022)
The RegTech Africa Conference is the premier gathering of regulators, innovation ecosystem builders, investors, corporates, and government representatives to engage, collaborate and share knowledge around new technologies and practices that support better regulations.
Virtual Event | 2 Days | 10 Tracks | 50 Speakers | 1,000+ Participants
Register for FREE ticket: https://regtech.africa/register/
Official website:
https://regtech.africa/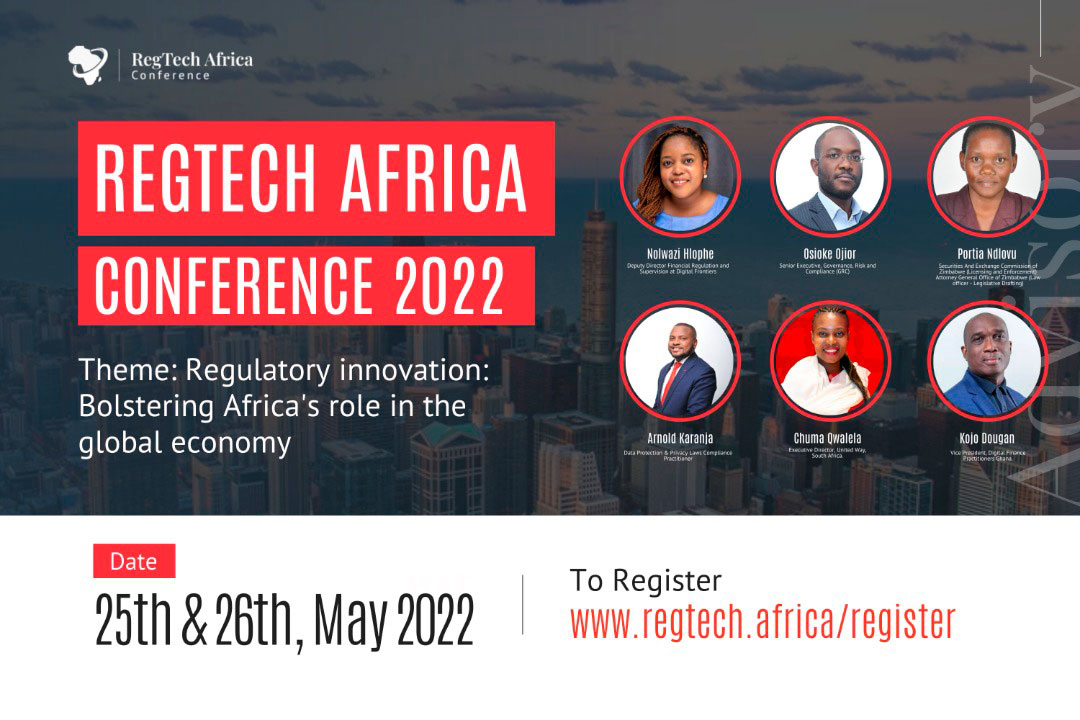 ---
Enterprise Blockchain Forum (May 31 – June 1, 2022)
The brightest minds and biggest innovators in Blockchain will convene online to explore business strategies, The status of Enterprise Blockchain, Interoperability challenges and opportunities, Regulation and Governance, Toekenization, Digital Assets and Web3, Security and privacy concerns during the 2 Day virtual conference.
As blockchain technology matures, we are seeing less blockchain experiments and more development of robust enterprise-ready solutions that are transforming many digital businesses; for example, cross-border blockchain-based payments which are faster, cheaper and more secure; and in supply chain management, where blockchain technology improves tracking, greatly reduces transaction settlement time and automates payments using smart contracts.
The conference focuses on blockchain technology's opportunities and use cases globally.
WHAT TO EXPECT
Two jam-packed days of featured sessions, keynotes, panels and fireside chats exploring the latest trends and developments in blockchain technology and cryptocurrencies.
The conference brings together top thought-leaders and pioneers in the global industry, and creates an ecosystem for all to learn, network, and collaborate with each other.
NETWORKING
Network with some of the industry's most progressive professionals across industries like finance, insurance, logistics, utilities, legal, media, and more.
EXHIBITIONS
Experience some of the most innovative blockchain technology and crypto projects and their use cases first-hand.
GLOBAL EXPERTS
Hear from exclusive visionary speakers with enterprise implementation case studies and solutions presented exclusively at the conference.
Official website:
https://www.blockverse.co/
---
Blockchain Fest, Singapore (June 2-3, 2022)
Blockchain Fest is one of the most interactive hybrid events in South East Asia on Blockchain, Exchanges, Cryptocurrencies, Decentralized Finance (DeFi), NFTs, Mining, Gaming and Gambling, Online Payments and Investment. Unique space for personal and business development where every attendee will get an opportunity to join the fest filled with exhibition booths, networking lounges, conference and workshop spaces
Produced and brought to you by FINEXPO, organizer of financial conferences, forums, summits, exhibitions, shows, festivals, fairs and awards since 2002, with a community of over 100,000 crypto & forex participants
Official website:
https://blockchain-fest.asia/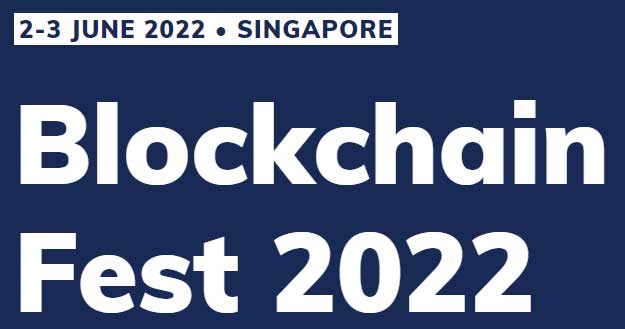 ---
World Blockchain Conference, Singapore (July 4-5, 2022)
The global Blockchain market is expected to reach US$ 39.7 billion by 2025 growing at a CAGR of 67.3 percent. With increasing popularity from supply chain to retail, It will be a high emerging opportunity for newcomers to learn the history with basics and get familiar to learn more about its current and future applications. Money, music, health records, car titles, certificates, company ownership, deeds, & digital identities are just a few options.
Research in this field provides new insights into applying blockchain in different verticals. WORLD CONFERENCE AND AWARDS ON BLOCKCHAIN TECHNOLOGY organized by FBR Events and scheduled to be held in Marina Bay Sands, Singapore from July 04-05, 2022 is a premier meeting attracting international participants industry and showcases a wide variety of Blockchain offerings. This two-day event will include high-level plenary talks, keynote lectures, interactive sessions, panel discussions, oral and poster presentations, technical workshops, and other social gatherings covering the latest research and innovations in Blockchain.
All attendees will be able to network with each other and exchange their experiences while exploring the possibilities of Blockchain revolutionizing different industries while examining regulatory requirements that affect Blockchain and several domains. Updates focusing on the rapidly evolving era of Blockchain Offerings will be the highlight of this forum in addition to case studies from different industrial sectors.
This global forum is anticipated to attract numerous participants across the world including researchers and industry professionals to foster strong networking opportunities aimed at enhancing career and business goals. We hope this conference will offer exciting research and business opportunities for all participants.
We look forward to welcoming you to this exciting event in Singapore.
Official website:
https://www.blockchaininsingapore.com/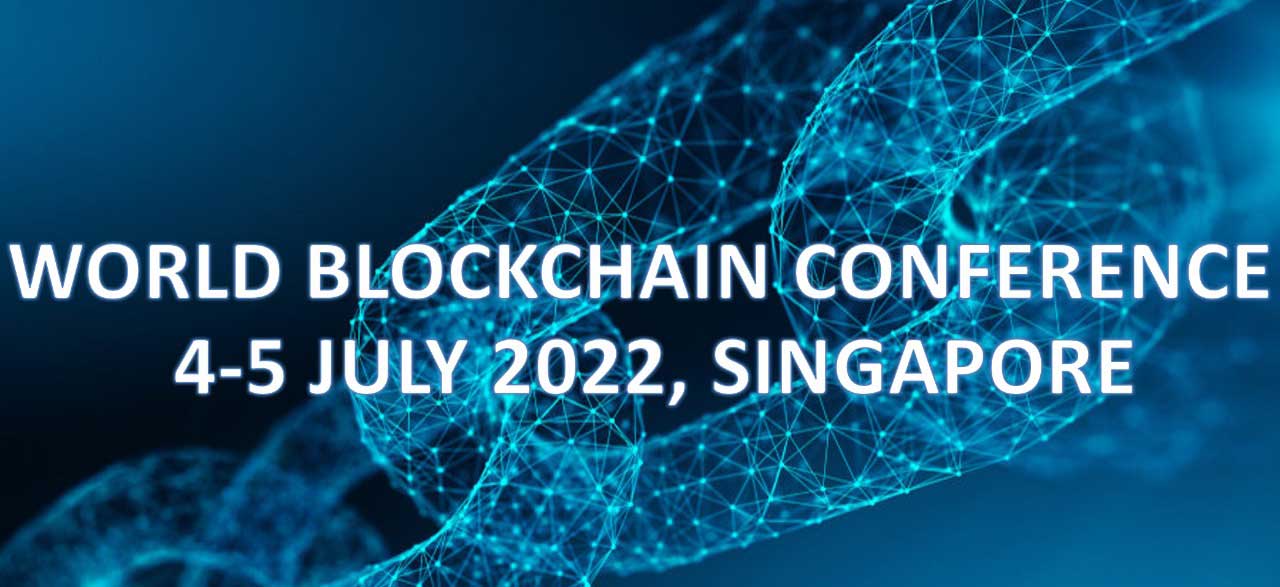 ---
Blockchain Economy Summit, Istanbul (July 27-28, 2022)
After 2 years of Covid-19 pandemic, Blockchain Economy Summit is again back in Istanbul on July 27-28, 2022 at one of Istanbul's most prominent and renowned venues: Hilton Istanbul Bomonti Hotel.
Summit's 2-nd Turkey edition was the last major blockchain event held in Turkey before pandemic, and now Summit's 4-th edition will be the first one to gather the crypto community on the bridge between Europe and Asia.
Official website:
https://blockchaineconomy.istanbul/en
---
NFT Expoverse, Los Angeles (July 29-31, 2022)
NFT Expoverse is an educational 3-day event showcasing the inevitable mass-scale adoption of blockchain technology and how it will affect our world.
Whether you're a business or an individual, you'll learn about the next major advancement in our society, and how you can apply it to your everyday life – today.
Entrepreneurs, artists, collectors, gamers, & digital enthusiasts won't want to miss this.
No matter your level of expertise, NFT Expoverse has something for you:
Exclusive NFT drops – By game developers, artists, auction houses, fashion brands, musicians, sports teams, and digital metaverses bringing all of them together.
Speakers & Educators – Take advantage of hours of invaluable content, knowledge, seminars, and more with Q&A.
Networking – Make new acquaintances and discuss opportunities face to face.
Play to earn – New types of game economies owned and controlled by players and communities.
In Game Items/Loot – Through Blockchain games, guarantee the true ownership of in-game items.
DeFi – Lend and borrow funds, trade and speculate on price movements and earn interest on their assets.
Special Appearances – Stay tuned as we secure special guests and industry leaders
Date – July 29-31, 2022 // 11:00 am to 6:00 pm
Venue – Los Angeles Convention Center
Official website: https://nftexpoverse.com/
Use this link to get 10% discount: https://www.eventbrite.com/e/196819952777/?discount=CREPORTER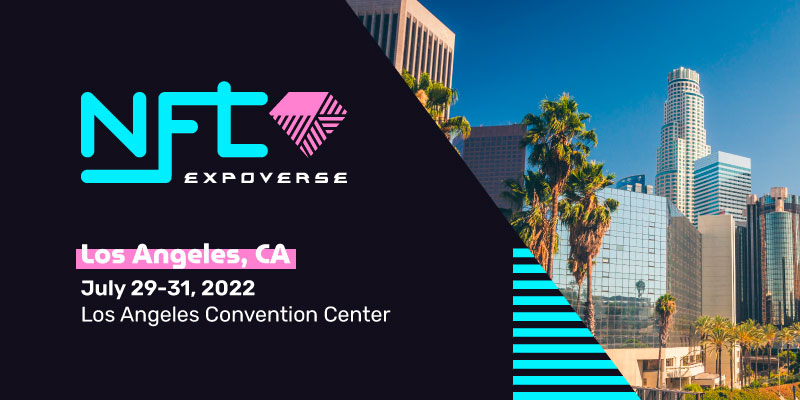 ---
Future Tech Event, Oman (September 12-13, 2022)
After its successful launch, as Oman's First Virtual Expo and Summit in 2020, Future Tech Expo & Summit is back, taking place from 12 – 13 September 2022, as a Hybrid Event.
Future Tech is Sultanate of Oman's foremost B2B and B2G bespoke Technology Event. It is a definitive meeting place facilitating multi-stakeholder dialogue with power packed networking opportunities among C-Level executives, leading industry experts, decision makers, policy makers and government officials from across the value chain to foster collaboration, discuss current challenges, business opportunities, develop market strategies, share knowledge and identify solutions shaping the future of technology.
Official website:
https://futuretechevent.com/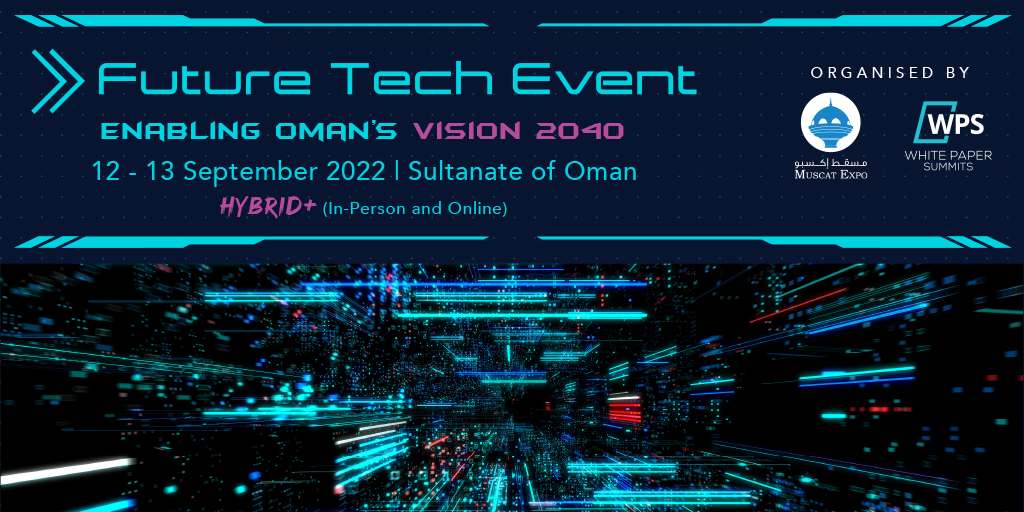 ---
NFT Show Europe, Spain (September 17-18, 2022)
Our mission is to bring together the NFT community across the globe in the biggest crypto-art and blockchain event in Europe. Artists,platforms, collectors, curators, crypto experts and OGs will share their views on the present and future of the world's fastest growing industry.
By the community for the community. Art exhibition, talks, debates, meetups and side events in a second-to-none venue, in the World's Design Capital 2022: Valencia.
Official website:
https://www.nftshoweurope.com/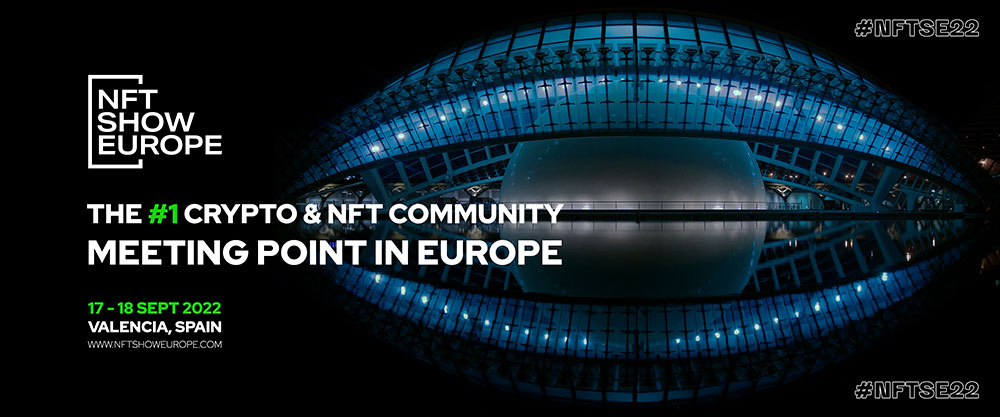 ---
Blockchain Expo North America, Santa Clara (October 5-6, 2022)
The Blockchain Expo North America is arriving on the 5 – 6 October 2022 with 250+ speakers, 5,000 attendees, our AI-powered matchmaking tool, live and on-demand sessions, and access to 7 co-located shows, this is not a conference to be missed!
Official website:
https://blockchain-expo.com/northamerica/

---