---
Future Banks Summit, Riyadh, KSA (September 27-28, 2022)
Following the success of the first two editions of Future Banks Summit (FBS), Verve Management is delighted to host the 3rd Edition of Future Banks Summit on 27-28 September 2022 at Riyadh Airport Marriott Hotel, KSA.
The banking industry is changing dramatically on a global scale, providing institutions the chance to evaluate their current business models and make a significant step forward. Regional banks have the chance to grab the moment and quicken the transition to digital by embracing the next-generation technologies, transforming customer service into customer interaction, utilizing a mobile workforce, and "right-sizing" the branch network.
The 3rd edition of Future Banks Summit KSA will feature cutting-edge technologies, real-world case studies, and interactive panel discussions in an effort to help the banking industry in KSA choose the best course of action for breaking through obstacles and becoming future-ready.
Official website:
http://ksa.futurebanksummit.com/

---
TOKEN2049, Singapore (September 28-29, 2022)
TOKEN2049 draws the most influential figures, projects and companies, spawning dozens of meetups, workshops, and networking opportunities all around the two-day main event.
In Singapore, TOKEN2049 is the distinguished flagship event of Asia Crypto Week, which features a week of various independently organised side events around TOKEN2049, running from 26 September to 2 October 2022. Expect a wide range of meetups, workshops, networking drinks, parties and Formula 1 Racing.
Singapore will be transformed into a vibrant crypto hub.
Official website:
https://www.asia.token2049.com/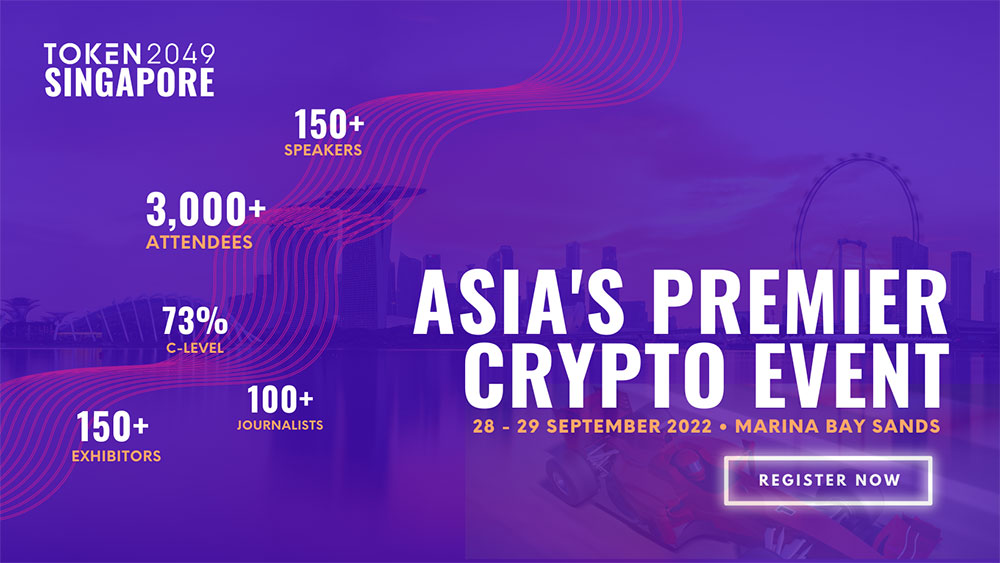 ---
Blockchain Economy Summit, Dubai (October 4-5, 2022)
Blockchain Economy Summit is the world's largest blockchain conference network bringing together the key players of crypto industry and experts to redefine the future of finance. The 5th edition of the Blockchain Economy Summit will take place during two days in Dubai on October 4-5, 2022 with the world's top crypto companies and blockchain entrepreneurs.
Today, UAE, specifically Dubai, is gearing up to become a global crypto hub. Thus, Blockchain Economy Dubai Summit will be the Main gathering in the region on behalf of the world of blockchain and cryptocurrency, with a wide range of topics focused on the financial technologies of the future, extensive networking opportunities and participation from more than 60 countries.
Official website:
https://beconomydubai.com/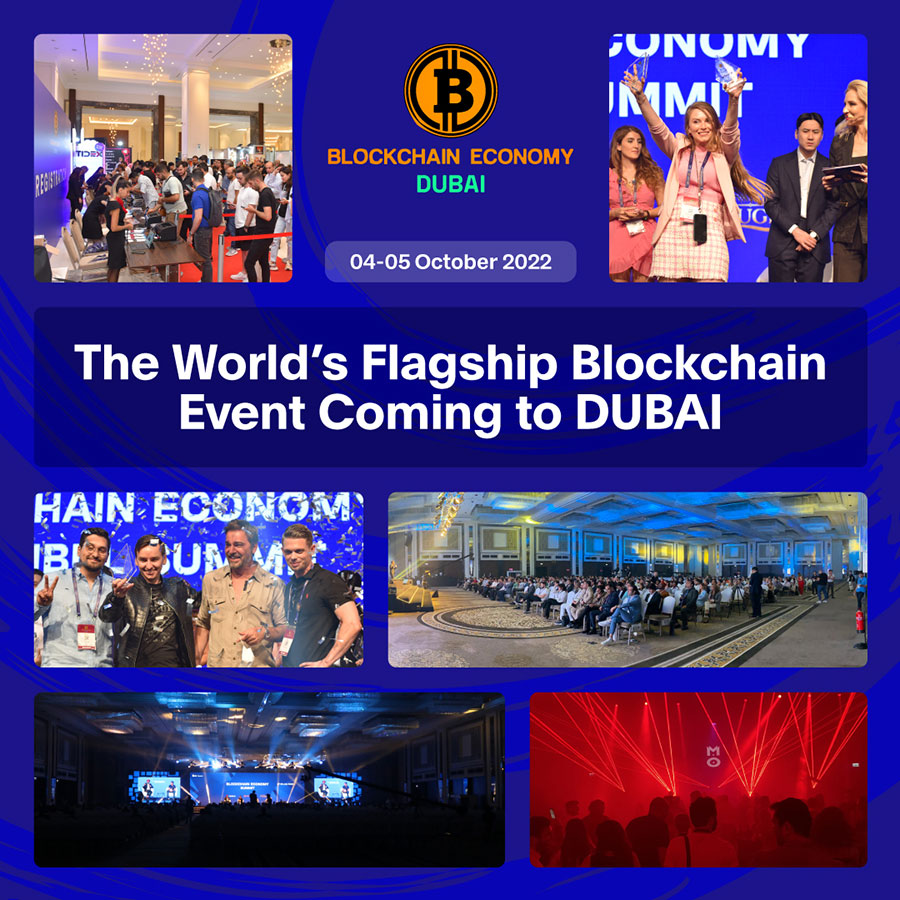 ---
Blockchain Expo North America, Santa Clara (October 5-6, 2022)
The Blockchain Expo North America is arriving on the 5 – 6 October 2022 with 250+ speakers, 5,000 attendees, our AI-powered matchmaking tool, live and on-demand sessions, and access to 7 co-located shows, this is not a conference to be missed!
Official website:
https://blockchain-expo.com/northamerica/

---
BlockBlockchain Dubai Summit (October 14-15, 2022)
This summit is a leading gathering of senior decision-makers discussing the impact of blockchain and associated technologies on financial services. The show brings together a carefully curated agenda of the industry's leading voices to discuss and accelerate the development of blockchain technologies in banking and finance institutions. Learn, develop and connect at the Blockchain Summit 2022.
Official website:
https://vertexgroup.ae/event/blockchaindubai2022/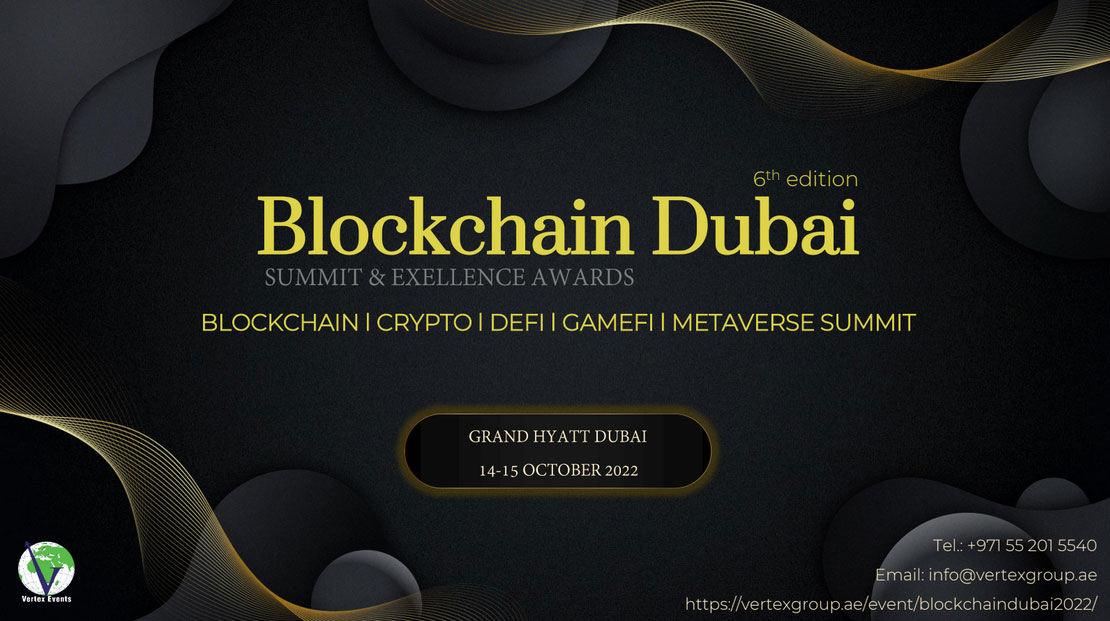 ---
Crypto Assets Conference, Frankfurt (October 18-19, 2022)
The world of digital assets is changing rapidly. Cryptocurrencies like Bitcoin and Ethereum mature, DeFi protocols and NFTs grow at a rapid pace, Metaverse is the tech's newest trend, the Digital Euro is being discussed frequently and blockchain technology has more use cases than ever. Digital assets are here to stay, and their future is brighter than ever before.
Join over 300 guests each day on-site and 5,000+ online attendees on October 18 & 19 at the Crypto Asset Conference 2022 in Frankfurt to get up to date on the latest trends in the industry!
Coinfest Asia is officially supported by Indonesia & Singapore Blockchain Association, Indonesia Chamber of Commerce, CoinDesk and CoinGecko
Official website:
https://www.crypto-assets-conference.de/

---
TOKEN2049, London (November 9-10, 2022)
TOKEN2049 draws the most influential figures, projects and companies, spawning dozens of meetups, workshops, hackathons, and networking opportunities all around the two-day main event.
​Meet us in London, the financial capital of the world, for a world-class experience at an unparalleled venue. Located in the heart of Greenwich Peninsula, with breathtaking views of Canary Wharf, Magazine London is set to be transformed into a vibrant landscape for industry veterans and crypto enthusiasts from all over the world.
Official website:
https://www.europe.token2049.com/
---
AIM Summit, Dubai (November 21-22, 2022)
Launched in 2015, AIM Summit is The Leading Alternative Investment Management Summit gathering and connecting investors and managers in the world of alternatives (Hedge Funds, Private Equity, Venture Capital, Private Debt, Digital Assets, FinTech) with global industry leaders.
AIM Summit is a platform for discussions on investment developments, global market conditions, latest trends and acts as a networking forum for future business opportunities. The only conference of its nature and magnitude organized and orchestrated by the industry in an intimate setup to induce real discussions on the best practices and know-how.
For sponsorship and speaking opportunities, contact info@aimsummit.com
Register here: https://www.aimsummit.com/page/2170313/apply-to-attend
Official website:
https://www.aimsummit.com/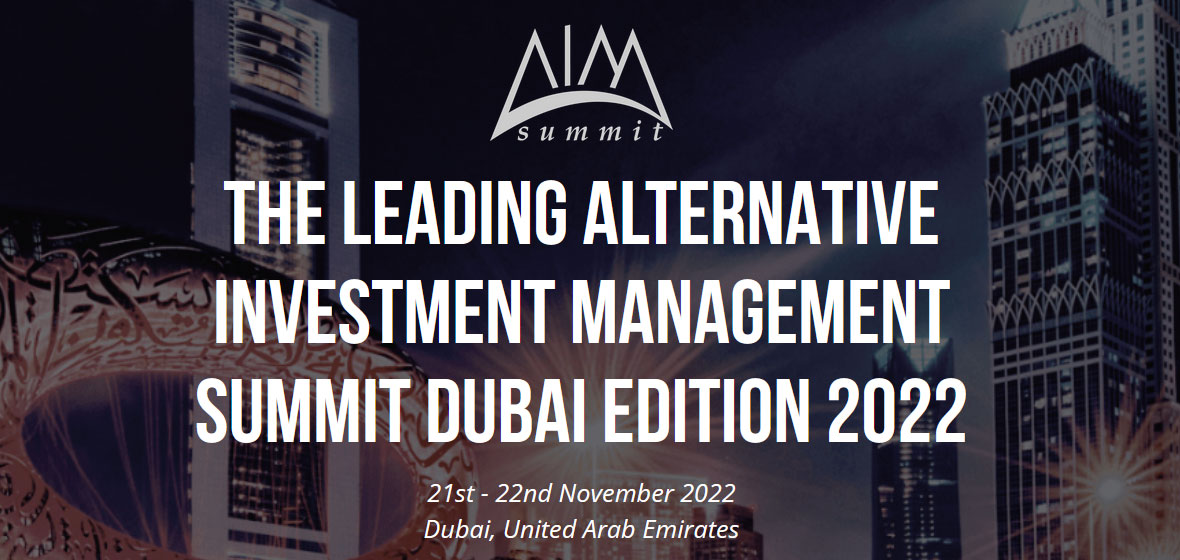 ---
Future Tech Meet, Pakistan (November 23 – 24, 2022)
Innovation and technology is paving the way for digital Pakistan as per the 2030 vision. The government is striving to improve its citizens' quality of life and economic well-being by ensuring availability of accessible, affordable, reliable, universal and high-quality ICT services. As a country, Pakistan is developing steadily by adopting the emerging digital technologies and innovative applications to cross-sector socio-economic development, transformation of economic activities, governance models, social interaction and achievement of sustainable development goals.
The Pakistan Future Tech Meet will bring together the high-level technology experts, consultants, government officials, international and local stakeholders, C-level executives, leading industry experts, manufacturers and suppliers, retailers, technology pioneers, decision makers, investors, developers, policy makers, startups and many more relevant personnel to discuss the ICT development, challenges and achieved new technologies. The Meet will also showcase a delegation of 200+ entrepreneurs, technology experts and digital leaders visiting from across Pakistan.
Official website:
https://www.pakistanfuturetech.com/

---
TRUSTECH, Paris (November 29 – December 1, 2022)
TRUSTECH is the annual meeting place of the card and trust technology industries. In a world that is constantly evolving and in the wake of recent developments, Paris, as a centrally located and easily accessible venue will help attract more visitors from France and abroad.
TRUSTECH remains a popular mix of tradeshow and conference with over 200 international exhibitors, and around 150 international speakers, covering the latest technologies and trends in the fields of Payments & Identification.
Join us in Paris for 3 days of business, networking and quality content from November 29 to December 1, 2022 at Paris Porte de Versailles exhibition center!
Official website:
https://www.trustech-event.fr/

---
Global Metaverse Carnival (December 6-8, 2022)
After the success of the last Asia Metaverse Conference 2022, we received a lot of feedback from the global audience about the need for further learning and socializing with the global Metaverse companies. So the Metaverse Club is organizing the Global Metaverse Carnival, a big festival for global Metaverse companies. It will be happening from 6th-8th December 2022, with about 100 speakers and 2000 participants worldwide.
The Carnival will mainly bring together Metaverse brands, technology companies, investment institutions, blockchain companies, Metaverse tools, and service providers, as well as journalists from Asia, North and South America, Europe, Oceania, and Africa, to discuss the significant global events happening in the Metaverse in the second half of 2022! (eg.local governments' policies, regulations, technologies, solutions, local market Metaverse corporate resources, successful cases, future Metaverse market trends, etc.)
In addition, the Carnival Will also provide branding opportunities for the company that wants to showcase its business innovation to the Metaverse market.
Official website:
https://metaverse-club.net/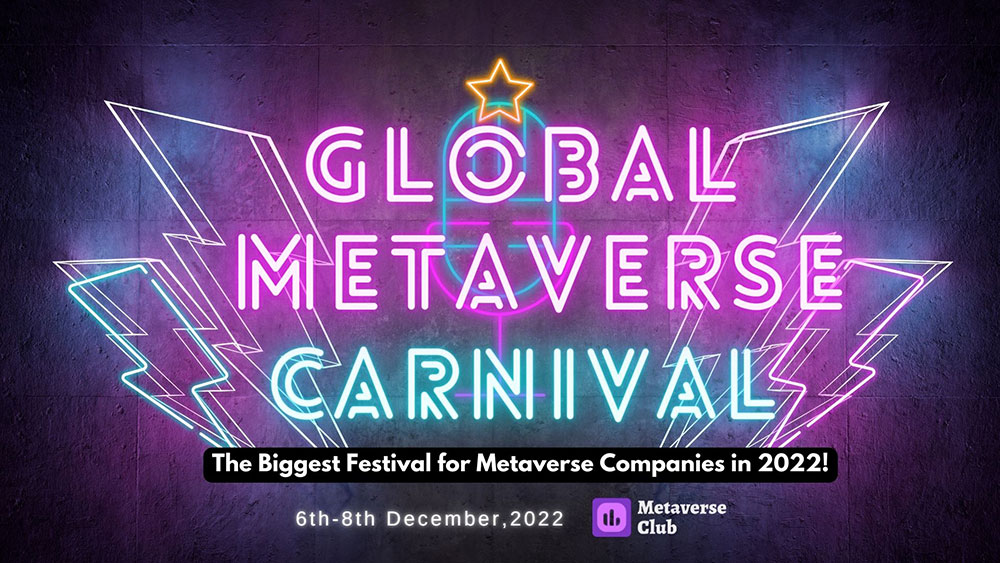 ---