Food Fighters Universe – the world's first NFT restaurant group – will open a second location of Bored & Hungry this fall in Seoul, South Korea.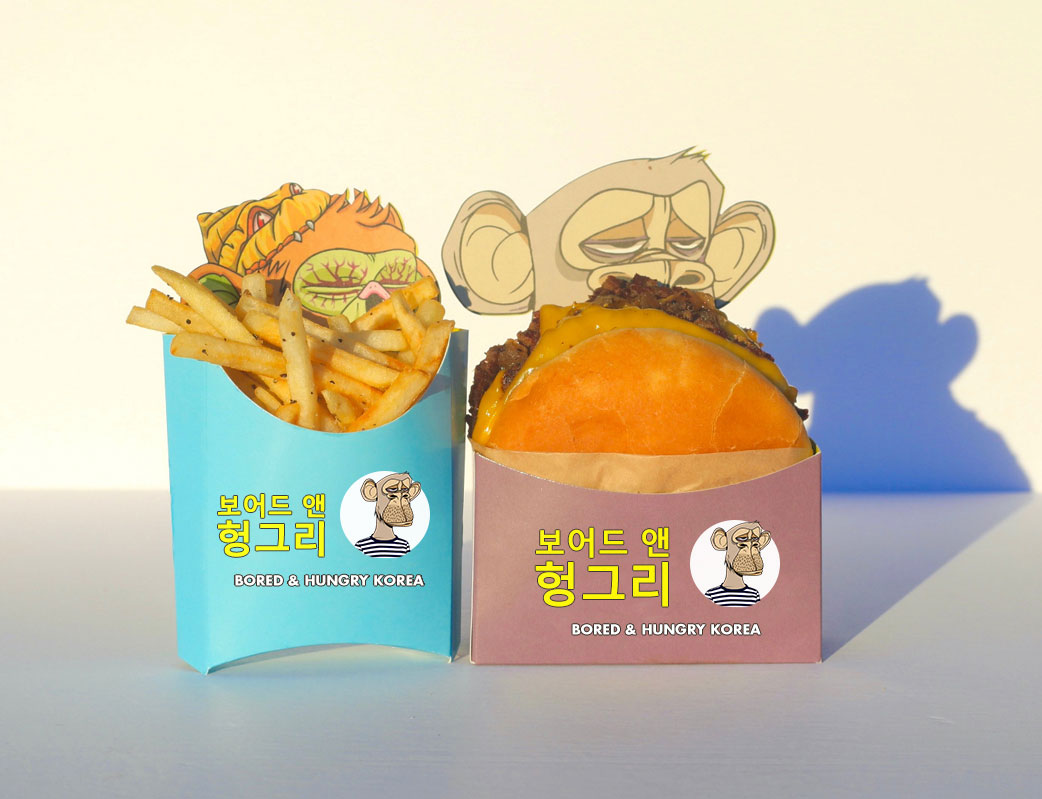 Food Fighters Universe (FFU) has signed an agreement with Korea-based Hungry DAO to open FFU's first international location. The announcement comes less than three months after co-founders Andy Nguyen, Kevin Seo and Phillip Huynh opened the first Bored & Hungry in Long Beach, Calif., sparking worldwide interest in the first Bored Ape-themed restaurant brand.
Bored & Hungry Korea will bring the restaurant's signature branding and packaging featuring Bored Ape Yacht Club NFT #6184, with an updated store design in Seoul's Gangnam District. It will offer a familiar menu to its US location, including "Bored" beef smashburgers powered by Bun B's Trill Burgers and "Mutant" vegan smashburgers powered by Beleaf Burgers. Like Bored & Hungry in Long Beach, customers will be able to pay in cryptocurrency using cross-chain technology developed by Devour exclusively for FFU.
FFU NFT holders will receive one free meal per month at the restaurant. Other plans for the FFU community in Korea include members-only events, airdrops and additional surprises.
"As a Korean-American, I am extremely grateful and excited that the beginning of our global expansion is going to start where my parents were born," said Seo, a Los Angeles native whose parents immigrated to the United States from Korea in the 1980s. "Finally, my mom knows what I do for a living."
Bored & Hungry in Long Beach initially was designed to be a pop-up for 90 days. It became so popular – attracting more than 1,500 customers on its grand opening day – that Seo, Nguyen and Huynh decided to make it a full-time restaurant. Now, the first licensed Bored & Hungry location will open in Gangnam, the capital of K-Pop and K-Wave, which several international brands have selected to become the epicenter of their expansion into the Asian market.
"We are very happy to open the first Bored & Hungry in Korea," said Jay Ha, co-founder of Hungry DAO with Jamie Choi, James Lim and Rocky Kim and a partner in IP3, an ecosystem of creators, strategic partners and investors in Web3. "Our ambition is to expand this brand all over South Korea. We believe this will help Koreans to know more about NFTs and their wide range of utilities and membership access functions."
About Food Fighters Universe
Food Fighters Universe (FFU) is a collection of 10,000 unique NFT tokens on the ETH (Ethereum) blockchain, now minting at foodfightersuniverse.com/mint. FFU offers extensive utility to its NFT holders, including a lifetime pass to free food, special experiences and access to the annual Food Fighters Festival. Each NFT purchase will help to develop the world's first NFT restaurant group, and one percent of FFU revenue will be donated to Action Against Hunger and Abound Food Care. Founded by Andy Nguyen, Kevin Seo and Phillip Huynh, FFU has a diverse group of partners including rappers Snoop Dogg and Bun B, Champ Medici, web3 developers frensHouse and Bad Decisions Studio, NFT consultant Josh Ong and former NBA All-Star Baron Davis. To learn more, visit https://foodfightersuniverse.com or join the Discord channel: https://discord.gg/foodfighters.