TraiCon Events Private Limited is pleased to announce a collaborative partnership with eToro to be the Official Host for the "World Blockchain Congress – Bahrain 2018". An initiative by TraiCon to further enhance the implementation of Blockchain technologies in Bahrain which is working in line to with countries vision of adopting Digital Currencies like Bitcoin amid a wider impetus toward a 'Country Level' adoption of Blockchain Technologies.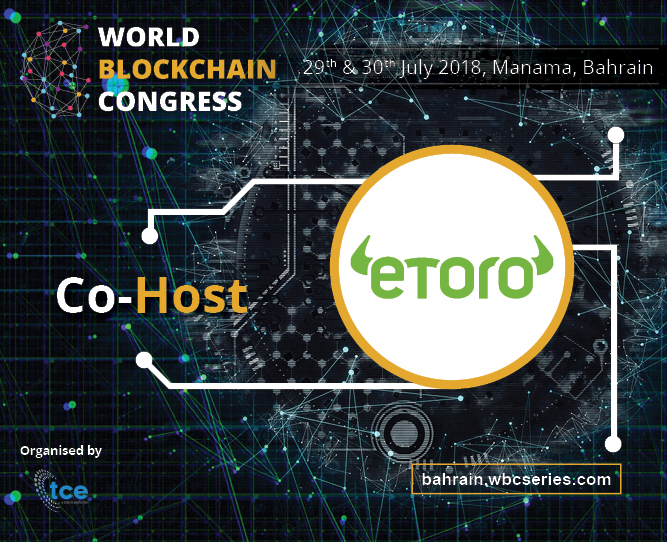 About eToro
Since its launch in 2007, eToro has been at the forefront of online trading and has solidified its status as the world's leading social trading and investment network. Over the years, eToro has gone to great lengths to constantly innovate, create tools, and introduce features that will make investment technology (Investec) available to anyone. Years later, eToro is the trading platform of choice for millions of users from 140 countries worldwide.
eToro is the world's leading social trading platform, offering a wide array of tools to invest in the capital markets. Create a portfolio with cryptocurrencies, stocks, commodities, ETFs and more.
Originally, eToro was conceived as a platform that would make online trading available to anyone, anywhere, as part of the growing fintech revolution. The founders set out to disrupt traditional trading, using an intuitive platform, which offers an authentic online trading experience. The platform grew quickly in popularity and became the go-to choice for many traders.
At first, each of eToro's platforms (Open Book and WebTrader) had a separate app. With the new eToro, a single app was created, making all of the platform's features available using an intuitive interface. eToro's new mobile app, available for both Android and iOS devices, is the perfect way to stay connected on the go and make sure you never miss an investment opportunity. Using the app, you can manage your portfolio, follow markets, copy traders, and perform any action available on the platform from your smart device.
To further receive more details about momentum: https://www.etoro.com
About TraiCon Events
TraiCon Events Pvt ltd is a 6 years successful ongoing industry in the event market completing global events from different industry sectors. They are mainly specialised in connecting the right delegates with potential companies in current focusing markets. TraiCon being a sales driven platform, this time prepared to bring the Top Investors, Advisors, Founders, Thought Leaders, and Stake Holders of the Industry to the exclusive and captivating environment to do business in the 1st Edition World Blockchain Congress Bahrain 2018 which is going to take place in Hotel Sofitel at Manama – Bahrain on the 29th and 30th July 2018.
Registration for the World Blockchain Congress Bahrain 2018 is now open. Companies interested in sponsorship, speaking opportunities, exhibiting or advertising packages are requested to contact at prasanna@traiconevents.com | +91-7708 523918
For more details: http://bahrain.wbcseries.com/