Icon of skull or skeleton is widely adopted in art, commercial and even the NFTs, non-fungible tokens, a hit of new art form in digital world stored on a blockchain. The culture of skull or skeleton icon can be traced back to Ancient Egypt, where it is deemed as death and reborn.
It became a widely-sought fashion icon when Scottish famous fashion designer Alexander McQueen made skull his iconic work. In fact, for McQueen, the skull also landed him where he was as a top fashion designer.
The affection for skeleton soon spread in fashion industry, with many famous designers coming up with fashion lines or artworks of skull. A young fashion brand Mastermind JAPAN even uses skull as their brand logo. Canadian model, actor and producer Rick Genest take it to the extreme by having his full body tattooed with human bones. The tattoo also won him the title of "Zombie Boy".
The use of skull is also popular in NFTs creation. A recent GameFi hit EVO SURFERS also made skeleton icon its protagonist to present users in the game.
In EVO SURFERS, the skull character is called CaCha. It is onomatopoeia to represent the sound of breaking bones. For game players, CaCha can be used to engage in battles and could also be converged and synthesized into new CaCha characters. In this way, users can get their hands on limited and one of its own kind CaCha NFTs, digital assets with value beyond measure. Different CaCha comes with different attributes, which would come handy for players to deploy and form battle strategies, adding joyful gaming experience to players with a touch of fashion.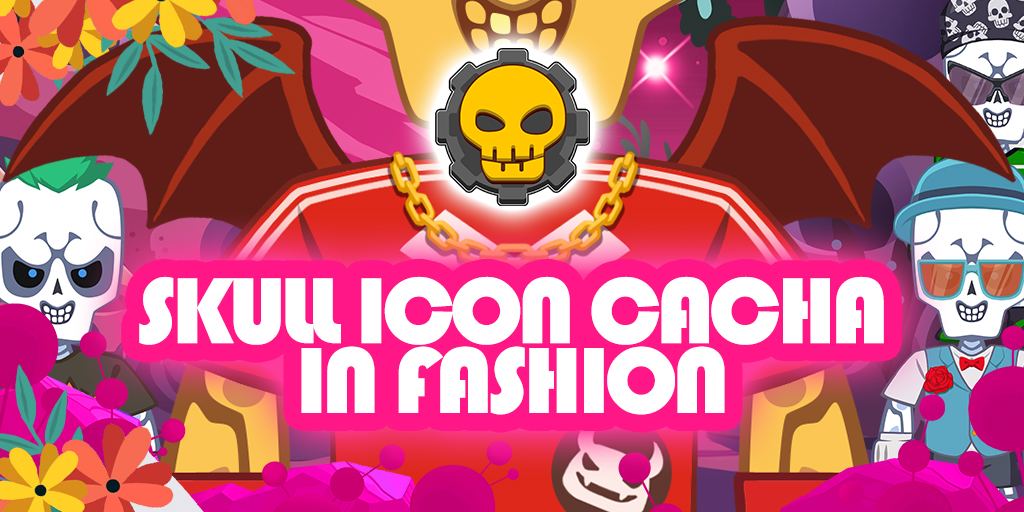 A fully-fledged gaming ecology, EVO SURFERS is a civilization evolution game that is built on a typically integrated gaming platform that combines DeFi + GameFi + metaverse. A stronger immersive gaming experience also plays an instrumental role in keeping the players hooked in the game, creating a large user base to enrich the social interaction among players.
The platform provides many ways of getting CaCha. Players can use EVO tokens in the game to buy CaCha. In the initial stage of the game, activities will be held for players to participate. In these activities, players may get rare CaCha in the official website of EVO SURFERS. Another major source of CaCha is through Genesis eggs provided to players as blind boxes.
In the game setting, a total of 100,000 Genesis Eggs are up for grab. Users can be rewarded with high quality CaCha through these eggs.
For Patents , players may get their hands on genesis patents of certain items. These patents will enable the owners to receive royalty fee if other users created new NFTs with styling equipment using these items. Hence, the sooner players get started with the GameFi project, the better and larger profit they might get for having a head start of holding different patents.
At the heart of the EVO SURFERS' wide popularity among players is its play-to-earn mode, which allows the players to claim full possession of their digital properties and trade them on open market.
Breaking with the tradition of the stereotype that playing games are a waste of time, EVO SURFERS rewards its players cryptocurrencies or NFTs or in-game assets such as avatars, weapons, and costumes.
That's also the beauty of the EVO SURFERS, a massive GameFi hit, in which users are involved not only in gaming, but also decentralized finance that comes with profits. Players' time invested in the game will be translated into monetary benefits in many ways. The more they play, the more likely they will get a higher profit.
EVO SURFERS is designed to meet the different appetite of the gamers. For users who don't want to take risks, they can simply stick to the play- to- earn way. It's also possible to simply get in early and hold the NFTs and in-game items as digital assets and investment and wait for their value to appreciate. Those who enjoy mining tokens can try liquid mining or pledge mining to acquire EVO tokens, convertible with USDT, a popular and widely accepted cryptocurrency, at a bargain price.'
It may be hard to get your hands on the authentic skull fashion items created by Alexander McQueen, but here you have another chance to get a valuable CaCha that could be as much valuable as McQueen's skull artwork. What are you still waiting for? Get on the bandwagon of skeleton tide by joining EVO SURFERS!
Twitter:https://twitter.com/EvoSurfers
Facebook:https://www.facebook.com/EvoSurfersPage
Medium:https://medium.com/@EvoSurfers
Telegram: https://t.me/EvoSurfers