MVGX, a digital green exchange licensed and regulated by the Monetary Authority of Singapore (MAS), announced an upcoming collaboration with Chainlink, the industry-standard Web3 services platform. The technology partnership is set to foster greater interconnectedness among sustainability players in both the Web2 and Web3 worlds amid growing calls for greater transparency and data-driven measurement standards in the carbon reporting space.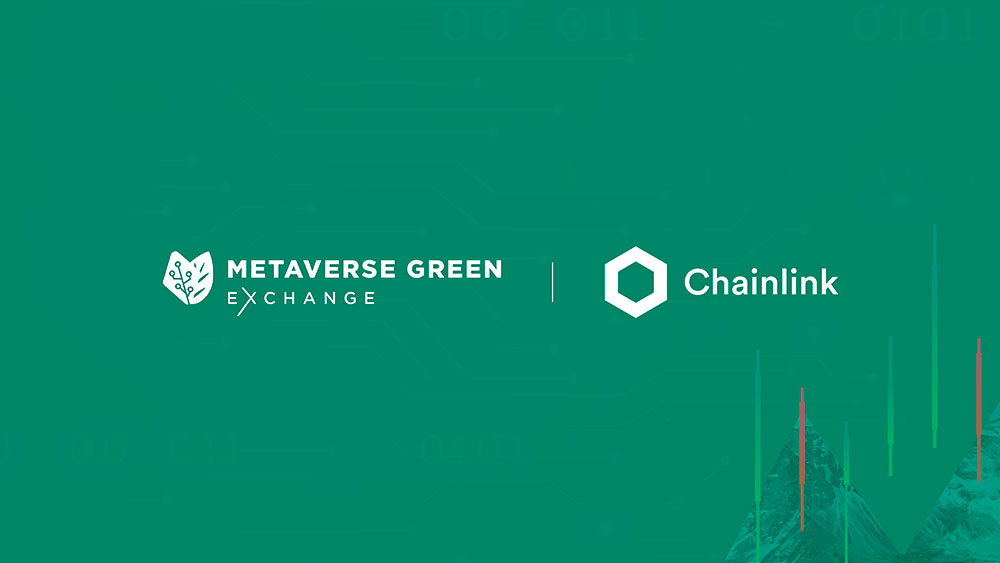 The collaboration will open the door for potential integrations, with support from Chainlink in the form of Cross-Chain Interoperability Protocol (CCIP), Proof of Reserve (PoR), and dynamic NFTs, to help MVGX securely and transparently develop into a next-level Web3 sustainability platform, and to connect the Web3 sustainability community with real-world carbon systems in a compliant manner.
MVGX offers an end-to-end suite of blockchain-based Carbon-as-a-Service solutions backed by its licensed digital exchange and patent-pending technologies including its Non-Fungible Digital Twin (NFDT®) and Carbon Neutrality Token (CNT®), its proprietary digital carbon credit. CNT®s address one of the most challenging aspects of the Paris Agreement (COP21) — namely, the ability to properly verify and track carbon credits for cross-border trading— effectively injecting greater integrity in VCMs while enabling carbon neutrality at scale and facilitating the global goal of net-zero emissions.
This technology partnership with Chainlink comes on the back of MVGX's exploratory collaboration with Indonesia Stock Exchange. Earlier this week, the country's national bourse announced that it would be working with MVGX to develop carbon trading capabilities. MVGX has seen a number of high-profile partnerships with financial institutions this year, including one with Southeast Asian banking giant Oversea-Chinese Banking Corporation (OCBC Bank) to co-create green finance solutions. This past October, MVGX also unveiled the world's first enterprise finance and carbon-integrated enterprise resource planning (ERP) system in collaboration with Oracle NetSuite, the leading cloud-based enterprise software company.
"Governments and businesses across the globe recognize the devastating impact of climate change, but existing solutions lack the much-needed transparency to ensure stakeholders that their climate initiatives are having the intended impact on the ground," says Dr. Bo Bai, Executive Chairman and Co-Founder at MVGX. "We are thrilled to be embarking on this partnership with Chainlink as we recognize the vital role it will play in enabling us to empower our customers and clients with greater integrity, veracity, and accountability in the green finance and broader ESG ecosystem, in both Web2 and Web3 worlds."
Chainlink's technology has continued to grow in popularity among sustainability-focused companies, with Accuweather providing weather data through Chainlink, builders like Arbol and Hyphen utilizing the network's technology, and Chainlink's role in the Lemonade Foundation's Crypto Climate Coalition. The announcement with MVGX opens the door to expand on Chainlink's ability to impact the sustainability space in a positive way.
"MVGX has a lot of potential," says Niki Ariyasinghe, Global Head of Partnerships at Chainlink Labs. "The company has spent the last few years building a strong foundation for growth, and I believe that this is a long-term collaboration with a lot of potentially productive components. I'm looking forward to our work together."
About Chainlink
Chainlink is the industry standard Web3 services platform that connects Web3 apps to real-world data and off-chain computation, across any blockchain. As the leading decentralized oracle network, Chainlink enables feature-rich Web3 applications and hybrid smart contracts, and offers global enterprises and data providers a universal gateway to all blockchains. Chainlink secures tens of billions of dollars across DeFi, insurance, gaming, NFTs, and other major industries.
Learn more about Chainlink by visiting chain.link or reading the developer documentation at docs.chain.link. To discuss an integration, reach out to an expert.
About MetaVerse Green Exchange
MVGX is the first regulated exchange for the metaverse era, with licenses from the Monetary Authority of Singapore ("MAS") including the Recognized Market Operator (RMO) license, Capital Market Service License for dealings in securities, collective investment schemes, exchange-traded derivatives, OTC derivatives, providing custodial services, as well as exempted licenses under the Payment Services Act.
MVGX is committed to bridging carbon trading markets from different jurisdictions and bridging illiquid assets in the real economy with wider investor accessibility. Founded in 2018 and based in Singapore, MVGX has built a world-class digital exchange platform with the best-in-class Nasdaq engines, MVGX proprietary digital asset ledger with carbon footprint tag, and rigorous compliance processes.
MVGX has two patent-pending technologies, Non-Fungible Digital Twin (NFDT®) to represent objects in the metaverse, and CNT® — its proprietary digital carbon credit — to facilitate the cross-border trading of carbon voluntary emission reduction credits without triggering national ownership issues (Nationally Determined Contributions).
MVGX – the exchange that makes a sustainable and greener future in the metaverse era.
Visit www.mvgx.com or contact contact@mvgx.com for more information on MVGX.