Legendary Swedish esports organisation Ninjas in Pyjamas (NIP) and leading high-performance, high-security blockchain Zilliqa have announced a partnership that will stretch over a five-year period, aimed at creating state-of-the art tokenised and incentivised 'digital' and virtual experiences for crypto and esports enthusiasts alike. These curated experiences promise to give users real and tangible utility, and value-driven interactions in the digital realm.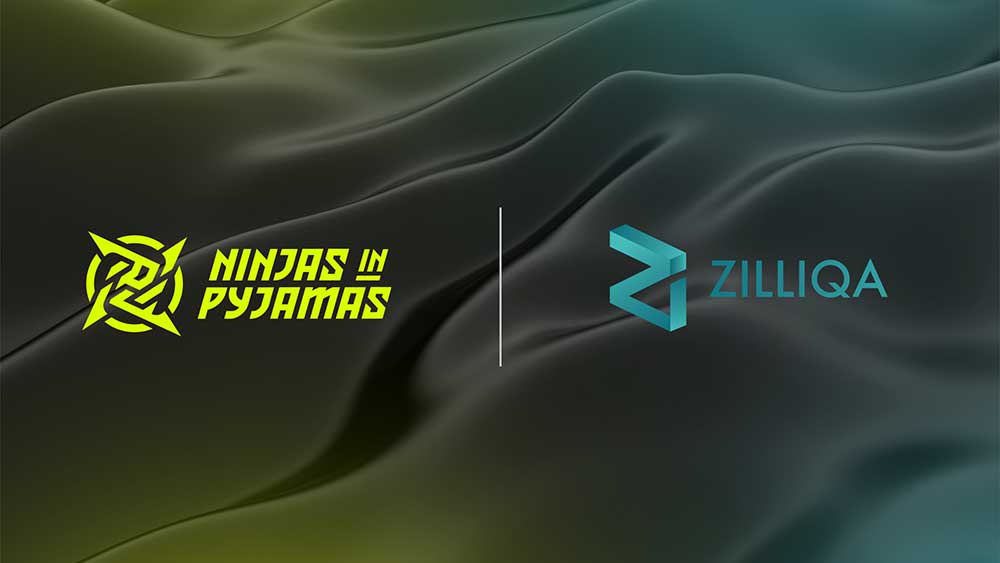 Hicham Chahine, CEO, Ninjas in Pyjamas, said: "During Covid-19, esports organizations were able to switch to online play and marketing initiatives relatively easily compared to traditional sports. But with the world finding its rhythm in a 'new normal,' we needed to consider: how could people remain engaged? Could they use their time online to earn and not just play? With blockchain-based gaming companies being infused with nearly half a billion dollars in the first half of 2021 alone, crypto seemed to have all the answers. And so, by using blockchain to engineer unprecedented experiences for our fans and gamers, we're going to unlock the potential of esports in a whole new way — with Zilliqa as our official blockchain partner."
"With their exposure to digital asset tokenisation and dedication to unleashing the true force of the creator economy, Zilliqa was our creative and tech infrastructure partner of choice. Additionally, we knew we wanted to be conscious about everything we build. Given Zilliqa's commitment to sustainability and ambitions to become carbon neutral by 2022, they were the right fit for us," Chahine concluded.
As part of this collaboration, fans and players can expect to see Zilliqa branding at coveted esports gaming contests like Rainbow Six Siege (R6S) and Counter-Strike Global Offensive (CS:GO) jerseys. Additionally, they will be present for the first time at an esports event during the PGL Major 2021 in Stockholm's famed Avicii Arena. A significant percentage of Zilliqa's sponsorship will be issued in ZIL — its native currency — which commands a sizable global followership and an ardent fan base.
Matt Dyer, Head of Growth at Zilliqa said: "The physical and digital worlds are merging, and it has left no one behind. Esports is a great example of this. Over the past year, aficionados looking for new means of engagement realised how esports could be enjoyed as a remote social experience with peers. Crypto joined in, adding immersive, play-to-earn components to this world. Zilliqa didn't miss a beat, and has been amping up our efforts to revolutionise the creator economy. Now that we have the opportunity to make our mark with gaming legends Ninjas in Pyjamas, we have no doubt that this collaboration will bring new people and more adoption into the cryptoverse. With their team having graciously accepted ZIL-based support as part of this long-term partnership, we are humbled to be working with people who have faith in the future of Zilliqa."
Focused on growth and global expansion through much of 2021, Ninjas in Pyjamas' strategic entry into the Asian market made it one of the world's biggest esports organizations. Best known for its Counter-Strike team, NIP incorporated and rebranded China-based ESV5, making its League of Legends Pro League (LPL) the biggest-ever League market. Their expansion also included investments into entertainment and media properties to boost their international presence.
About Ninjas in Pyjamas
Founded in 2000, Ninjas in Pyjamas (NIP) is today one of the largest and most legendary esports teams in the world. Focusing on creating transformational experiences that entertain, inspire, foster and connect all fans over the world — the global organization boasts world-class teams and players in several esports titles such as CS:GO, Rainbow Six, VALORANT, League of Legends, FIFA and various esports titles on mobile.
About Zilliqa
Zilliqa provides highly-performant, scalable, and secure blockchain solutions for enterprises and decentralised applications. Driven by the mission to catalyse and transform digital infrastructures across global communities and industries. Zilliqa's technology has served as the backbone for use cases across the arts, asset securitisation, content creators and the influencer economy, decentralised and open finance, digital advertising, financial services, incentivised marketing, and sports.
In 2021, Zilliqa will be launching several platforms that will enhance monetisation opportunities and further democratise the creator economy for emerging, global talent. As part of this strategy, Zilliqa has supported world-class ventures including Mark Cuban-backed Mintable, influencer monetisation powerhouse XCAD Network, and Ultimate Franchise Fantasy Sports (UFFS) — among others in its ecosystem.
For more information, visit: zilliqa.com