Since 2022, DID has become the newest buzzword in Web3 with continuous news on funding for DID protocols.
Although DID is still in the early stage of development and the concepts are not completely clear, hence it's important to list some of the more obvious confusions that have arisen and break down into a few aspects:
Why do users need DIDs ?
What are the costs faced by Web2 users entering Web3?
What does DID bring to the space compared to Web2?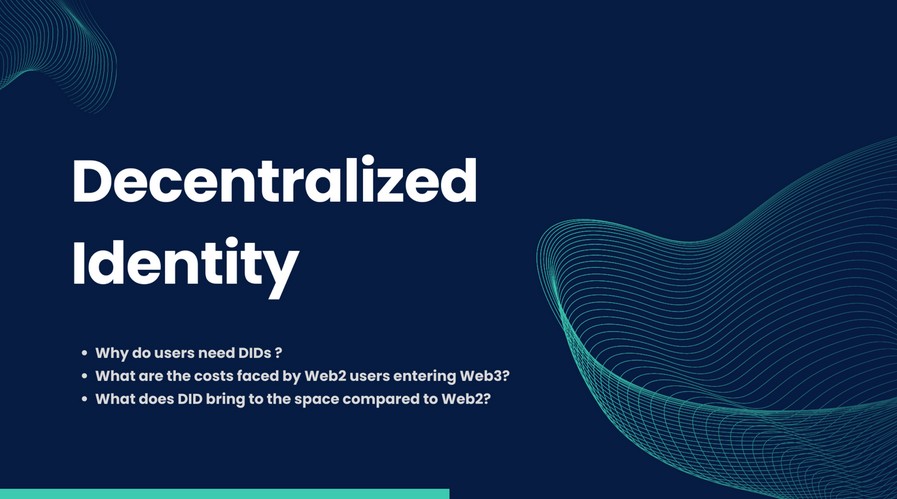 If you own a DID….
Web3 is fundamentally linked to economic transactions and the emergence of Web3 re-emphasized the importance of establishing robust identity systems. Although DIDs are often overlooked in comparison to DeFi,NFTs and DAOs, but it is a fundamental infrastructure for people to enter Web3. A decentralized ID (DID) is a new and unique proof of identity that is a compilation of on-chain and off-chain proof, with on-chain being primarily proof of a user's wallet activity or assets and off-chain being primarily proof of a user's social information. For example, Spruce ID (a DID protocol) asks users to verify their wallet signature while also asking for verification of user's Twitter, GitHub, etc.accounts that can prove your social information.
The mission of identity solutions follows the idea of 'empowering users to take the control back of their own identity'. That is true in terms of DIDs can provide solutions by using blockchain technology-based IDs to connect identity owners (individuals and organisations) with blockchain-based public key addresses. They provide the basic basis of trust for determining 'who is who' in a decentralised information sharing model and possess 4 main attributes:
Permanence: Cannot be tampered
Resolvability: Used to locate metadata
Verifiability: Can be cryptographically verified, with private key signatures proving control
Decentralised: no centralised registry is required to publish and store any relevant data.
Will it be costly for users to have a DID?
When people talk about DID, it's hard to avoid ENS. ENS is the Ethereum Name Service and has become well-known as the"DID" tag itself. According to official data, in 2022, the total number of ENS domains reached to 2.8 million and is still multiplying. ENS domains (.eth) charge up to $640 for domain names with 3 characters and requires renewal fees every year, hence owning a .eth also became a status of wealth.
DID protocols such as .bit, Space ID in February 2023 has closed 10 million in funding, led by renowned venture capital firm Polychain Capital and dao5 with the participation from other institutions and industry leaders. SPACE ID launched its .bnb Domain Public Registration in September 2022. To date, the name service has more than 370,000 registrations and 170,000 unique domain holders. The floor price of a .bit is around $4.56 consiting over 15 characters. DID with less characters tends to be higher in pricing.
Other DID protocols such as Avvy Domains uses ENS pricing strategy as benchmark. High renewal fees have limited users to own a DID and this is why projects such as Unstoppable Domain change the strategy of charging a one-time fee and users can own a DID permanently.
In 2022, KEY3.id gained initial investment of $3 million from Game Space GameFi Future Fund. KEY3.id provides Web3 users with free DIDs forever.According to Game Space, in the pre-launch event, over 16,000 participated in the event where ENS users can claim the same domain name they already own for free. Post launch KEY3.id also established partnerships with many industry leading wallets such as BitKeep Wallet, iToken Wallet, Bybit, KuCoin Wallet making cross-chain transactions available.
DID brings ID solutions, but that is not the whole picture 
Looking back at the creation of Bitcoin, in more than a decade, blockchain technology-based tokens and DeFi have created a parallel financial system with unprecedented liquidity and creativity that wowed the world. However, it is clear that tokenomics is not the whole story of Web3. The end goal is to move to a more comprehensive Decentralised Society (DeSoC) that will drive a strong and sustainable future of Web3, and it is at the heart of the paradigm shift taking place in Web3.
In an article posted by Forbes India, CEO of Binance, CZ argues that SocialFi is likely to be the key driving factors of Web3 adoption because SocialFi would be one of they key factors that drives traffic into Web3. Everything that's connected with identity would be associated with social products, by means DID is also one of the underlying facilities of SocialFi. Putting DID in use cases in SocialFi, DID can enable users to authenticate themselves for DeFi transactions without needing to create a separate account or log in to a centralized exchange. It could also enable users to earn rewards or access financial services based on their social media activity or reputation, without needing to disclose their personal data to centralized entities.
Similar in GameFi, DID allows gamers to have greater control over their in-game assets and virtual identities. For example, DID can enable seamless cross-game interactions and interoperability, allowing players to use their assets across different gaming platforms and communities. This can create new opportunities for gaming experiences, such as cross-game marketplaces and collaborations. For GameFi projects, through DID games can better evaluate gamers' input in the game and allow them to better allocate airdrops or other rewards to the players who are ranked better.
The Future of DID is promising
Since DID is still explorational, we don't know what the next wave of DID innovation will be, but the fact that more and more people are looking at the space and learning what it can do in itself is what DID brings to the table. DID as an infrastructure in Web3, it will need more application scenarios to put in use to become a powerful role in Web3 and this is also why SocialFi and GameFi are fundamental for DID development. If the future is moving towards, DeSoc, a mature DID solution, will be necessary for everyone to enter Web3.