Investing in the crypto market is not straightforward and for a lot of traders and investors, there's a great deal of anxiety involved in assessing the crypto landscape and making a judgement on whether or not to place your money on something. But there are coins to invest in that represent a long-term investment because of what the future holds for them. Cardano (ADA), Polkadot, and Big Eyes Coin (BIG) are three cryptocurrencies worth looking at.

Cardano Is A Sustainable Solution In 2023 For Many Investors
2023 has been the year of recovery so far for Cardano. It lost 81% in 2022 but it was not alone in finding that to be a difficult year. Now it is trading more or less even with its price from just two years ago and has a market cap of over $12m according to CoinMarketCap.
Cardano has had a lot of activity on its blockchain and was ranked as the top crypto protocol in 2022 by development activity. Some of this has resulted in the incorporation of many features, including smart contracts. It's also launching the Djed stablecoin on its network which has boosted its viability as an investment prospect for anyone looking for cryptos to buy.
Cardano is admired for how it generates a sustainable mining process that enables it to significantly reduce its carbon footprint. It uses 37,500 times less energy than Bitcoin (BTC) and has created a sustainable model for others to emulate.
Polkadot Is One Of The Most Exciting DeFi Projects To Watch Out For
Polkadot is a blockchain that is seizing attention by how it delivers an open-source blockchain. It works to enable the secure transfer of assets and data through different blockchains in a process known as interoperability. Hosted by Polkadot, it facilitates the interaction and communication between different blockchains as though they shared the same network. It has contributed to Polkadot being host to multiple exciting DeFi platforms.
Big Eyes Coin Protects Your Investment At Every Turn
The volatility of the crypto market can divert a lot of people from choosing to invest for an understandable reason. The nature of cryptocurrency can sometimes feel as though prices are always in a state of flux. The only constant is the absence of any sort of stability.
It is a market that is not for recklessly charging in but one of care and consideration. And that is how Big Eyes Coin has made itself an attractive proposition for potential investors.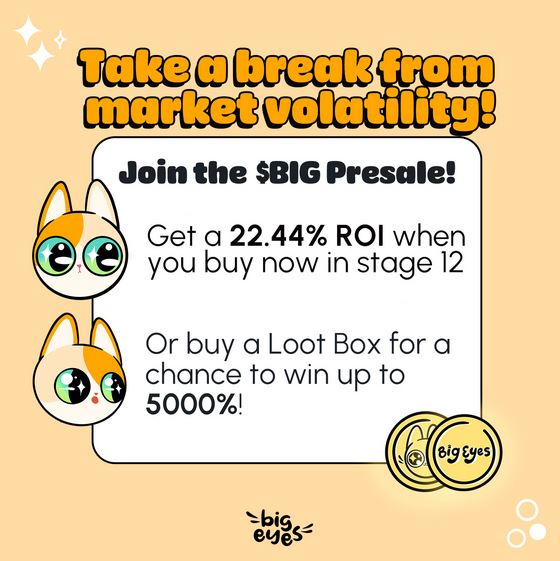 This new meme coin has built its success during its presales by centering its approach around a sense of community. This has allowed it to surpass $30m in sales as it nears its target of $50m and has all the signs of making a big impact on the market once it goes live. So why could Big Eyes Coin be a safe long-term investment for those hoping to avoid the volatile market effects in 2023?
Let's take its latest offer of loot boxes as a prime example of its sense of community. Loot boxes are sealed mystery rewards found in video games. Big Eyes Coin offers three of them to investors and the overarching implication of these boxes is that at no point will an investor make a loss on choosing to buy.
Big Eyes is offering three boxes. The Cute Box is bought at $100 and provides a prize that ranges from $100, $120, $300, $800, to $5000. The Kitty Vault includes prizes worth $500, $600, $1.5k, $4k, and $25k worth of BIG tokens and is purchased at $500. The Super Saiyan box costs $1000, but the value of tokens on offer are $1k, $1.2k, $3k, $8k, and $100k. A scenario in which you pay $1000 and walk away with $100,000 doesn't sound too bad, does it?
The structure of these boxes reflects how Big Eyes Coin can build trust. Alongside this, it currently offers an eye-catching 22.44% ROI when anyone buys now in Stage 12 of its presales. This underlines that the team at BIG recognises that the crypto market is unpredictable and has sought to do its very best to ensure that those investing in BIG tokens are not making a loss. Big Eyes Coin also offers members of its community a say on the decision-making process of where the coin goes in the future, offering further security to those holding BIG tokens.
Big Eyes Coin is one of the more anticipated cryptocurrencies in 2023 and understandably so. Expect big things from this meme coin this year. As it's in presale, its loot boxes are of limited supply so if you want to see what you could get from one of its loot boxes, act swiftly!
Website: https://bigeyes.space/
Telegram: https://t.me/BIGEYESOFFICIAL
Twitter: https://twitter.com/BigEyesCoin
Disclaimer: The statements, views and opinions expressed in this article are solely those of the content provider and do not necessarily represent those of Crypto Reporter. Crypto Reporter is not responsible for the trustworthiness, quality, accuracy of any materials in this article. This article is provided for educational purposes only. Crypto Reporter is not responsible, directly or indirectly, for any damage or loss caused or alleged to be caused by or in connection with the use of or reliance on any content, goods or services mentioned in this article. Do your research and invest at your own risk.