2017 is sometimes referred to as the year of the ICO. This despite a recent report from Crypto Valley and PWC that found ICO issuance in 2018 exceeds that of 2017. A similar trend is taking place with regards totraditional venture-style investment in blockchain companies.
The number of crypto funds, including hedge funds and venture capital, continues to increase at a record rate. 2018 is on pace to see the launch of nearly 150 new crypto funds. In addition, traditional venture capital firms, with a fintech and technology focus, are adding cryptocurrency and blockchain startups to their portfolios. As an example, multi-billion dollar VC Andreessen Horowitz recently announced a new $300 million crypto-focused fund.
The venture capital industry that has evolved around blockchain is changing quickly, but there are a number of firms that stand out from the pack. Some are traditional VCs like Andreessen Horowitz and Sequoia Capital. Others are digital asset funds exclusively focused on investing in blockchain and cryptocurrency startups like Digital Currency Group and Pantera Capital.
Below is a list of the top 20 venture capital firms investing in blockchain companies, according to a recent report from Crypto Fund Research.
Top 20 Blockchain VCs:
Digital Currency Group
Pantera Capital
Blockchain Capital
Andreessen Horowitz
Node Capital
Boost VC
IDG Capital
Draper Associates
Ceyuan Ventures
Lightspeed Venture Partners
Techstars
RRE Ventures
Union Square Ventures
General Catalyst
Liberty City Ventures
500 Startups
Danhua Capital (DHVC)
Kindred Ventures
Sequoia Capital
Future Perfect Ventures
Full list of top 50 blockchain VCs
There are several interesting findings in the study:
– 18 of these 50 VCs (36%) invest exclusively in crypto/blockchain companies or have at least one fund devoted exclusively to digital assets.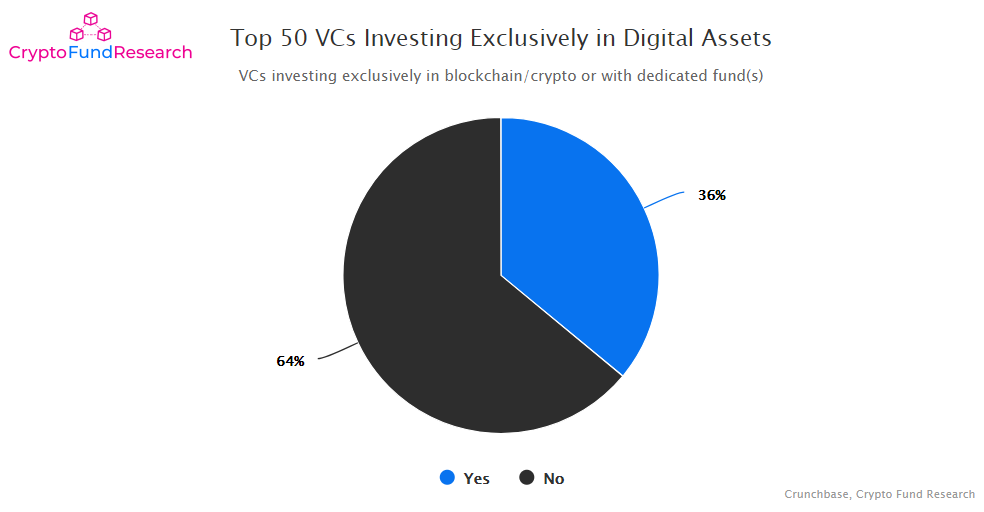 – The top 50 VCs are continuing to increase their investment in blockchain companies. To date in 2018, they have invested more than they did in the previous two years combined.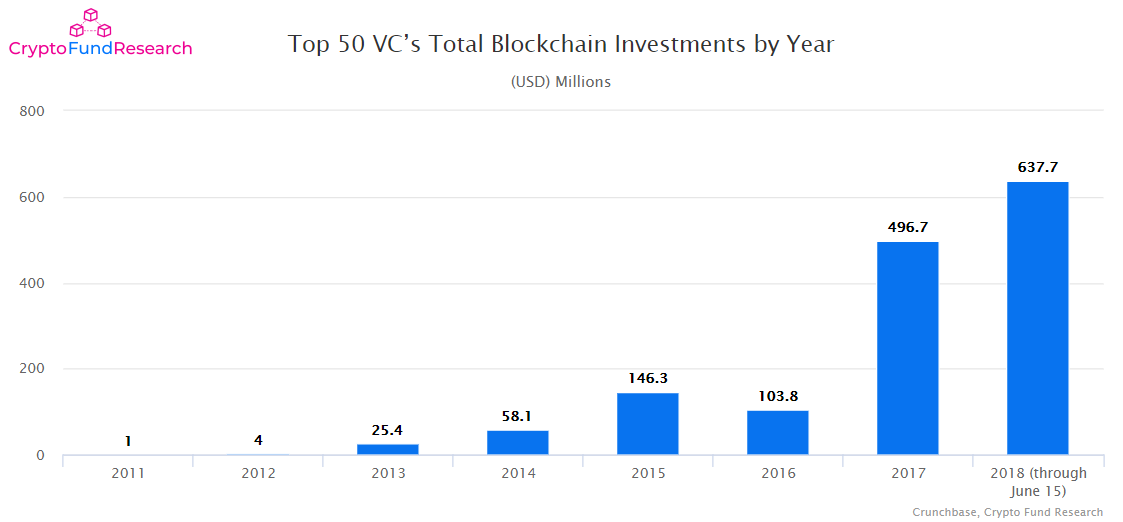 – Top blockchain VCs often coinvest. Blockchain startups like Abra, Basis, Binance, BlockCypher, Blockstream, Gem, and Origin have all received funding from four or more of the top 50 blockchain venture capital firms.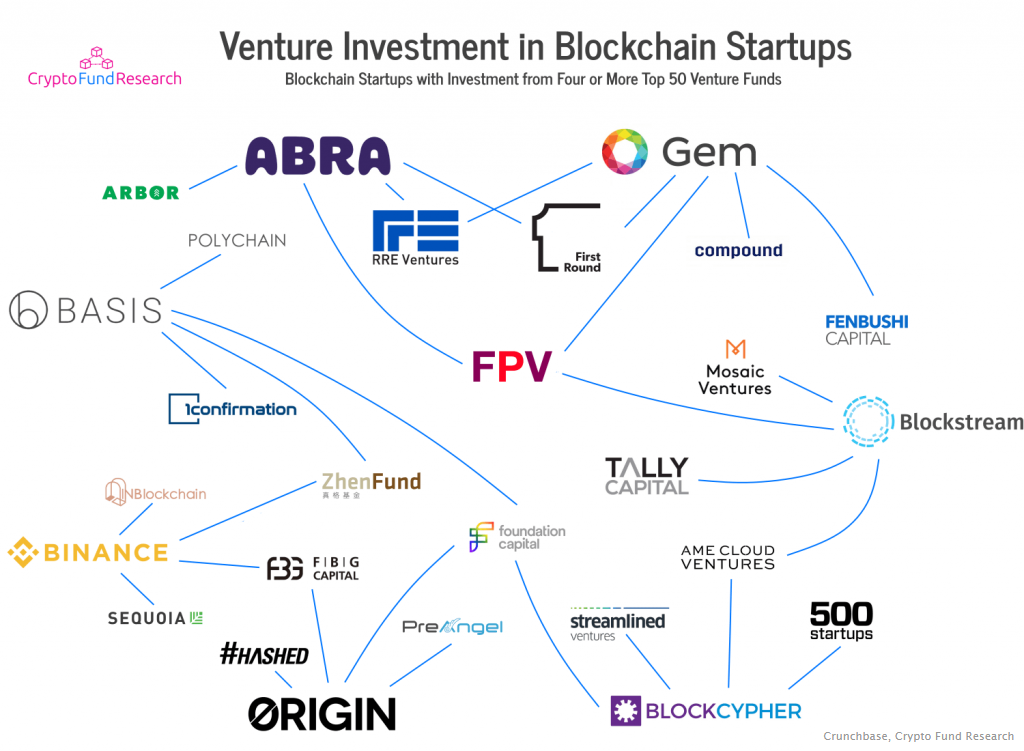 – Though many blockchain startups have attempted to obtain funding via ICO, the top 50 blockchain VCs typically make seed investments. Seed-stage investments accounted for more than half of all funding rounds made by the top 50. Early-stage venture funding accounted for just over a quarter of funding rounds.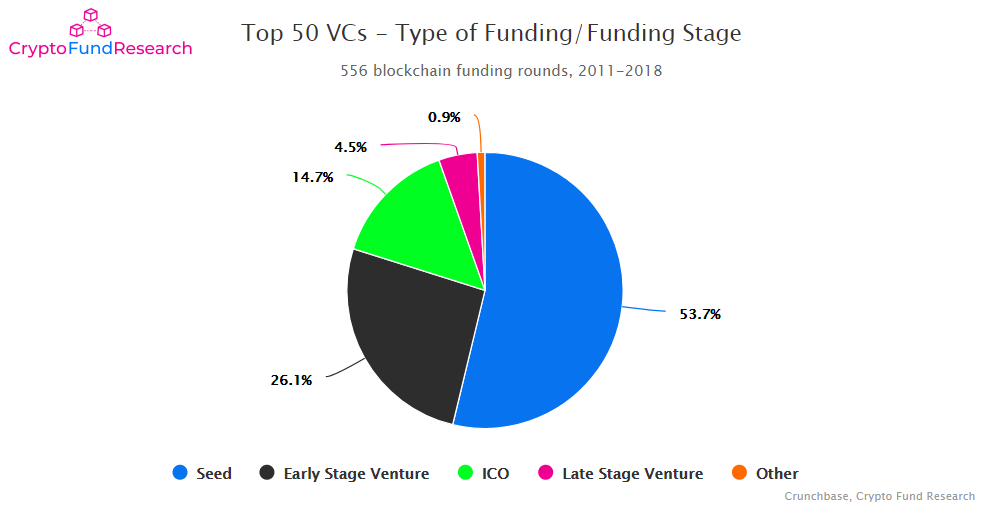 The full study on top venture capital firms investing in blockchain is available here