Overview
Token Name: YearnNFT
Symbol: YFNFT
Total Supply: 73339 YFNFT
Available Supply: 73332 YFNFT
Website: https://yearnnft.finance/
Network: Binance Smart Chain
Features: Governance, Fees, Rewards, Payments and Trade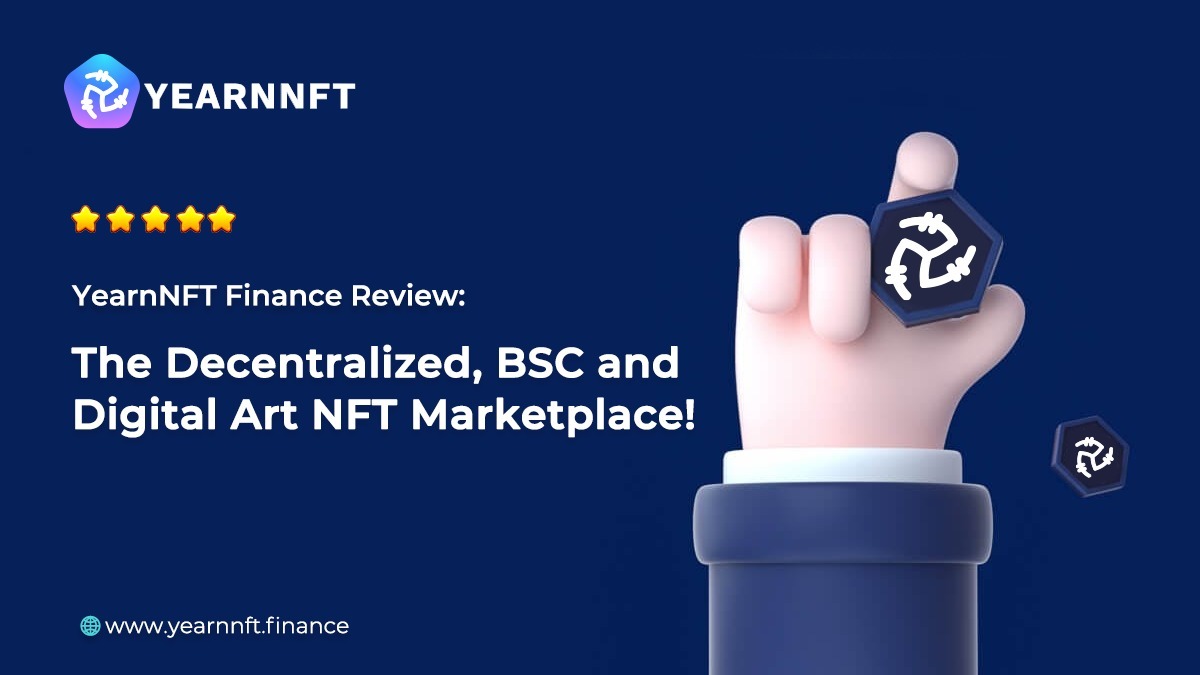 The Transforming Multimillion NFT Sector
The age of Non-Fungible Tokens has already started. This can be confirmed by looking at the vibrant primary and secondary market usability. By the first quarter of 2021, over $400 million of NFTs was sold. Besides, there are.
Though NFTs are now beyond the chatter of price, incredibility, revolution, and inevitable criticism; they are all ready to set an underlying technology. Apart from DeFi protocols, NFTs have evolved quite faster breaking all the barriers.
This advanced concept is now ushering in a new stage of true decentralization as well as technology-driven services to flexibly reward and credit the talent. Following the traces of the conceptual protocol, where digital artwork will be open to every creator, artists and investor; a new project is here to showcase their capabilities.
What is YearnNFT Finance NFT Marketplace?
In this wave, BSC YearnNFT Finance is positioning itself at the anterior with technology and a creative artwork solution. We are pioneering in the NFTs as well as DeFi space, creating an entire custom decentralized artwork and collectibles suite.
We are readily analyzing and developing long-term use cases to transform the NFT space. Using this future protocol, businesses and artists will be able to freely tokenize their assets/items into their full-fledged ecosystem.
The project is also supporting the NFTs minted creation and marketplace alike. Creators can launch and display their artwork and creativity as pioneers on the Binance Smart Chain network.
YearnNFT platform is specifically for developers, artists, and traders. Our team emphasizes to build an infrastructure to enable individuals and businesses together launch and trade their NFT effortlessly. This is a space with digital collectibles marketplace leveraged by the crypto lovers and NFT followers.
YearnNFT Finance is powered by the Binance Smart Chain network and advanced protocol suite. As this platform is a decentralized marketplace, users need to login with their wallets or they can use the in-built wallet to access our NFT marketplace.
Features and Functionality of YearnNFT Finance:
– Decentralized and non-permissible
– Sophisticated Blockchain Protocol
– Cost-Effective Fee Exposure
– On-Chain Management governance
– Client Partnerships
– Incentivization and Rewards
Our team is ingeniously fusing some interesting aspects of DeFi with NFTs to forge a mechanism that will eventually benefit all the stakeholders and project alike. By delegating governance and empowering users to value NFTs we will allow creators and artists to actively earn from their creativity and capability. YearnNFT is indeed overhauling the sector of digital artwork and collectibles by fixing the barriers.
The Native YearnNFT Token [YFNFT]
The YearnNFT platform will be powered by the YFNFT tokens, a BSC native token that can be used to vote, amend or modify the base protocols on the project. Rewards will be paid out in YFNFT and token holders will be able to participate in the governance of YearnNFT marketplace.
All transactions performed on this platform will be done in terms of YFNFT token as a utility token. YFNFT token holders will own the rights on the platform as well as community ecosystem like:
– Discovering the outcomes of critical decisions
– Key parameter adjustment
— Fee rate
— Community-based initiatives
YearnNFT marketplace will allow a crypto-powered digital asset and trading stage for users. Initiating our YFNFT Bounty Program, we will ensure early participants with bonus and incentives in terms of native token. They can efficiently build, buy, bid, reserve and sell NFTs that will be traded against the YFNFT toke. We also provide additional services like:
– Auction listing,
– Governance mechanisms,
– Trade history tracking [depending on the user opinions]
The core objective of the YearnNFT Marketplace:
– Potential Marketing Focus
– Market Growth Potential
– Market Members
– NFT Creators [Buyers and Sellers]
Utility of the YFNFT Tokens
Network Fees
YFNFT is basically a base digital currency to pay the transaction charges at the platform.
Governance
The token holders can vote on policy-making referendums and governance decisions with YFNFT.
Payment
Primary exchangeable counter crypto asset is YFNFT for every trade on the YearnNFT marketplace.
Fees
Including listing fees, the user can pay all sorts of fees for the NFT Marketplace applications with YFNFT.
Rewards
The rewards are denominated with YFNFT with respect to distribution and contribution.
Membership
YFNFT token holders can enjoy rights like participating in governance and protections within the ecosystem. Also, YFNFT holders will pay minimum service charges, and receive extensive listing exposure.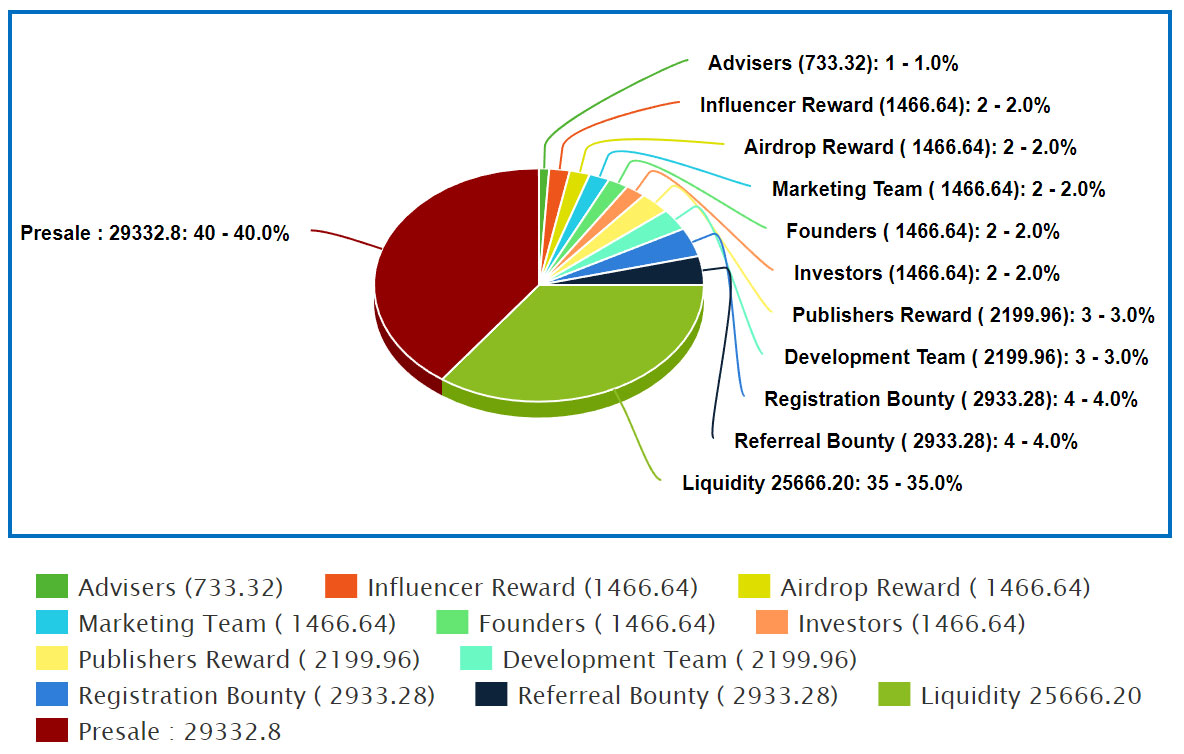 Distribution of YFNFT Tokens
The YFNFT Token Distribution is done with careful observation:
Total Supply: 73339 YFNFT
Available Supply: 73332 YFNFT
– 40% Presale
– 35% Liquidity
– 8% Registration and Referral Bounty
– 4% Influencer and Airdrop reward
– 3% NFT Publishers Reward
– 3% Development Team
– 3% Marketing Team and Advisers
– 4% Founders and Investors
YearnNFT Marketplace
As new emerging projects are coming into existence with the advancement of blockchain technology, diverse innovators are looking to utilize the superiority of such nascent technology for creating and displaying new creative solutions to long-standing issues.
YearnNFT Finance is born out of the necessity to build a solution for every individual to freely create digital artwork and collectibles in an open marketplace. The YearnNFT Marketplace ecosystem effectively merges the YFNFT utility as a native asset for protocol token as well as application token alike.
This project enables the stakeholders to freely vote, amend or modify to the base protocols associated with the platform. Indeed, this NFT project is transforming the NFT industry for good by making it easy, approachable and available for all. It offers media users and businesses a stage to flexibly sell their art and music with earning passive income.
YearnNFT Roadmap
As per the roadmap for 2022, YearnNFT have diverse exciting updates on the horizon. Our team showing rapid innovation with back-to-back releases and has no plans to slow down. We are looking ahead to upcoming releases. YearnNFT Roadmap now desire to inch closer on becoming a complete NFT marketplace to provide DeFi and NFT infrastructure open to all.
The year 2021 so far has been full of innovation for YearnNFT and the future is jam-packed with major launches. Following the market demands and fluctuations, we might prioritize or scrutinize other opportunities like further prominence on NFTs.
October 2021
– Website launch
– Whitepaper Launch
– Airdrop Bounty Commencement
– Launch of Registration & Referral Program
YearnNFT Finance project is new in this marketplace; however, we are completely prepared with the hooks to break the news headlines. The team working behind this project has successfully reserved YearnNFT's place with exponential growth within few months.
We are consolidating and planning some major goals analyzing the current market situation. Check out our next phase targets that will help us skip stones and lead us way ahead from the crowd.
Phase 1 – Nov 2021 | Presale
– Marketplace Launch
– NFT creator documentations
– Presale begins
– Reward Distribution
Phase 2 – December 2021 | Token listing
– 5000 Holders
– Token listing on ApeSwap and PancakeSwap
– Airdrop Distribution
– Coingecko and CMC listing
Phase 3 – January 2022 | NFT Listing
– NFT Minting Model
– Token listing
– Music NFT Model launch
Phase 4 – February 2022 | Upgrades
– Token Growth 300X
– 9000+ holders
– Marketplace and project upgrade
– Massive marketplace marketing
YFNFT Presale
YearnNFT welcomes you to join the $YFNFT presale while distributing 40%of the tokens from total supply. We will commence the presale in two rounds.
Round 1 = 20% token allocation
Stat Date = 19 November 2021
Price 1 YFNFT = 0.12 BNB
Round 2 = 20% token allocation
Start Date = 1 December 2021
Price 1 YFNFT = 0.16 BNB
Interested candidates can now join YearnNFT Whitelisting Program by listing their addresses to claim 10% bonus beforehand starting the official presale. This offer is valid from 13 to 17 November. If you are late to join, no worries you can claim 5% rewards prior to presale.
How to Mint NFTs on YearnNFT Marketplace?
The process to mint NFTs on YearnNFT is pretty much similar to the other NFT marketplaces out there. The only variation is that users need to use only YFNFT tokens in order to mint their NFTs.
– To get started with the NFT platform, you need to connect their corresponding wallet to our marketplace.
– Feed in the necessary details and mention the price for your artwork.
– Check the details and upload the artwork at the marketplace.
– Ensure the payment of your gas fee to YearnNFT is successful
– Choose the payment options that are supported by YearnNFT marketplace.
Is YearnNFT A Reliable Marketplace to Mint Your NFT?
Since, our project runs on Binance Smart Chain, the fees to mint NFTs are relatively less. Any user can easily mint, buy, bid, reserve and sell their NFT for a reasonable price. According to the reviews from our community members, YearnNFT is a good platform, however, we lack in terms of enough collectors. The collectors on YearnNFT are few as we are new to the market, however, you can sell your piece at a higher price on our platform.
A Short Glimpse
– YearnNFT Airdrop and Bounty Program succeeded with great price closure.
– Registration and Referral event is running at the official platform. Every registration gets 100 NFT points rewards with extra 100 NFT points on each referral.
– We have also commenced our YouTube Bounty where any YouTubers both experienced and fresher can participate to claim 100 BNB.
– Presale at YearnNFT Finance will start from 19 November 2021. The total token supply is 40%, Round 1 will raise 20% with a price of 0.12 BNB and Round 2 will raise 20% with a price of 0.16 BNB.
– Round 1 of the presale is held at 19/11/21 and Round 2 will commence from 1/12/21
– YFNFT tokens will be listed on ApeSwap and PancakeSwap right after the presale.
The above-mentioned points are the short highlights of the ongoing events at YearnNFT Finance displayed in a gist. Interested users have this opportunity to join YearnNFT presale starting from 19 November 2021 to claim and reserve YFNFT tokens.
Final Thoughts
YearnNFT is NFT-based digital artwork platform supporting artists and creators by tokenizing their creativity and work. With the low gas fee structure, we are sure to attract great numbers of creators and collectors alike.
The team at YearnNFT has made a grand entrance operating this project on the BSC with a successful launch of the initial phases and jotted upcoming releases. We are diligently working on project's success, outlining the essentials and not worthy launches from the panel.
YearnNFT project is on track to offer a robust NFT and decentralized infrastructure that caters and fosters any business use-case. As we are developing our platform, we plan to explore and grow fluently, incorporating more partnerships. In short, this platform has already come a long way, though; there are plenty of innovations streamlined in the future.
Note: it is important to race with caution while buying assets that are already listed. We do not advice you to blindly follow the footsteps; you need to consult a professional financial advisor to take any financial decisions.
For more information, updates; stay up to date on our project, check out our social media pages.
Twitter | Telegram | Medium | Reddit | Facebook | Official Website