Calgary, Canada, July 17, 2023 (GLOBE NEWSWIRE) -- Access to crypto receives boost with the launch of BYBARTER, the world's 1st decentralized, borderless and non-custodial platform that empowers Peer to Peer cryptocurrency transactions. With the recent failures of major Centralized Crypto exchanges, there is an evident surge in the adoption of self-custody wallets, however funding and withdrawals directly from self-custodial wallets remains a challenge which ByBarter solves using the power of the Blockchain.
ByBarter provides an independent route for on and off ramping directly from self-custody wallets; the only tool used to access the Decentralized crypto and DeFi space. With over $45 billion in Total Value Locked in the decentralized crypto space, the ByBarter Team made up of some ex-Twitter and Amazon developers are optimistic that decentralized crypto requires independence from centralized systems in order to foster growth. "It is senseless for decentralized crypto enthusiasts to depend absolutely on Centralized exchanges for funding and withdrawals from self-custody wallets. This makes a joke of decentralized crypto and is a clear indication that DeFi is in bondage" said one of the ByBarter developers who was recently laid off from Twitter. "I joined the ByBarter Team as I believe in the vision for independence of decentralized crypto and the opportunities it brings to the world's unbanked which is the core of ByBarter", said the developer.
BYBARTER enables users of self-custodial wallets to fund and withdraw directly from their wallets without having to transfer their assets to Centralized exchanges and risk loss of their assets as over $250 million lost during the FTX collapse was linked to funds from decentralized crypto enthusiasts trapped on FTX as users were converting their crypto to fiat and vice versa due to their inability to carry out conversion of fiat to crypto and vice versa directly from their self-custody wallets. The launch of Bybarter makes the possibility of direct funding and withdrawals from self-custody wallets a reality and brings the much-needed independence decentralized crypto needs from Centralized exchanges and systems.
With over 400 means of payments, the ByBarter platform is poised to onboard the world's unbanked who have been locked out of the crypto space as centralized entities do not support financial systems prevalent in their jurisdictions. Over 1 billion unbanked adults can now seamlessly access crypto using their self-custody wallets on ByBarter. The smart, secure escrow on BYBARTER enables Peer to Peer transactions among the over 100 million users of self-custody wallets. This is a first in the decentralized crypto space as P2P services are usually conducted only on Centralized exchanges. The ByBarter project is aligned with the vision of Satoshi Nakamoto who proposed peer to peer transfer of value between individuals without intermediaries.
Other features on the platform includes an anti-fraud architecture, chatting solution that enables direct communication between buyers and sellers, utilization of any self-custody wallets of choice and a dispute resolution solution. The recent closure of LocalBitcoins as well as the current disputes on Paxful, positions ByBarter as the next big Peer to Peer solution that gives crypto enthusiasts the power to conduct transactions from wallets they control thereby bringing the phrase "your keys, your coins" to realization. ByBarter is the platform of choice for P2P merchants who wish to position themselves early to benefit from the projected $230 billion inflow of funds to the decentralized crypto space by 2030. Users of launchpads, self-custody wallets as well as decentralized crypto exchanges now have the option to remain decentralized in course of carrying out transactions in the space.
Citizens of countries plagued by hyper inflation are able to freely buy stable crypto like USDT on ByBarter to protect themselves from loosing value in their local currencies while Business owners in countries with limited access to the FOREX required to conduct international transactions can also tap into USDT on ByBarter to carry out their trades unhindered.
Transactions are currently free on ByBarter, as sellers only pay the gas fees prescribed by the blockchain on which they conduct transactions, unlike other centralized crypto P2P projects who charge from 0.5%-5% per transaction including other hidden costs.  The ByBarter platform supports multichain transactions including Bitcoin, Ethereum, Binance Coin, Metis, Matic, Tron, Avalanche, Solana as well as USDT Bep20 and TRC20. This makes ByBarter the on and off ramp solution of choice for decentralized crypto enthusiasts who interact with Decentralized exchanges or DeFi projects built on any of the listed blockchains.
Partnered with some big names in the crypto industry including Chainlink, Polygon, Coinstore, Gotbit, Innmind and Alchemy, ByBarter shall launch the BYB token which serves as the payment token on the ByBarter ecosystem. The Team behind the project spent the last 20 months developing the project, there is a huge potential for explosive growth of the BYB token given the novel solution ByBarter brings to the crypto space. Especially as the Team aims to also build a MarketVerse and walletBank in the near future. Investors seeking early entry opportunities in the crypto space are keen on following the project in order to capitalize on investment opportunities BYB provides.
In a space were project Teams make entry to the market only on promises to build, ByBarter leaps into the space with a live product after 20 months of hard work of building in a bear market and is set to disrupt decentralized crypto and set DeFi free. Check out the BYBARTER platform and join the move to make decentralized crypto independent.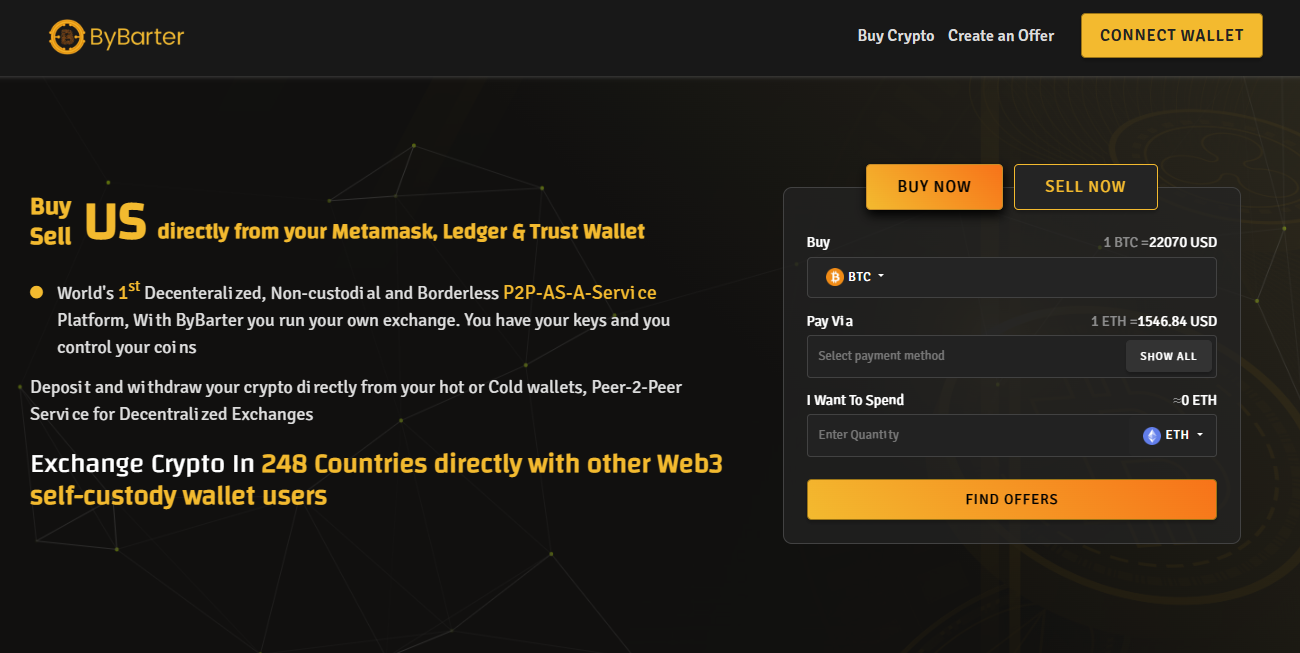 Telegram   Twitter   Threads   Instagram

CONTACT: Info-at-bybarter.io
https://bybarter.exchange