ZUG, SWITZERLAND, July 19, 2023 (GLOBE NEWSWIRE) -- As the era of "2.0 tokens" sweeps the crypto world, Dash 2.0 comes into the spotlight. This new contender stands ready to make its mark on the crypto landscape. With the current wave of 2.0 tokens reinvigorating the crypto market, Dash 2.0 represents an opportunity for both newcomers and seasoned investors. Despite its current modest market cap of $18,000, Dash 2.0 is poised for potential rapid growth, presenting a second shot for investors to participate in a crypto market resurgence.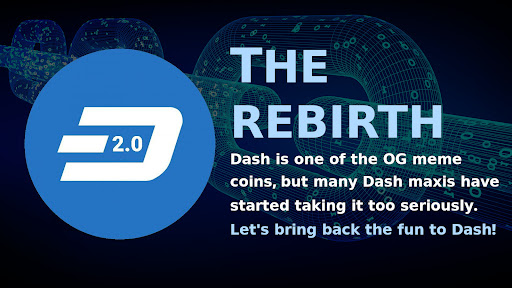 In a world where Dash, the innovative digital cash system, stands tall with a massive market cap of $376 million, Dash 2.0, with its exceptionally low market cap and a max supply of 18.9 million tokens (same as Dash) offers an enticing opportunity for crypto enthusiasts. This is a chance for investors to enter the game early, partake in its growth and possibly experience unprecedented returns.
This new crypto asset is not just a digital currency; it's a statement that embraces the power of internet humor and meme culture, all while promising rapid, efficient transactions and a user-friendly approach. Dash 2.0 is positioned to bridge the gap between tech and fun, revolutionizing the way people view cryptocurrency.
Despite its low market cap, Dash 2.0 is far from being a passive player. It thrives on community engagement and is significantly shaped by the actions of its users. This open-door policy encourages everyone to join in, discuss ideas, and help influence the future of this promising coin.
While Dash 2.0 might seem like a small player compared to its predecessor, Dash, it's essential to remember that even the most massive trees start from small seeds. Every great crypto story begins somewhere, and we firmly believe that Dash 2.0 is on the brink of writing its own.
Investors looking for a promising and innovative new cryptocurrency should consider Dash 2.0. With its low market cap, it offers a unique and valuable opportunity to get in on the ground floor of what could be the next big thing in the crypto market. And ownership renounced and liquidity locked for 133 years means Dash 2.0 is "rug proof". This ensures long-term stability by preventing malicious acts like sudden token withdrawals or scam exits. This is the time to act, as the only direction Dash 2.0 is headed, is up!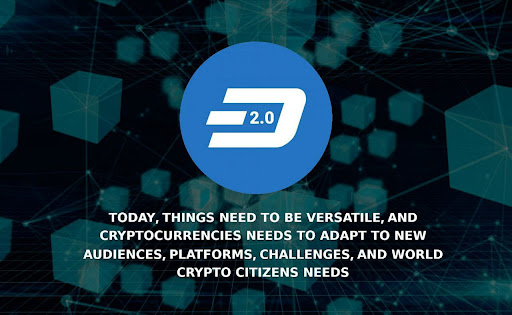 The token Dash 2.0 has indeed seen a significant increase since its launch, growing by 400%. However, this is a relatively modest gain when compared to some other notable cryptocurrencies.
For instance, the original Dash token has experienced a staggering 14,997.14% increase since its inception. This means if you had invested $1 in Dash at its launch, it would now be worth about $150.
Even more dramatically, the meme coin $Pepe has seen a phenomenal growth of 142625x since its launch. Converted into percentages, this represents an astronomical increase of 14,262,500%. This means if you had invested just $1 in $Pepe at its launch, your investment would now be worth over $14 million.
It's important to remember that cryptocurrency investments can be very volatile and risky. Always do thorough research and consider seeking advice from financial professionals before investing.

DeFi, or Decentralized Finance, is a term that refers to the use of blockchain technologies and cryptocurrencies to recreate and improve upon financial systems. It is open to anyone and doesn't require intermediaries such as banks.
Uniswap is one of the most popular DeFi platforms. It's a decentralized exchange (DEX) on the Ethereum blockchain that allows anyone to swap ERC20 tokens directly from their wallet. Unlike traditional exchanges, Uniswap uses automated liquidity pools instead of order books.
To buy a new token on Uniswap, follow these steps:
You'll first need a digital wallet (like MetaMask) loaded with Ethereum, as Uniswap transactions are powered by ETH.
Go to Uniswap's website and connect your wallet.
In the swap window, select the token you want to swap (e.g., ETH) and the new token you want to purchase.
Confirm the transaction in your wallet.
Always remember to do your own research before investing in any new tokens.
For more information about Dash 2.0, visit https://dash2.vip or join the conversation on our Telegram group at t.me/dash2erc.
About Dash 2.0
Dash 2.0 is a technologically innovative cryptocurrency driven by the power of meme culture. Offering efficient, fast, and secure transactions, but it's more than a coin; it's a digital statement that aims to revolutionize the cryptosphere with the Dash community.
CONTACT: Roger Weber

Dash 2.0

team at dash2.vip