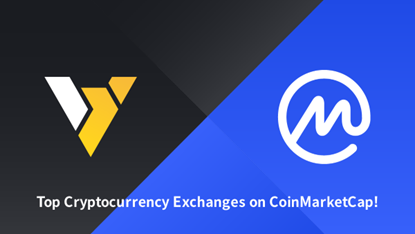 SINGAPORE, Aug. 17, 2023 (GLOBE NEWSWIRE) -- The war among cryptocurrency exchanges has been intense over the past two years, especially with Binance facing regulations and FTX shutting down. Various crypto exchanges from different countries have been vying for a prominent position. Established in 2020, the cryptocurrency exchange BYDFi is joining this top-tier crypto exchange battle.
In three short years, BYDFi has amassed over 500,000 registered users and was selected as one of Forbes' Top 10 Best Cryptocurrency Exchanges of 2023. Recently, it is honored to announce that it has reached the 50th position in the derivative exchange category on the globally renowned cryptocurrency tracking website CoinMarketCap. This achievement marks a significant milestone in the development of the BYDFi brand.
CoinMarketCap and CoinGecko are two globally recognized cryptocurrency ranking websites with a massive user base and substantial market influence. The gradual climb in rankings on both platforms has brought BYDFi Exchange considerable recognition and visibility. BYDFi is regarded as one of the favorite crypto exchanges among individuals and has achieved the rank of 50th in the derivative exchange category. This recognition comes from the team's dedication to creating the most suitable trading environment for retail traders.
Looking back at the past six months, BYDFi underwent a rebranding in January and introduced a series of related product features in August, including Coin List, perpetual contract sub-wallets, and a BYD power center.
BYDFi introduced the world's first Coin List feature, a unique offering not tried on other global trading platforms. This signifies that BYDFi is entering the arena of top-tier crypto exchanges. BYDFi CMO Michael Hung combined music and cryptocurrency, using Coin List to allow users to experience purchasing cryptocurrency as effortlessly as using Spotify for music. The Coin List feature transforms BYDFi from a cryptocurrency trading platform into a community site for cryptocurrency enthusiasts, propelling BYDFi towards SocialFi.
Michael Hung, BYDFi CMO, expressed, "We are pleased to rank 50th in the CoinMarketCap derivative exchange rankings. Our journey of establishing BYDFi over these three years has only been possible due to the continuous support and trust of our partners. While gaining recognition from CoinMarketCap is a small milestone, BYDFi's vision is to create the most suitable trading environment for all individual traders, and our mission extends beyond this."
About BYDFi
BYDFi is a leading cryptocurrency social trading exchange for individual investors.  BYDFi has been offering professional, convenient, and innovative trading solutions to global users since 2020, including spot trading, lite contracts, perpetual contracts, and copy trading.
With the slogan "BUIDL Your Dream Finance" takes cryptocurrency trading to a whole new level. BYDFi aspires for its platform to afford users autonomy and leave a permanent imprint on the sector's progress.
BYDFi: https://www.bydfi.com
Media Contact: Jeanne Hsieh
Contact: media@bydfi.com
A photo accompanying this announcement is available at https://www.globenewswire.com/NewsRoom/AttachmentNg/b0280727-ec97-4c7d-a03f-bf1f431ae6f7