New company creates a solution to easily and compliantly transfer digital assets
SAN FRANCISCO, CA, July 04, 2023 (GLOBE NEWSWIRE) -- Bequest Finance has raised a $2.75M dollar round led by Nyca Partners, a leading fintech venture capital firm. They are also backed by Mark Cuban and other fintech-focused firms. Bequest allows legal practitioners globally to manage digital assets, which are becoming increasingly common, without needing technical know-how. Bequest will lead this revolution in the multi-trillion dollar trusts and estates industry by creating non-custodial distribution rails to support legal processes for digital assets.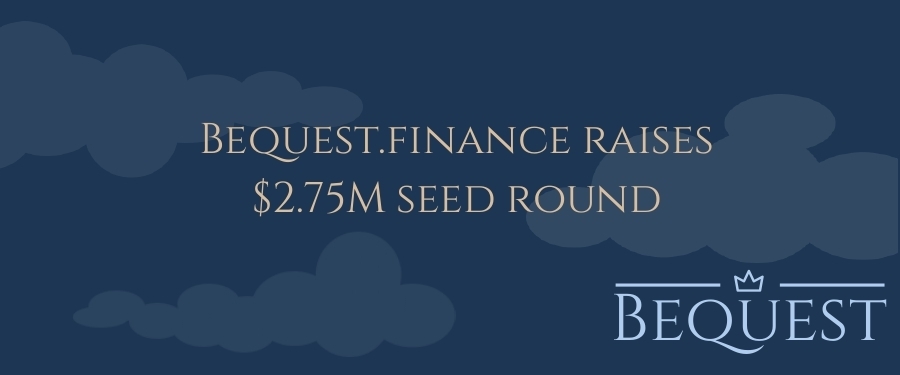 Bequest intends to allow the trusts and estates industry to accommodate all digital assets. This market expansion could bring in tens of billions of dollars a year to this industry, which serves a crucial role in financial planning. With Bequest, estate planners can compliantly add any digital asset to their client's estate: from Bitcoin, to email, to photo and video content.
Bequest was originally built at a hackathon. The pair of founders realized that the options for crypto holders to pass on their assets after their death were limited and cumbersome.
Currently, the best option for crypto users is to leave a private key behind for a recipient to access. This is risky as many successors are not savvy enough to recover and appropriately distribute digital assets. Even if the assets are recovered and distributed properly, the larger problem is one of legal compliance.
It is usually not compliant for some pre-approved recipients to gain custody of the assets and become responsible for their distribution. It is also usually illegal for lawyers to have custody of their client's private keys. This leaves crypto holders with few succession options.
The probate process is notoriously long and unpleasant, and irrecoverable assets or uncooperative centralized entities are an unfortunate reality. This messy scenario is seamlessly solved by Bequest.
"Bequest Finance is working on a solution to the increasingly common problem of passing digital assets to the next generation. They have created an easy-to-use tool for trust and estate lawyers to enable their clients to transfer not only crypto but in the future, any password-protected digital asset," said Hans Morris, Managing Partner at Nyca.
The founders, Anna Mouland and Robert Muresan have strong experience in the field of digital assets that give them a competitive edge in the market. Anna previously worked at Aquanow, one of Canada's most prolific digital asset exchanges, where she built out technology to launch B2B blockchain solutions for international clients. She was also an engineer at one of the most innovative layer-1 distributed ledger technology companies, VRRB, where she led protocol design, architecture, and implementation. She graduated from McGill University with a degree in Computer Science. Robert also has a strong background in engineering. He previously worked at Bitgo, one of the most trusted custodians in decentralized distributed ledger technology, and at Shopify as a Software Engineer. Robert won a number of hackathons while studying computer science at the University of Waterloo.
After winning a hackathon with their initial version of Bequest, Anna, and Robert worked with Fenwick & West to ensure compliance and built out a board of advisors to refine the product. During this process, the team realized that the transfer of assets problem extends beyond cryptocurrency: all digital assets that are password-gated suffer from the same coordination problem posed by password sharing through an intermediary like an estate lawyer. Regulations and account terms of service can also be limiting factors in people's ability to pass on their digital assets.
The team is excited to expand and continue building for their clients. If you are looking to include digital assets in your estate plan or are in need of a non-custodial digital asset management solution, you can learn more at www.bequest.finance
About Bequest Finance
Bequest Finance, a fintech company, offers an innovative, non-custodial digital asset management solution, designed to address the challenges in the trusts and estates industry. Developed alongside leading minds in law and fintech, Bequest facilitates compliant and secure management of digital assets, from cryptocurrencies to NFTs, without the need for legal practitioners to custody their clients' assets or handle private keys. Leveraging state-of-the-art audited smart contracts, Bequest ensures a user-friendly experience, offering a seamless process that respects the privacy and promotes autonomy, thereby transforming the legal framework of digital asset management.

Disclaimer: There is no offer to sell, no solicitation of an offer to buy, and no recommendation of any security or any other product or service in this article. This is not investment advice. Please do your own research.
Media Contact:
Name: Anna Mouland
Mail: anna@bequest.finance
Company: Bequest Finance
Website: https://www.bequest.finance/