VANCOUVER, British Columbia, Oct. 26, 2023 (GLOBE NEWSWIRE) -- BIGG Digital Assets Inc. ("BIGG" or the "Company") (CSE: BIGG; OTCQX: BBKCF; WKN: A2PS9W), a leading innovator in the digital assets space and owner of Netcoins, and Blockchain Intelligence Group and TerraZero is pleased to announce the integration of Spotify Premium into TerraZero's Intraverse PRO music platform for their first experience with Teddy Swims and Warner Records.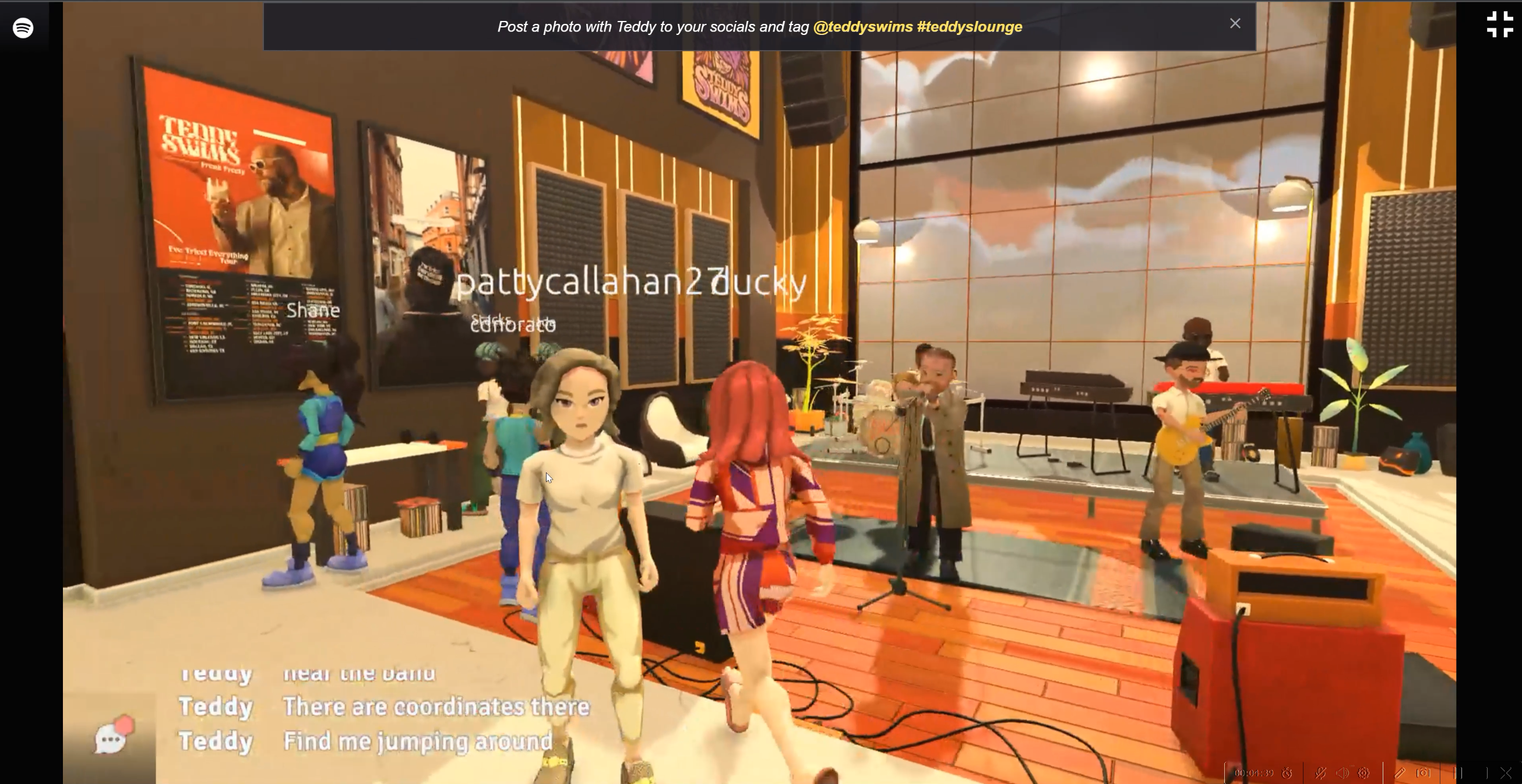 Caption: TerraZero's Intraverse PRO activation for Teddy Swims and Warner Records.
When entering the Intraverse experience, users who were subscribed to Spotify Premium could log into their Spotify accounts to listen to Teddy Swims's new album in full. Upon TerraZero's recent announcement of the Intraverse PRO Music Platform, the Company knew connecting fans and artists together was going to have to keep music front and center amidst Intraverse PROs social and ecommerce features. Thus, the company worked to integrate Spotify Premium into Intraverse PRO.
Intraverse PRO is designed to be a new platform where artists and fans can connect, like Instagram, TikTok, YouTube and twitch, but in a three-dimensional, virtual environment where fans and their favorite artists can feel a sense of being together. Dan Reitzik, CEO of TerraZero, sees Intraverse PRO's Spotify integration as another way artists can further expand their success, "Intraverse PRO is a platform focused on social engagement and community development, and just like they do on other platforms, artists can leverage their success on Spotify to generate more streams and connect with more fans. This unique mix of streaming, social and ecommerce is how Intraverse PRO can more directly connect fans to artists' music, competitions, giveaways, video content, and more, right from their mobile phones."
In the Intraverse PRO experience, fans could immerse themselves in Teddy's lounge, socialize with each other, watch Teddy Swims's music video for his single, "Lose Control", and among other features, fans could retrieve coordinates to find free Teddy Swims concert tickets across a number of stops along Teddy Swims's current tour. The tickets have since been found.
Upon the integration of Spotify Premium into the Teddy Swims and Warner Records activation, TerraZero aims to bring this feature to more artists as they move towards their beta launch of Intraverse PRO—as well as reveal other integrations and partners who will help artists better expand their fanbases and better connect with devoted fans. "We see so much opportunity by connecting platforms together. Whether you're an artist, creator or brand, you can succeed on each one individually, but you can do so much more for your audience when you connect them together. We aim to bring the entire omnichannel closer together with Intraverse PRO."
TerraZero is slated to launch the Intraverse PRO beta in January 2024. Bands and artists looking to step into new spaces and levels of fan engagement with Intraverse can learn more by contacting hello@terrazero.com and going online to terrazero.com.
On behalf of the Board
Dan Reitzik
Interim CEO
ir@biggdigitalassets.com
About BIGG Digital Assets Inc. 
BIGG Digital Assets Inc. (BIGG) believes the future of crypto is a safe, compliant, and regulated environment. BIGG invests in products and companies to support this vision. BIGG has three portfolio companies: Netcoins (netcoins.com), Blockchain Intelligence Group (blockchaingroup.io), and TerraZero (terrazero.com).
Blockchain Intelligence Group builds technology to power compliance and intelligence for the crypto future. Banks and crypto companies depend on our technology to monitor risk from crypto transactions. Investigators and law enforcement quickly identify and track illicit activity. Blockchain Intelligence Group is trusted globally by banks, crypto companies, law enforcement, fintechs, regtechs and governments. 
Netcoins offers safe and secure crypto trading in Canada and the USA, with a mission to make cryptocurrency easily accessible to the mass consumer and investor with a focus on fast, simple and transparent trading. Netcoins has a robust product offering with Crypto Trading, Netcoins Pay Mastercard and Netcoins Staking. Netcoins utilizes BitRank Verified® software at the heart of its platform and facilitates crypto trading via its cutting-edge Mobile and Web applications. For more information please visit our website www.netcoins.com.
TerraZero Technologies Inc. is a vertically integrated Metaverse development group and leading Web3 technology company specializing in helping brands create immersive experiences. TerraZero's Metaverse-agnostic vision is to develop and implement products and services with scalable commercial applications to flourish engagement across gamified experiences where enterprise-level businesses, metaverse platforms, and Web3 creators can seamlessly bridge and actionably grow their virtual world and the physical world endeavors together as one. TerraZero owns digital real estate for brands to establish presence in existing virtual worlds and can also offer brands their own private worlds to provide offices and services to those interested in the metaverse. Furthermore, TerraZero acquires, designs, builds, and operates virtual assets and solutions to monetize the metaverse ecosystem. TerraZero's businesses are segmented into five (5) divisions which include: (1) immersive experience creation in existing or private virtual worlds; (2) advertising; (3) data analytics; (4) events and marketing; and (5) development of the Intraverse. TerraZero aims to support the community, foster innovation, and drive adoption. For more information, please visit https://terrazero.com/ or contact hello@terrazero.com.
For more information and to register for BIGG's mailing list, please visit our website at https://www.biggdigitalassets.com. Or visit SEDAR+ at www.sedarplus.ca.
Forward-Looking Statements:
Certain statements in this release are forward-looking statements, which include the the planned Intraverse PRO beta launch and the expected timeline, the expected benefits and outcomes of integrating Spotify into Intraverse, the development and completion of products and services, and other matters. Forward-looking statements consist of statements that are not purely historical, including any statements regarding beliefs, plans, expectations or intentions regarding the future. Such information can generally be identified by the use of forwarding-looking wording such as "may", "expect", "estimate", "anticipate", "intend", "believe" and "continue" or the negative thereof or similar variations. Readers are cautioned not to place undue reliance on forward-looking statements, as there can be no assurance that the plans, intentions or expectations upon which they are based will occur. By their nature, forward-looking statements involve numerous assumptions, known and unknown risks and uncertainties, both general and specific that contribute to the possibility that the predictions, estimates, forecasts, projections and other forward-looking statements will not occur. These assumptions, risks and uncertainties include, among other things, the state of the economy in general and capital markets in particular, the ability to manage operating expenses, which may adversely affect the Company's financial condition, the ability to remain competitive as other better financed competitors develop and release competitive products, and other factors, many of which are beyond the control of BIGG. Forward-looking statements contained in this press release are expressly qualified by this cautionary statement. Undue reliance should not be placed on the forward-looking information because BIGG can give no assurance that they will prove to be correct. Important factors that could cause actual results to differ materially from BIGG's expectations include consumer sentiment towards BIGG's products and Blockchain technology generally, technology failures, the ability to successfully define, design, and release new products in a timely manner that meet customers' needs; the ability to attract, retain, and motivate qualified personnel; competition in the industry; the impact of technology changes on the products and industry; failure to develop new and innovative products; the ability to successfully maintain and enforce our intellectual property rights and defend third-party claims of infringement of their intellectual property rights; the impact of intellectual property litigation that could materially and adversely affect the business; the ability to manage working capital; and the dependence on key personnel; competition; the demand and pricing of cryptocurrencies and NFTs (including digital assets); litigation; security threats, including a loss/theft of NFTs, cryptocurrencies, and other assets; and failure of counterparties to perform their contractual obligations.
The forward-looking statements contained in this press release are made as of the date of this press release. Except as required by law, BIGG disclaims any intention and assumes no obligation to update or revise any forward-looking statements, whether as a result of new information, future events or otherwise. Additionally, BIGG undertakes no obligation to comment on the expectations of, or statements made by, third parties in respect of the matters discussed above.
The CSE does not accept responsibility for the adequacy or accuracy of the content of this Press Release.
A photo accompanying this announcement is available at https://www.globenewswire.com/NewsRoom/AttachmentNg/be0ce580-7297-4157-8f88-ee0440b19fde