Victoria, Seychelles, July 07, 2023 (GLOBE NEWSWIRE) -- BigONE, a world-leading cryptocurrency exchange, has been granted in-principle approval by the Astana Financial Services Authority (AFSA) in Kazakhstan. This recent approval underscores BigONE's ongoing dedication to broadening its reach in developing and dynamic markets. Following this approval, BigONE will be authorized to operate Digital Asset Trading Facility and offer Custody Services at the Astana International Financial Centre (AIFC) in Kazakhstan.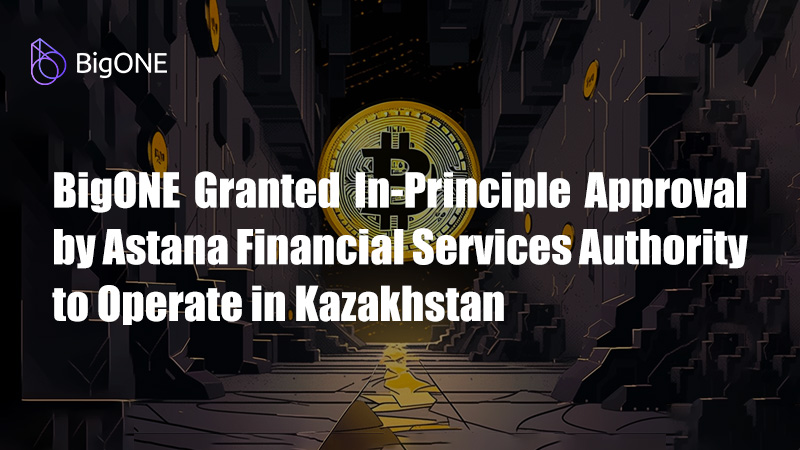 BigONE has chosen to focus on the Kazakhstan market due to its gateway to the Commonwealth of Independent States (CIS) and the country's openness towards technological advancements, and remarkable growth in the cryptocurrency and blockchain technology sectors. The government has recognized Bitcoin as a digital asset and is investing in various sectors, including fintech and the crypto industry.
"Collaboration with regulatory authorities is the future of the cryptocurrency industry. Kazakhstan ranks 13th in the Asia-Pacific region for fintech, and we are impressed with AFSA's robust regulatory framework. They have made significant efforts in areas such as risk control and investor protection, which aligns with BigONE's vision as a cryptocurrency exchange," said Ian Tian, CEO of BigONE.
To promote crypto awareness and adoption, BigONE plans to collaborate with the Blockchain Association in Kazakhstan to enhance the crypto literacy curriculum and second-tier banks to help them understand how cryptocurrencies can be utilized as financial assets. The government has a forward-looking perspective on cryptocurrencies and collaborates with regulators to shape the regulatory landscape.
"After receiving In-Principle Approval from AFSA, we now aim to contribute and have a stake in the digital Tenge project. Additionally, the concept of crypto debit or credit cards that enable instant conversion of cryptocurrencies to fiat currency has been discussed. We are keen on partnering with banks to explore this idea, merging traditional finance with the crypto industry in a regulated and friendly environment." said Athena Miao, Vice President of BigONE Business Development.
BigONE's approval by the Astana Financial Services Authority in Kazakhstan marks a significant milestone in the exchange's expansion into new and dynamic markets. BigONE is dedicated to adhering to regulatory frameworks and aims to establish a foothold in the AIFC.
For more information, visit Website | Twitter | Telegram | Youtube

CONTACT: Arrietty Yang
BigONE
yangyang(at)big.one