EDMONTON, Alberta, May 02, 2023 (GLOBE NEWSWIRE) -- Bitcoin Well Inc. ("Bitcoin Well" or the "Company") (TSXV:BTCW; OTCQB:BCNWF), the non-custodial fintech business which future-proofs money by making bitcoin useful to everyday people, today announced financial and operating results for the first quarter ended March 31, 2023. The company also announced new Online Portal features, including the ability to pay credit cards, taxes and other household bills directly with bitcoin, as well as purchase gift cards from hundreds of popular retailers with bitcoin.

Key highlights
Gross profit of $1.1 million (Q1 2022 - $1 million) with a gross margin improvement to 9%.

The increased gross margin is a result of a changing product mix, with more higher-margin ATM sales in Q1 2023 relative to prior periods. Bitcoin Well continued to see strong ATMs volumes throughout the quarter, with a company record number of ATM transactions in the month of March 2023.

Bitcoin Well recorded Adjusted EBITDA of negative $0.22 million (Q1 2022 - negative $1.5 million).

Changes in the unrealized value of our cryptocurrency loans and digital assets may result in significant swings in net income which are not indicative of the underlying operational performance of the business. We present Adjusted EBITDA to exclude the variability caused by the revaluations and other items not expected to recur in normal operations.

Approximately 3,800 unique users in the Online Portal (Q4 2022 - 2,500) an improvement of 52%.

Associated Online monthly revenues exceeded $369,000 (Q4 2022 - $190,000), maintaining continued growth in the product since launched in Q4 2022.

Canadians can now also buy gift cards and pay credit cards, taxes and household bills with bitcoin through the Online Portal at bitcoinwell.com/app
Financial overview
 
For the three months ended,
 
March 31,
2023
March 31,
2022
%
 
($000s)
($000s)
Change
Revenue
$12,417
$13,529
(8
%)
Gross profit
$1,086
$965
13
%
Adjusted EBITDA1
$(217)
$(1,494)
85
%
Total comprehensive loss
$(1,006)
$(2,184)
54
%
1 See Non-IFRS Measures.
The Company's Q1 2023 revenue decreased to $12.4 million compared to $13.5 million in Q1 2022. Despite the decrease in revenue, gross profit increased to $1.1 million in Q1 2023, compared to $0.9 million in the same time period in the prior year, an improvement of 13%. Adjusted EBITDA improved to negative $0.2 million in Q1 2023 compared to negative $1.5 million in the prior year, an improvement of 71%.
Notably, the Company achieved a 9% Gross Margin in Q1 2023 compared to a 7% Gross Margin in Q1 2022, resulting from a relative increase in higher-margin ATM sales in the quarter.
"We have been working hard to maintain consistency across our existing cash flow generating business units, being ATMs and OTC (Bitcoin Well Infinite), despite the volatile crypto markets, all while still achieving strong growth in the Online Portal in terms of users and revenue. This is displayed in our Q1 2023 results, and we are staying committed to continuing this positive trend. We are also excited to see the impact of the planned expansion to the USA, announced March 28, 2023, to our existing cash flowing units in the coming periods," said Luke Thibodeau, CFO.
Product advancements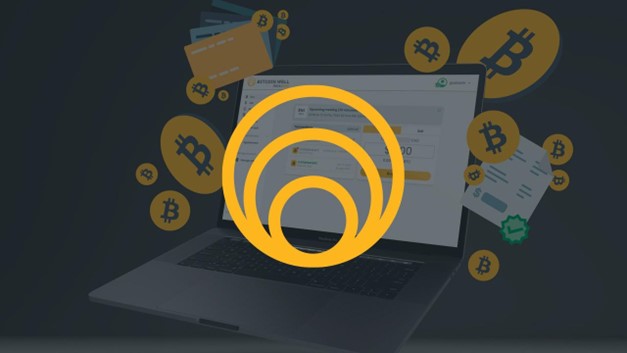 Bitcoin Well has successfully incorporated the ability for users in Canada, USA, India, the EU and other countries around the world to purchase gift cards to popular retailers including Amazon, Uber, Air Canada and more using bitcoin or other cryptocurrencies into the Online Portal. This is done through a partnership where Bitcoin Well will receive a portion of the margin earned on each transaction.
"The ability to use bitcoin to buy gift cards is an important part of bitcoin usability. We are a long ways away from merchants accepting bitcoin natively, and this helps bridge the gap and make bitcoin more usable in the meantime," said Adam O'Brien, CEO of the Company. "This additional functionality cements us as a leader in giving people the convenience of modern banking (easy ways to use money) with the benefits of bitcoin (self custody)."
Also released this month, Canadian users at bitcoinwell.com/app can now pay their household bills, taxes and credit cards with bitcoin.
Effective immediately, any payee that accepts payment through the Canadian bill payment network can be paid with bitcoin through the Bitcoin Well Online Portal.
"The Bitcoin Well Online Portal has the most functionality in the country!" Adam O'Brien continued. "With our bill payments and gift card functionality, bitcoin just got a whole lot more useful."
Other updates
Lastly, on May 1, 2023, the Company agreed to amendments to the Convertible Debenture issued on February 23, 2022. Amendments include an adjustment to the conversion price, which is now $0.25 (from $0.30), an amended interest rate of Prime + 6.2% (formerly 10% per annum), and an amendment to the term of the loan, which now extends to five (5) years from the issue date (formerly three (3) years from the issue date). These amendments are subject to regulatory approval.
Non-IFRS measures
The Company uses certain terms in this news release and within the MD&A, such as 'Adjusted EBITDA', which do not have a standardized or prescribed meaning under International Financial Reporting Standards (IFRS), and accordingly, these measurements may not be comparable with the calculation of similar measurements used by other companies. See the table below for a reconciliation of each non-IFRS measure to its nearest IFRS measure or refer to the "Non-GAAP Measures" and "Selected Financial Information" sections in the MD&A for applicable definitions, calculations, rationale for use and reconciliations to the most directly comparable measure under IFRS. Non-IFRS measures are provided as supplementary information by which readers may wish to consider the Company's performance but should not be relied upon for comparative or investment purposes.
Reconciliation of Adjusted EBITDA to net loss
For the three months ended:
Mar 31, 2023
Mar 31, 2022
 
$000s
$000s
Net loss
$ (3,523)
$ (2,061)
Fair value change – crypto loans (1)
 
3,441
 
(138)
Realized gain on digital assets, net of tax
 
(406)
 
-
Income tax recovery
 
(667)
 
(577)
Interest
 
408
 
176
Depreciation and accretion
 
385
 
681
Share based compensation
 
81
 
73
Gain on debt settlement
 
4
 
(28)
Other
 
60
 
2
Financing fees
 
-
 
262
Bad debt expense
 
-
 
94
Business acquisition and QT transaction costs
 
-
 
24
Adjusted EBITDA
$ (217)
$ (1,494)
(1) Non-cash, fair value change on the revaluation of cryptocurrency loans which are more than offset by a revaluation loss on digital assets recorded in Other Comprehensive Income.
This news release should be read in concert with the full disclosure documents. The Bitcoin Well consolidated financial statements and management's discussion and analysis for the three months ended March 31, 2023 will be available on the Bitcoin Well website (www.bitcoinwell.com), via SEDAR (www.sedar.com) or can be requested from the Company.
About Bitcoin Well
Bitcoin Well is in the business of future-proofing money. We do this by making bitcoin useful to everyday people to give them the convenience of modern banking and the benefits of bitcoin. Our existing Bitcoin ATM and Personal Services business unit drives cash-flow to help fund this mission. 
Join our investor community and follow us on Nostr, LinkedIn, Twitter and YouTube to keep up to date with our business.
Bitcoin Well contact information
To book a virtual meeting with our Founder & CEO Adam O'Brien please use the following link: https://bitcoinwell.com/meet-adam
For additional investor & media information, please contact:
Tel: 1 888 711 3866
ir@bitcoinwell.com
Neither TSX Venture Exchange nor its Regulation Services Provider (as that term is defined in policies of the TSX Venture Exchange) accepts responsibility for the adequacy or accuracy of this release.
Forward-looking information 
Certain statements contained in this news release may constitute forward-looking information. Forward-looking information is often, but not always, identified by the use of words such as "anticipate", "plan", "estimate", "expect", "may", "will", "intend", "should", or the negative thereof and similar expressions. Forward-looking information involves known and unknown risks, uncertainties and other factors that may cause actual results or events to differ materially from those anticipated in such forward-looking information.
Bitcoin Well actual results could differ materially from those anticipated in this forward-looking information as a result of regulatory decisions, competitive factors in the industries in which Bitcoin Well operates, prevailing economic conditions, and other factors, many of which are beyond the control of Bitcoin Well.
Bitcoin Well believes that the expectations reflected in the forward-looking information are reasonable, but no assurance can be given that these expectations will prove to be correct and such forward-looking information should not be unduly relied upon.
Any forward-looking information contained in this news release represents Bitcoin Well expectations as of the date hereof, and is subject to change after such date. Bitcoin Well disclaims any intention or obligation to update or revise any forward-looking information whether as a result of new information, future events or otherwise, except as required by applicable securities legislation.
For more information, see the Cautionary Note Regarding Forward Looking Information found in the Bitcoin Well quarterly Management Discussion and Analysis.
A photo accompanying this announcement is available at https://www.globenewswire.com/NewsRoom/AttachmentNg/3ad43db9-41ed-408d-bdb0-974ce15a7a59