Victoria, Seychelles, Oct. 27, 2023 (GLOBE NEWSWIRE) -- Bitget, a leading cryptocurrency exchange and web3 company, is thrilled to reveal the upcoming launch of T2T2 on its Launchpad. T2T2 is set to revolutionize the crypto market with its innovative features and promising potential. The launchpad event will provide traders with the opportunity to commit BGB, Bitget's native token, and team up to participate in this exciting project.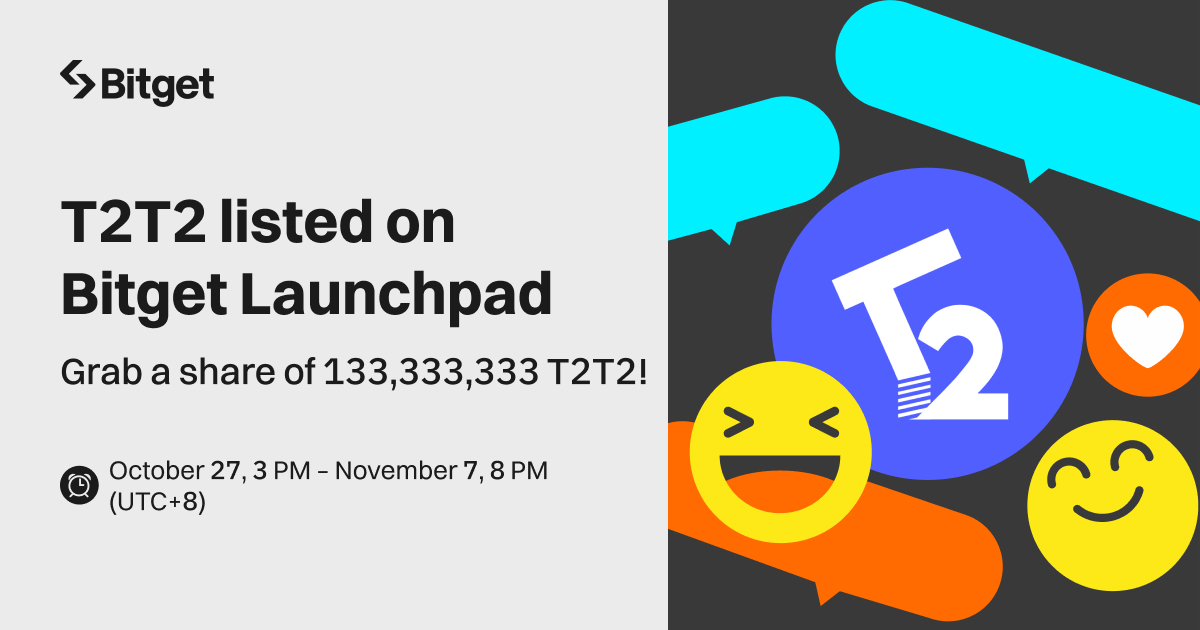 T2T2, a cutting-edge project in the decentralized finance (DeFi) space, will be listed on Bitget's Launchpad on October 27, 2023. The launchpad event will consist of several phases, including the commitment period, holding calculation period, and distribution of T2T2 tokens.
During the commitment period, users can commit BGB, Bitget's native token, to participate in the T2T2 launch. The BGB swap price will be determined based on the average BGB price during the calculation period, which is calculated every four hours. After the commitment period ends, the system will allocate T2T2 tokens to each user based on their committed BGB.
Gracy Chen, Managing Director of Bitget, expressed her enthusiasm about the launch, stating, "We are excited to introduce T2T2 on our Launchpad. This project showcases the innovative potential of decentralized finance and aligns with our commitment to offering our users access to cutting-edge projects. We believe that T2T2 will bring new opportunities and value to the crypto community."
Bitget has been consistently expanding its market share in both spot and derivatives trading among centralized exchanges. With its comprehensive "Go Beyond Derivatives" strategy, Bitget has achieved top rankings in derivatives and spot markets globally. The launch of T2T2 on the Bitget Launchpad further strengthens the platform's position as a leading player in the crypto industry.
To participate in the T2T2 launch on Bitget's Launchpad, users can visit this link for more details. It is important to note that market maker and broker accounts are not eligible for this promotion, and only main accounts are eligible to receive rewards.
About Bitget
Established in 2018, Bitget is the world's leading cryptocurrency exchange and web3 company. Serving over 20 million users in 100+ countries and regions, the Bitget exchange is committed to helping users trade smarter with its pioneering copy trading feature and other trading solutions. Formerly known as BitKeep, Bitget Wallet is a world-class multi-chain crypto wallet that offers an array of comprehensive Web3 solutions and features including wallet functionality, swap, NFT Marketplace, DApp browser, and more. Bitget inspires individuals to embrace crypto through collaborations with credible partners, including legendary Argentinian footballer Lionel Messi and official eSports events organizer PGL.
For more information, visit: Website | Twitter | Telegram | LinkedIn | Discord | Bitget Wallet
CONTACT: media-at-bitget.com