Victoria, Seychelles, Aug. 02, 2023 (GLOBE NEWSWIRE) -- Bitget, top crypto derivatives and copy trading platform, has announced that it will host its first Crypto Experience Day with partnering universities and blockchain organizations on Aug 12, the International Youth Day. Various educational campaigns will be hosted in nine countries and regions including Japan, Argentina, Australia, Dubai, Taiwan, United Kingdom, Nigeria, Canada, and India. The initiative is part of the Bitget Blockchain4Youth charity project and it is aimed at providing hands-on blockchain knowledge as well as crypto career suggestions to young audiences.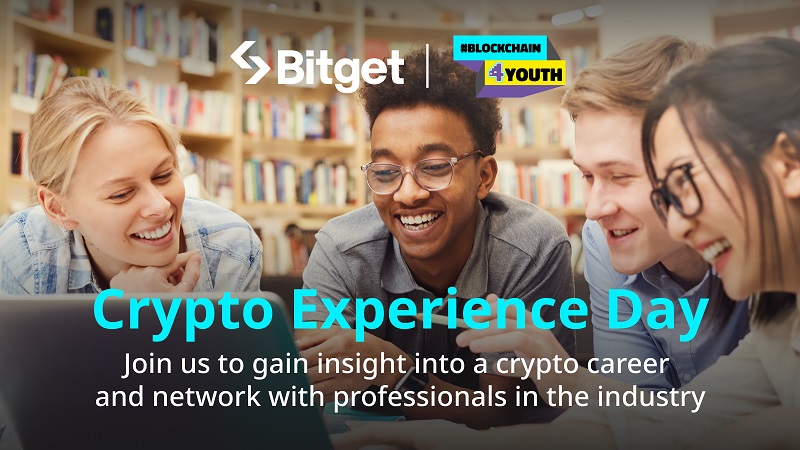 Launched in May 2023, Bitget Blockchain4Youth project is about helping cultivate young talents and thus foster a crypto-positive global perception of decentralized technologies for their ensuing mass adoption. The courses offered by Bitget will strive to provide systematic knowledge about the industry and empower young individuals willing to innovate and lead in it.
The company's recent research points out that Millennials account for 46% of crypto enthusiasts and are more familiar with the internet and digital technologies than their more mature counterparts. Bitget believes they will be playing a vital role in promoting crypto adoption, and therefore, aims to encourage and inspire the backbone of the future world, to join and follow the wave of crypto early.
The inaugural Blockchain4Youth event, Crypto Experience Day, is set to commence on August 12, 2023. The event aims to offer a comprehensive understanding of the crypto industry to its participants, providing unique insights into the sector's human resource landscape. Attendees can expect a hands-on experience that showcases the promising opportunities young professionals can explore within the industry.
The events hosted across multiple continents are following a similar agenda with keynote speech, ice breaking session, Quizzes and hands-on practices. A detailed explanation of internal operational procedures within Bitget and Bitget Wallet will also be introduced to illustrate the workflow of a real crypto industry working environment. Attendees will also be provided with hands-on experience in crypto such as how to set up a blockchain wallet, how to make a transaction on blockchain and how to create an NFT.
This global event follows Bitget's recent rebranding centered on the "Trade smarter'' philosophy. The initiative emphasizes Bitget's commitment to empowering individuals towards a secure, user-friendly, and efficient financial future. To fulfill this vision, Bitget's Blockchain4Youth project marks a major milestone in the exchange's broader strategy of propagating blockchain and cryptocurrency knowledge among young audiences.

About Bitget
Established in 2018, Bitget is the world's leading cryptocurrency exchange that offers Copy Trading services as one of its key features. Serving over 20 million users in more than 100 countries and regions, the exchange is committed to helping users trade smarter by providing a secure, one-stop trading solution. Bitget inspires individuals to embrace crypto through collaborations with credible partners, including legendary Argentinian footballer Lionel Messi and official eSports events organizer PGL. 
For more information, visit: Website  |  Twitter  |  Telegram  |  LinkedIn  | Discord

CONTACT: For media inquiries, please contact: media-at-bitget.com