VICTORIA, SEYCHELLES , Aug. 15, 2023 (GLOBE NEWSWIRE) -- Bitget, top crypto derivatives and copy trading platform, continues its dedication to delivering priority access to top-tier tokens with the forthcoming listing of SEI today. This strategic token addition reaffirms Bitget's commitment to offering users early engagement opportunities with promising tokens. The SEI token listing aligns seamlessly with Bitget's broader mission of fostering a dynamic and well-rounded Web3 environment. SEI will be listed in the Innovation Zone and Layer 1 Zone. Spot Grid Trading will go live within 24 hours after the listing.  Deposit is open now and trading of the token will commence on August 15th at 12 PM UTC.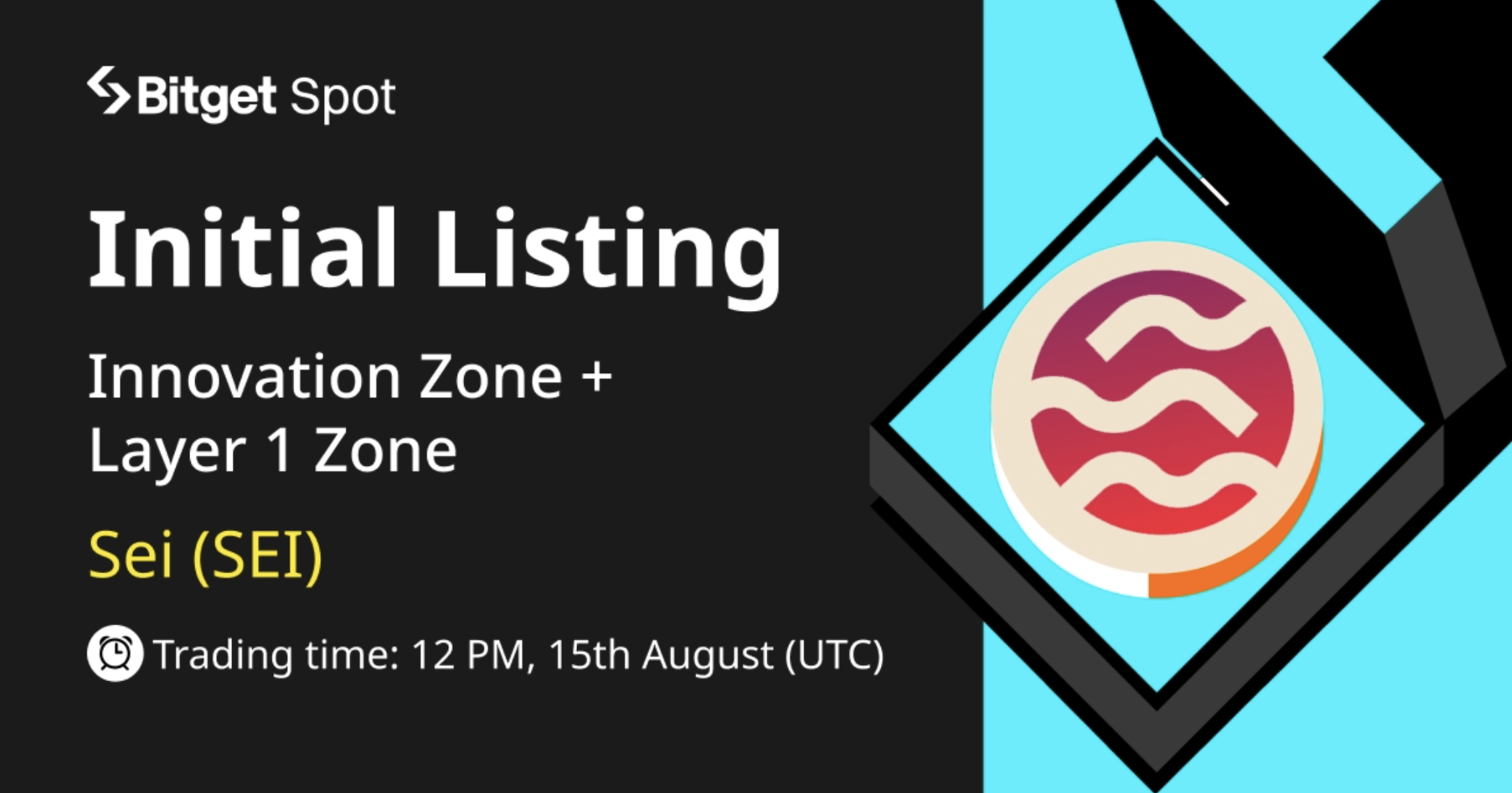 SEI is positioned at the forefront of blockchain innovation, leveraging the capabilities of Cosmos' L1 blockchain to reshape order book infrastructure. Its testnet's rapid traction is underscored by more than 3.60 million unique users and over 35 million transactions processed within a month of launch. This exceptional adoption highlights SEI's potential to revolutionize blockchain-powered financial solutions. Moreover, SEI's substantial backing from reputable institutions like Bitget, Foresight Ventures, Multicoin, Coinbase, GSR, JumpCapital, and BIXIN, positions it as a key player in driving the next wave of decentralized technology.
SEI's innovative approach to order book infrastructure aligns seamlessly with Bitget's broader mission of fostering a dynamic Web3 environment. Its introduction will further enhance Bitget's comprehensive offering by providing users access to a transformative token with significant potential. By listing SEI into its platform, Bitget reinforces its commitment to quality token access and liquidity support, laying the foundation for a holistic and forward-looking blockchain landscape.
Bitget's commitment to speedy yet diligent token listings ensures that users can swiftly engage with tokens poised for impact. The listing of SEI on August 15th, 2023, symbolizes Bitget's dedication to offering its users an early entry into innovative tokens with substantial growth prospects. This initiative echoes Bitget's core ethos of supporting valuable projects and providing a comprehensive Web3 experience for its users.
Gracy Chen, Managing Director of Bitget, emphasizes: "SEI's listing on Bitget is a strategic step toward fostering a well-rounded Web3 environment. We are excited to bring SEI's transformative capabilities to our users and to provide them with priority access to tokens of immense potential. SEI's integration is a testament to Bitget's ongoing efforts to facilitate an environment that nurtures blockchain innovation."
As Bitget continues to curate a forward-thinking ecosystem, the SEI token listing serves as a testament to the platform's commitment to quality, innovation, and user-centricity. For more information about the upcoming SEI listing and Bitget's broader initiatives, please visit Bitget's official website or engage with Bitget across its dynamic social media channels.
About Bitget
Established in 2018, Bitget is the world's leading cryptocurrency exchange with copy trading services. Serving over 20 million users in more than 100 countries and regions, Bitget is committed to helping users trade smarter by providing a secure, one-stop trading solution. The exchange seeks to inspire individuals to embrace crypto through collaborations with credible partners, including legendary Argentinian footballer Lionel Messi and official esports events organizer PGL.
For more information, visit: Website | Twitter | Telegram | LinkedIn |Discord

For media inquiries, please contact: media@bitget.com
CONTACT: Tomás Damas Nunes
Public Relations Manager
Bitget
tomas.dn at bitget.com