Victoria, Seychelles, July 13, 2023 (GLOBE NEWSWIRE) -- Bitget, top crypto derivatives and copy trading platform, has unveiled its monthly Proof of Reserves (PoR), demonstrating an unparalleled total reserve ratio of 223%, which twice exceeds the industry standard of 100%. This latest proof of reserves continues Bitget's commitment to radical transparency, as the exchange has been publishing verifiable data since December 2022, aiming to build trust and set a new industry benchmark.
Bitget's latest reserve ratios are as follows: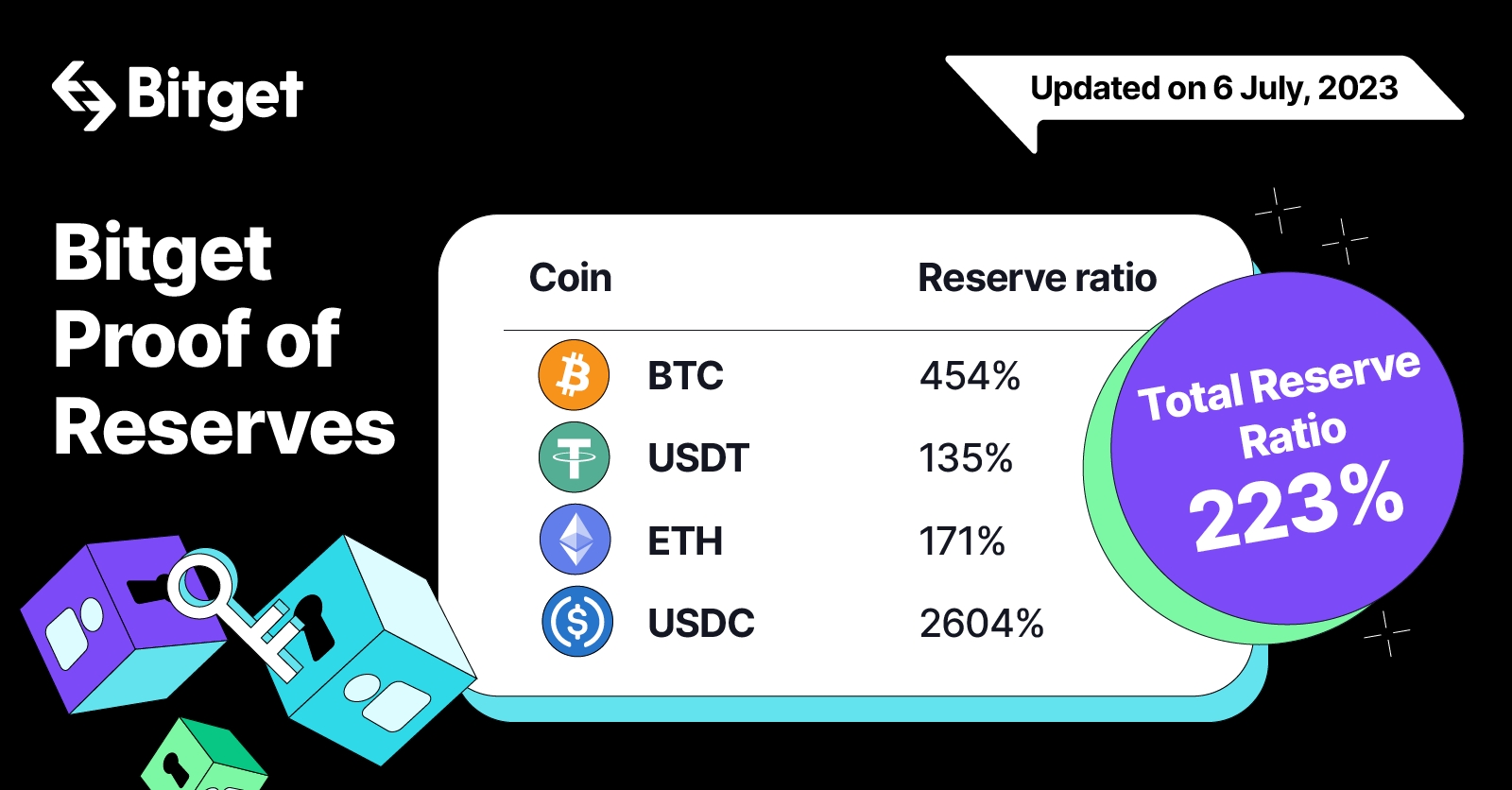 According to data on Coinmarketcap on July 11th, the balance of the reserves is over $1.44 billion in 31 popular digital assets. The comprehensive report showcases Bitget's unwavering dedication to transparency, with reserve ratios consistently exceeding 200% for the past seven months. And, the addition of USDC reserves in March 2023 provides an extra layer of transparency into the status of Bitget funds.

Through publishing Merkle Tree proof, platform reserves, and platform reserve ratio every month, Bitget guarantees it holds 100% of users' assets in reserves. To further enhance transparency and ensure the ultimate accuracy of the information, the exchange launched a new tool, "Merkle Validator", for users to perform self-audit with their own accounts. The feature allows users to verify the security of their funds in a few simple steps. Users can verify the status of their assets' "Merkle leaf" under the Merkle tree data structure.

"In an ever-evolving global and market landscape, maintaining the stability of financial transactions is of paramount importance. At Bitget, we prioritize both financial and technical security to instill confidence in our users for the future," said Gracy Chen, Managing Director of Bitget. "We will continue releasing consistent Proof of Reserves as a pillar of trust in our platform. Bitget also endeavors to set higher standards industry-wide — collaborating across exchanges to advocate for radical transparency through crypto's evolution."
Bitget is committed to carrying out regular audits of the PoRs and cooperating with leading audit firms to make sure the balances and the status of user assets within its reserves stay up-to-date. To provide an additional layer of safeguard for users, Bitget has established a $300 Million Protection Fund. The fund aims to cover users' losses in the event of compromised accounts or lost assets due to events beyond their control or trading behavior. Bitget pledges to continually increase the Protection Fund to maintain its value, underscoring its dedication to customer asset security.
About Bitget
Established in 2018, Bitget is the world's leading cryptocurrency exchange that offers Copy Trading services as one of its key features. Serving over 8 million users in more than 100 countries and regions, the exchange is committed to helping users trade smarter by providing a secure, one-stop trading solution. Bitget inspires individuals to embrace crypto through collaborations with credible partners, including legendary Argentinian footballer Lionel Messi and official eSports events organizer PGL. 
For more information, visit: Website  |  Twitter  |  Telegram  |  LinkedIn  | Discord

CONTACT: Rachel Cheung
Global PR Manager
Bitget
media(at)bitget.com