NEW YORK CITY, NY , June 14, 2023 (GLOBE NEWSWIRE) -- The collaboration between BitKeep and QuickSwap brings forth a new era of seamless and efficient trading capabilities. With the successful integration and support of BitKeep's Chrome extension wallet on QuickSwap, BitKeepers can now effortlessly access QuickSwap directly from their browser extension. This collaboration empowers users to engage in trading, liquidity staking, and a host of other activities, all within the convenience of their BitKeep user interface.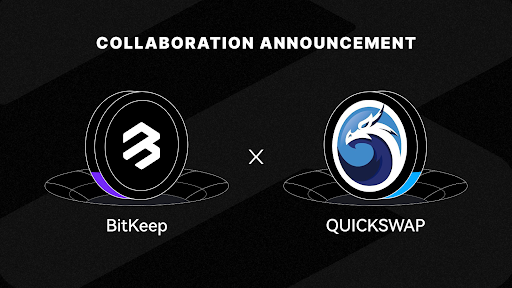 Previously, BitKeep made waves by integrating QuickSwap's Swap trading feature into its mobile and extension, granting its users access to a wider range of assets and optimal prices. With this latest integration milestone, BitKeep users can expect to enjoy even more access to QuickSwap's capabilities through BitKeep Swap. 
BitKeep Swap stands out as a cutting-edge service in the market, supporting over 20 public chains and enabling cross-chain transactions among 17 public chains. Its innovative "Instant Gas" feature allows users to complete cross-chain transactions seamlessly, eliminating the need to hold native Gas tokens and streamlining the overall trading experience in a groundbreaking way. 
This year, BitKeep Swap also introduced a brand-new feature that allows users to place limit orders. This addition further amplifies the trading capabilities within BitKeep Swap, allowing users to set specific parameters and execute transactions according to their preferences. Whether it be conducting flash swaps at market prices or experiencing the flexibility of limit orders, BitKeep Swap offers a comprehensive trading solution that will suit the needs and preferences of every Web3 user. 
"The collaboration with QuickSwap marks a significant milestone for BitKeep and our community," said Moka, COO at BitKeep. 
"With the integration of BitKeep Swap with QuickSwap, our users can effortlessly access a world-class DEX, trade a wide range of assets, and harness the power of cross-chain transactions in a hassle-free manner. We are excited to unlock new possibilities for our users and empower them to thrive in the ever-evolving Web3 landscape."
This collaboration further highlights BitKeep's commitment to delivering an unparalleled user experience for its users. By working with QuickSwap, BitKeep solidifies its position as a leading multi-chain wallet, while also underscoring its vision to serve as the ultimate gateway for all users to Web3 at the same time.

About BitKeep
BitKeep Wallet, the ultimate Web3 multi-chain wallet, offers a comprehensive platform for Swap, Asset Discovery and Management, NFT Marketplace, DApp Browser, and Launchpad. Established in 2018, it has attracted over 10 million users across 168 countries worldwide, supporting more than 255,400 cryptocurrencies and 20,000 DApps across over 90 mainnets. BitKeep NFT Market is among the largest on BNB Chain and Polygon, boasting over 220,000 NFT collections and $40 million in trading volume. With features such as a unique DESM encryption algorithm and a shared $400 million Bitget Protection Fund, users can rest assured that security is of paramount importance at BitKeep.
About QuickSwap
QuickSwap is the leading DEX on Polygon, Polygon zkEVM, & Dogechain that provides users with fast transaction speeds & near-zero gas fees. It's home to the DragonFi ecosystem, a comprehensive DeFi product suite where users can swap, LP, farm, trade perpetuals, stake, and more.
Follow BitKeep to stay up-to-date with all of our latest events, findings, and promotions, and let BitKeep be your premier gateway into the Web3 space.
For more information, visit: 
https://t.me/BitKeep_Announcements_New

https://linkedin.com/company/bitkeep

https://blog.bitkeep.com/en/?p=4233

CONTACT: Chole Qian

Bitkeep

support at bitkeep.com