Victoria, Seychelles, July 20, 2023 (GLOBE NEWSWIRE) -- BitKeep, a leading multi-chain wallet, has joined forces with the Solana Foundation in an exciting collaboration aimed at promoting the growth and evolution of the blockchain landscape. This strategic partnership combines BitKeep's robust wallet solution with Solana's high-performance blockchain platform, providing a comprehensive solution to existing scalability and throughput concerns in the industry while placing users at the forefront of industrial innovation and evolution.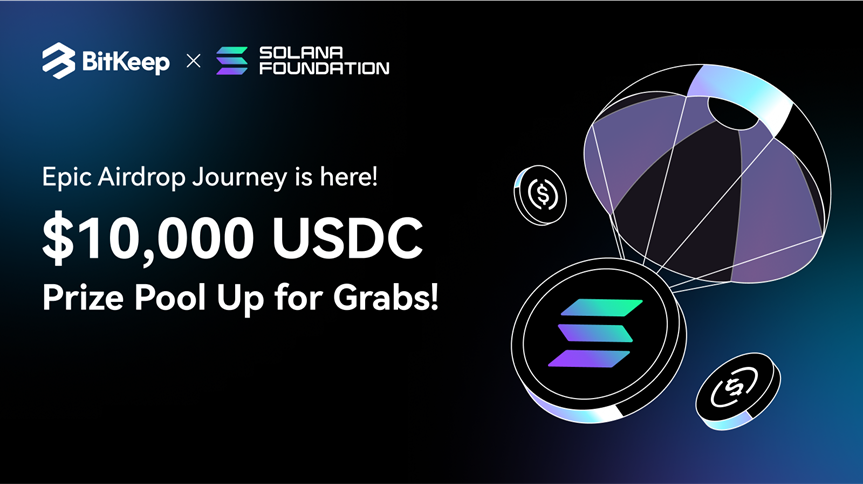 BitKeep, with its secure and convenient asset management services, has integrated with the Solana mainnet, allowing users to safely store, transfer, and conduct both single-chain and cross-chain transactions on the Solana network in a seamless manner. Additionally, BitKeep users can also expect to leverage Solana's vibrant ecosystem and interact with popular decentralized applications (DApps) all from the convenience of their BitKeep Wallet. BitKeep Wallet is also listed on the official Solana ecosystem home page.
To celebrate this partnership and show appreciation to the community, BitKeep has launched the "Solana Epic Airdrop Journey" campaign. The event features a reward pool of 10,000 USDC and exclusive Solana Non-Fungible Tokens (NFTs) symbolizing the revolutionary spirit of Solana's blockchain technology.
During the event's first phase, participants will have the opportunity to win airdrop prizes ranging from $2 to $500 USDC through the Solana Pop-up Airdrop. To qualify for the airdrop, new and existing BitKeep users will simply need to key in their valid Solana wallet address. Further, new users who engage in social tasks on the Galxe platform using their BitKeep Solana wallet address will also earn an exclusive commemorative NFT on the Solana mainnet. Holding the NFT together with at least $10 worth of assets in their BitKeep Wallet will additionally grant participants a chance to win guaranteed airdrop rewards.
"We are thrilled to partner with the Solana Foundation to foster the further growth and evolution of the Web3 landscape. The 'Solana Epic Airdrop Journey' represents an exciting opportunity for blockchain enthusiasts to shape the future of this transformative technology, and is a testament to our dedication to broader Web3 community. Together with Solana, we invite both experienced veterans and new Web3 users to embark on this exciting expedition and explore the limitless possibilities that BitKeep and Solana bring to the table." - Moka, COO of BitKeep. 
The "Solana Epic Airdrop Journey" event is the first phase of a larger campaign, with more exciting events to be revealed in the second stage of the Solana Ecosystem Month. 
Act swiftly, as the event runs from July 14th to August 3rd.
About BitKeep
BitKeep Wallet, the ultimate Web3 multi-chain wallet, offers a comprehensive platform for Swap, Asset Discovery and Management, NFT Marketplace, DApp Browser, and Launchpad. Established in 2018, it has attracted over 10 million users across 168 countries worldwide, supporting more than 255,400 cryptocurrencies and 20,000 DApps across over 90 mainnets. BitKeep NFT Market is among the largest on BNB Chain and Polygon, boasting over 220,000 NFT collections and $40 million in trading volume. With a host of cutting-edge security features such as a unique DESM encryption algorithm, risk alerts, and strong partnerships with leading external smart contract audit firms, users can be assured of their transaction security while using BitKeep Wallet.
About Solana
Solana is a high-performance blockchain platform designed to address scalability and speed limitations faced by traditional blockchains. Its combination of proof of history (PoH) and proof of stake (PoS) algorithms enables unparalleled transaction throughput, making it a preferred choice for decentralized applications, DeFi, and NFT projects.
Follow BitKeep to stay up-to-date with all of our latest events, findings, and promotions, and let BitKeep be your premier gateway into the Web3 space.
For more information, visit: Website | Twitter | Telegram | LinkedIn | Discord
CONTACT: For media inquiries, please contact: media.web3(at)bitget.com
For business inquiries, please contact: business.web3(at)bitget.com

Romeo
Bitget Wallet
romeo(at)bitget.com