Victoria, Seychelles, Aug. 10, 2023 (GLOBE NEWSWIRE) -- BitKeep, a leading multi-chain non-custodial wallet, is excited to announce its transformative brand upgrade to Bitget Wallet, marking a groundbreaking milestone in the world of Web3 trading. Following a successful $30 million capital raise from Bitget, a prominent crypto derivatives exchange, the stage is set for a dynamic integration that harmonizes Bitget Wallet's robust services with Bitget's cutting-edge trading expertise and technology. Scheduled to be officially rebranded by 10 August 2023, the platform's metamorphosis as a trading wallet platform is set to empower users with faster transactions and superior asset management services.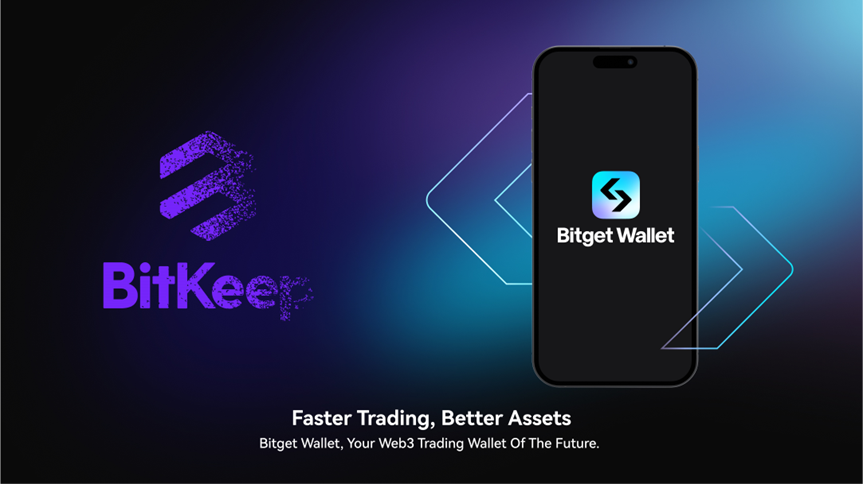 In line with the new brand vision of "Faster Trading, Better Assets", the brand upgrade launches Bitget Swap, a new integrated multi-chain trading feature that boasts intelligent DEX aggregation across 100+ DEXs with the best-in-class liquidity to provide users with the most optimal prices available. Leveraging the capabilities of Bitget Swap, users can expect to enjoy an extensive range of trading pairs, seamless cross-chain trading across 20 chains, accurate market data and prices aggregated from multiple leading protocols, and a robust selection of trading modes including limit orders and leveraged contracts.
With Bitget Swap serving as the core proposition of Bitget Wallet, users will be able to seamlessly complete their transactions when interacting with the various other product features on the platform such as token management and transfer, NFT Market, DApp Browser, Launchpad, and more. The integration of Bitget Swap fundamentally provides users with an unprecedented ease of access to the user-centric ecosystem within Bitget Wallet, removing the need for users to rely upon external platforms to enjoy an unparalleled trading wallet experience. 
The overall user interface will also be upgraded, facilitating a more concise interface reflecting the platform's goal to serve as the ultimate gateway into Web3.
To commemorate Bitget Wallet's brand upgrade, a new logo has been unveiled - a powerful symbol of the platform's commitment to revolutionize the world of Web3 trading and its steadfast partnership with Bitget Exchange. 
The logo features two arrowheads pointing in opposite directions, each carrying profound meaning that aligns with the new brand's vision. The arrows represent Bitget Wallet's unwavering conviction towards the future through guidance and leadership, and signify the swift transaction speeds that users can expect to enjoy on the platform. 
Moka, the COO of BitKeep, expressed great enthusiasm about the upcoming brand upgrade to Bitget Wallet. "This transformation marks a significant milestone for BitKeep as we embrace the future of Web3 trading," she notes. "With Bitget's support, we are poised to become the ultimate trading wallet, empowering users with faster transactions, unmatched DEX aggregation, and seamless cross-chain convenience."
The synergy with Bitget additionally fortifies Bitget Wallet's financial security, underpinned by a robust $300 million user protection fund This collaborative effort reinforces their commitment to providing unparalleled protection and peace of mind to their valued users across the globe, and will also see the expansion of Bitget Wallet's internal security team. This is coupled with the platform's cutting-edge security features such as in-built risk alerts, authorization querying, and strong partnerships with external security audit firms like SlowMist and Certik to safeguard users against any potential threats. 
Since its inception in 2018, BitKeep has embarked on a journey of co-creation with developers and users alike. With an unwavering commitment to understanding and responding to market demands, Bitget Wallet stood tall alongside the Bitcoin community's vision of embracing decentralization. The DeFi summer of 2021 further fueled the platform's momentum, solidifying its position as a premier gateway to the Web3 world. Witnessing exponential growth in its user base and revenue, Bitget Wallet proudly celebrated the achievement of its 10 million global users in Q1 of this year, exemplifying its enduring popularity and impact on the industry.
Bitget Wallet invites the global community to join in its extraordinary journey, unlocking the true potential of Web3 trading, together as one. Embrace the future of digital assets and revolutionize your trading experience with Bitget Wallet.
About Bitget Wallet
Bitget Wallet is a decentralized multi-chain digital wallet that provides an all-in-one solution for a comprehensive portfolio of services, including wallet functionality, an integrated swap feature, NFT Marketplace, DApp Browser, and Launchpad. It offers reliable and secure asset management and trading services to more than 10 million users worldwide, covering 168 countries in North America, Europe, and Asia and is a top-rated wallet on both Google Play and the iOS App Store globally. Bitget Wallet currently supports over 250,000 types of cryptocurrencies across over 90 chains, including major ones such as Bitcoin, Ethereum, Arbitrum, Polygon, BNB Chain, Fantom, and Solana.
For more information, visit: Website  |  Twitter  |  Telegram  |  LinkedIn  | Discord

About Bitget
Established in 2018, Bitget is the world's leading cryptocurrency exchange that offers Copy Trading services as one of its key features. Serving over 20 million users in more than 100 countries and regions, the exchange is committed to helping users trade smarter by providing a secure, one-stop trading solution. Bitget inspires individuals to embrace crypto through collaborations with credible partners, including legendary Argentinian footballer Lionel Messi and official eSports events organizer PGL. 

For more information, visit: Website  |  Twitter  |  Telegram  |  LinkedIn  | Discord

CONTACT: For media inquiries, please contact: media-at-bitget.com