Jersey City, NJ, June 16, 2023 (GLOBE NEWSWIRE) -- BitMart, a leading global digital asset trading platform, announced today a strategic partnership with Hong Kong Virtual Assets Consortium (HKVAC). This collaboration aims to facilitate cooperation between the two entities in the cryptocurrency field to foster a more secure, trustworthy, stable, and sustainable environment for the development and innovation of virtual assets in Asia and worldwide.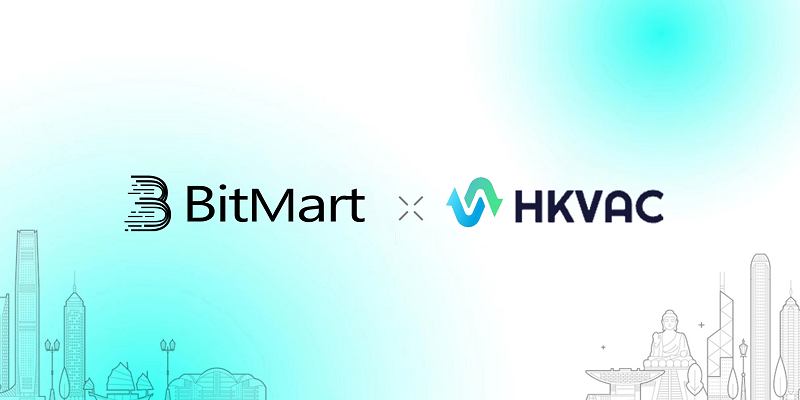 HKVAC, founded by professional rating organizations and stakeholders in the virtual asset industry, including data companies, exchanges, and institutional investors, along with licensed rating agencies in Hong Kong, aims to promote the importance of industry-led security risk management. HKVAC is dedicated to assisting the national and Hong Kong governments in establishing a significant position as an international financial center. HKVAC obtains primary data from major exchanges and public chains in the market, analyzing the market from various critical dimensions and factors. They provide impartial and objective credit ratings that reflect the reputation of trading platforms.
Notably, HKVAC plans to introduce the "Virtual Asset Index" and "Virtual Asset Exchange Rating," which will serve as objective third-party reference data for professional investors and the public when engaging in related activities.
The "Major Cryptocurrency Index" provided by HKVAC represents the overall performance of the top-valued cryptocurrencies in the global cryptocurrency market. It consists of the 30 cryptocurrencies with the highest market capitalization that meet specific qualifying criteria. The index is reviewed and adjusted quarterly on the last day of each quarter (March, June, September, and December).
Albert Lo, the spokesperson for HKVAC, expressed their satisfaction with the important memorandum of understanding (MOU) signed with BitMart. "As a representative of virtual asset stakeholders and rating organizations in Hong Kong, we are committed to promoting innovation and development in blockchain and virtual asset technologies. The collaboration with BitMart provides valuable industry resources and data to jointly advance the development of the virtual asset industry and strengthen Hong Kong's competitive position in the global virtual asset market."
Sheldon Xia, Founder and CEO of BitMart, emphasized the importance of the partnership with HKVAC, stating, "This collaboration marks a significant milestone for BitMart. Acknowledging Hong Kong's potential in the blockchain and virtual asset industry, we aim to drive the adoption of innovative projects and foster collaboration through this alliance. We are excited to explore the global virtual asset market with HKVAC and provide users with a trading experience that is more convenient, and efficient."
By signing this strategic cooperation memorandum, HKVAC and BitMart are committed to building a more transparent, secure, and innovative virtual currency ecosystem, thereby actively contributing to the overall advancement of the virtual asset industry.

About HKVAC
HKVAC (Hong Kong Virtual Assets Consortium) is the first comprehensive organization in Hong Kong dedicated to serving the virtual asset industry. HKVAC offers a range of professional services and resources to support the development and promotion of innovative projects. Upholding fairness across all sectors, HKVAC fulfills its primary functions, including: 1) collaborating with licensed rating agencies to provide credit ratings for digital assets exchanges 2) offering auxiliary services for the collective interests of the industry, such as fraud detection mechanisms and other necessary products and services 3) providing data and industry research to stakeholders and regulatory bodies to drive the development of the virtual asset industry. HKVAC aims to restore investment confidence in the virtual asset market and facilitate the healthy growth of the digital and virtual asset industry.
The goal of HKVAC is to make Hong Kong a leading global hub for virtual assets by fostering a prosperous and secure environment for innovators and investors. Through promoting technological innovation, advancing compliance standards, and nurturing talent, HKVAC is committed to driving the sustainable development of the virtual asset industry and contributing to Hong Kong's competitiveness in the global digital asset market.

About BitMart
BitMart is the premier global digital asset trading platform. With millions of users worldwide and ranked among the top crypto exchanges on CoinGecko, it currently offers 1,000+ trading pairs with competitive trading fees, including Bitcoin, Ethereum, and other leading cryptocurrencies. Constantly evolving and growing, BitMart is interested in crypto's potential to drive innovation and promote financial inclusion. To learn more about BitMart, visit their website, follow their Twitter, or join their Telegram for updates, news, and promotions. Be sure to download the BitMart App to easily trade your favorite crypto anytime, anywhere.
Follow us on social media:
Twitter | BitMart Research | Facebook | Telegram | YouTube | Instagram | Discord

CONTACT: marketing_at_bitmart.com