Berlin, Germany, March 07, 2023 (GLOBE NEWSWIRE) -- BlockRock is a community-driven organization whose aim is to give back power to the general public. It allows the community and the holders to make important decisions regarding the direction to take. Everyone is a CEO at BlockRock. 
BlockRock has announced the launch of their Everyone is a CEO initiative and the community is already glad about such a wonderful thing in the crypto space. Giving the opportunity to govern, lead and decide about the future of the project.  
BRO$, the governance token is held by a big number of people.  BlockRock is a unique and powerful community. Thanks to this wide network, BlockRock is getting bigger and stronger day by day. No one wants to miss out on this rapid rise and become a part of this powerful community.

BlockRock is not a financial manager. BlockRock has already built a portfolio of over $158,000 without taking money from investors, but the transaction fees from trading the BRO$ token. Every BRO$ token holder owns this portfolio and it is YOU who decides what we do with the profits!
There is nothing to hide, all wallets will appear in our reports and you will always have access to them on the blockchain. Every bought and sold asset - chosen by the community of course - is tracked in the report - only full transparency leads to the goal. 
BlockRock plans to actively distribute the tokens to big investors in the second quarter of 2023, similar to "The Wolf of Wall Street". A number of marketing campaigns are already underway. A rapid rise in the share price is in the cards, and success will be our guide. Don't miss out on getting involved in the 2023 Project.
BlockRock's core team is made up of crypto-experienced people from all walks of life, from judges to lawyers, entrepreneurs, and even regular employees - all involved to succeed. 
Being open and transparent, there is no BOSS at BlockRock, only one big community that makes the decisions - what are you waiting for? Join in and bet on us to win!
You are CEO, manager and investor at the same time and you can shape the future of BlockRock as a member of the BlockRock community. Still not convinced? Just join our Telegram group and ask your questions. Have a look at our YouTube tutorial video. We will answer all your questions - that's how the strong BlockRock community works.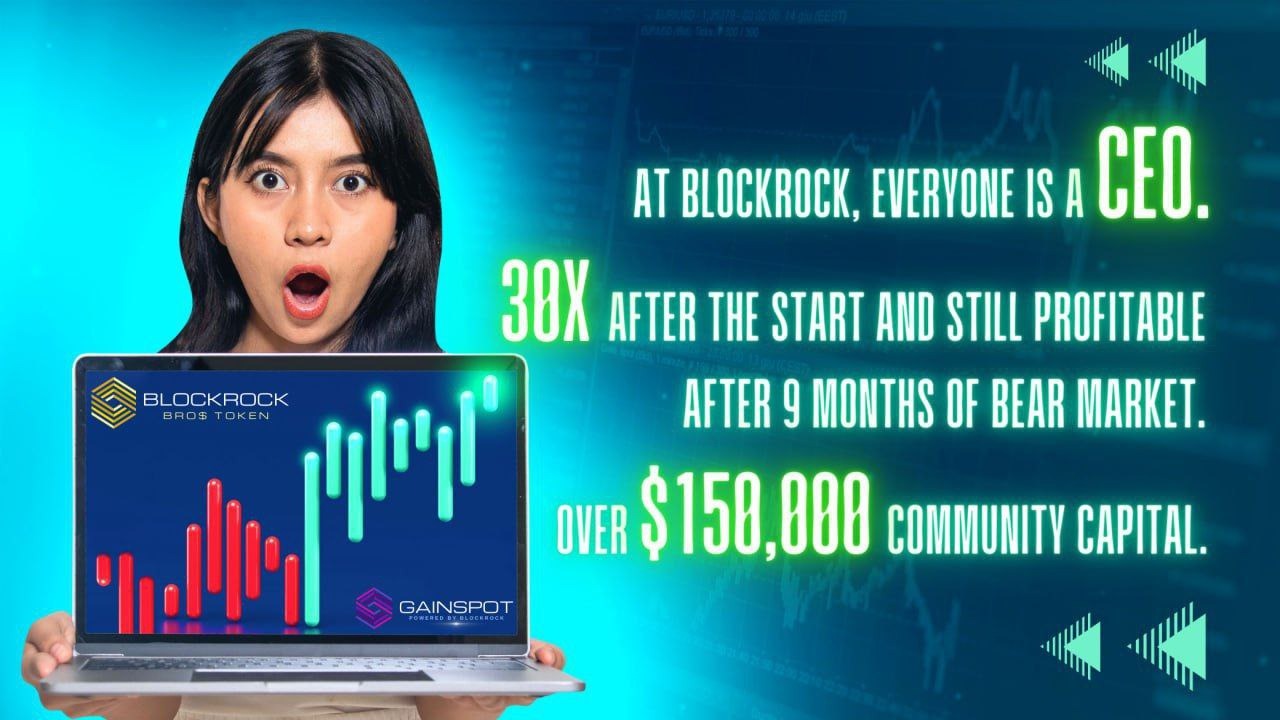 BlockRock as the main token has an offshoot called GAINSPOT.
The way Gainspot works is identical to BlockRock, with the exception that Gainspot invests in high-risk projects to generate faster profits, which are of course added back to the price through buyback and burn.
Within 72 hours, Gainspot tokens sold for over 400 BNB without any marketing. The importance of investing in the right assets to be among the winners is demonstrated by the buying power of our community.
We have an extremely strong community that is constantly growing in purchasing power on BlockRock and GainSpot. 
Secure your place in the sun and don't miss the chance to invest in these two exclusive projects.
BLockRock Telegram | BlockRock Homepage | Gainspot Telegram | Gainspot Homepage | Discord

Disclaimer:
The information provided in this release is not investment advice, financial advice, or trading advice. It is recommended that you practice due diligence (including consultation with a professional financial advisor) before investing or trading securities and cryptocurrency.
CONTACT: Terry Junior
BlockRock
info(at)blockrocktoken.com