Columbus, Georgia, Nov. 08, 2023 (GLOBE NEWSWIRE) -- BLOCX. is preparing its first ever software launch early December 23 and with it together Top Tier Exchange listing by the end of November 23.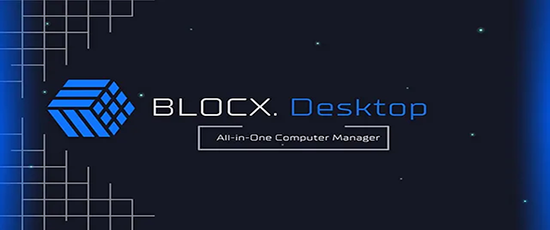 What is BLOCX. Desktop?

BLOCX. Desktop, a cutting-edge solution in the world of digital device management and security, is set to redefine the cybersecurity landscape with a comprehensive suite of innovative features. 

BLOCX. Desktop, a groundbreaking initiative in the world of digital device management and security, is set to revolutionize the way individuals and organizations safeguard their digital assets. Boasting a range of innovative features, including malware scanning, device health optimization, internet security, a password vault, and remote access, BLOCX. is poised to become a game-changer in the cybersecurity and all-in-one computer management landscape.
BLOCX. Desktop is designed to address the ever-growing challenges of managing and securing digital devices, from personal computers to corporate networks. With the increasing prevalence of cyber threats, there is an urgent need for a comprehensive solution that can effectively safeguard digital assets, and BLOCX. has risen to the occasion.
Key Features of BLOCX.:
Malware Scanning: BLOCX. incorporates advanced malware scanning technology to detect and remove malicious software, providing a robust defense against cyber threats.
Device Health Optimization: The platform optimizes the health and performance of digital devices, provides drivers auto update and afterburner for GPUs, ensuring they operate at their peak efficiency.
Internet Security: BLOCX. enhances internet security, safeguarding users from phishing attacks, malicious websites, and other online threats offering VPN services, together with Safe Browser.
Password Vault: BLOCX. offers a secure and convenient password vault, enabling users to manage and protect their login credentials with ease.
Remote Access: BLOCX. allows users to remotely access their devices, offering flexibility and convenience in device management.
Secure Wallet for Cryptocurrencies: BLOCX. includes a secure non-custodial cryptocurrency wallet, offering users a safe and reliable way to store and manage their digital assets.
BLOCX. Coin Use Cases: The native BLOCX. Coin can be used in multiple applications within the ecosystem, including collateral for masternodes, premium security features, and resource rentals.
In its second phase, BLOCX. is set to introduce an array of exciting additions to its platform:
Decentralized Exchange: BLOCX. will launch a decentralized exchange, providing users with a secure and transparent way to trade digital assets without need of opening a browser.
CPU and GPU Marketplace: BLOCX. will feature a marketplace for CPU and GPU resources, catering to those seeking additional computing power.
Storage Marketplace: Users can access a storage marketplace, allowing them to rent customized storage space as needed.
The BLOCX Coin is the cornerstone of the BLOCX. Network, serving as the native cryptocurrency that underpins its functionality. Users can utilize BLOCX Coin for various purposes, including participating in decision-making processes and fostering innovation within the platform.
The journey of BLOCX. began as a visionary concept in 2022, driven by a team of innovative minds determined to create a revolutionary solution for digital device management and security. After months of dedicated development and rigorous testing, BLOCX. is proud to announce its official launch for the public on July 20, 2023. This milestone marks the realization of a vision that aims to redefine the digital security landscape.
BLOCX. invites individuals and organizations alike to join this exciting journey of innovation and transformation in the realm of digital device management and security. With its powerful features and commitment to user engagement, BLOCX. is set to shape the future of cybersecurity and computer management.
Get Involved with BLOCX.
BLOCX. is not just a product; it's a community-driven initiative with a strong emphasis on transparency and user participation. To stay connected and get involved with BLOCX., please visit the following resources:
About BLOCX.
BLOCX. is a cutting-edge digital device management and security solution that offers a comprehensive set of features to safeguard digital assets. With malware scanning, device health optimization, internet security, a password vault, remote access, and a secure cryptocurrency wallet, BLOCX. aims to provide a one-stop solution for digital security needs. In its second phase, BLOCX introduces a decentralized exchange, CPU and GPU marketplace, storage marketplace, and various use cases for BLOCX Coin, further enhancing its capabilities and utility. In addition, BLOCX Coin serves as the foundation of the BLOCX. Network, allowing users to actively participate in decision-making and innovation. For more information, please visit https://blocx.tech/.
Disclaimer: The information provided in this press release is not a solicitation for investment, or intended as investment advice, financial advice, or trading advice. It is strongly recommended that you practice due diligence (including consultation with a professional financial advisor) before investing in or trading securities and cryptocurrency.
CONTACT: Jerry .C Porter
contact-at-blocx.tech