Revolutionizing DeFi: BTCBullDog Finance Unveils New Milestones and Future Plans for Secure, Passive Crypto Income
LEWES, DE, Sept. 20, 2023 (GLOBE NEWSWIRE) -- Welcome to the future of Decentralized Finance (DeFi) with BTCBullDog Finance, a groundbreaking cryptocurrency project operating on the BNB Chain. With a focus on rewarding its investors through Bitcoin (BTCB) rewards, BTCBullDog Finance has successfully completed Phases 1 through 3 of its roadmap. The project aims to redefine the DeFi space by offering a secure, user-friendly environment that innovates passive income opportunities in crypto. With three unique utilities designed to work in synergy, BTCBullDog Finance is setting new standards in crypto investment and security.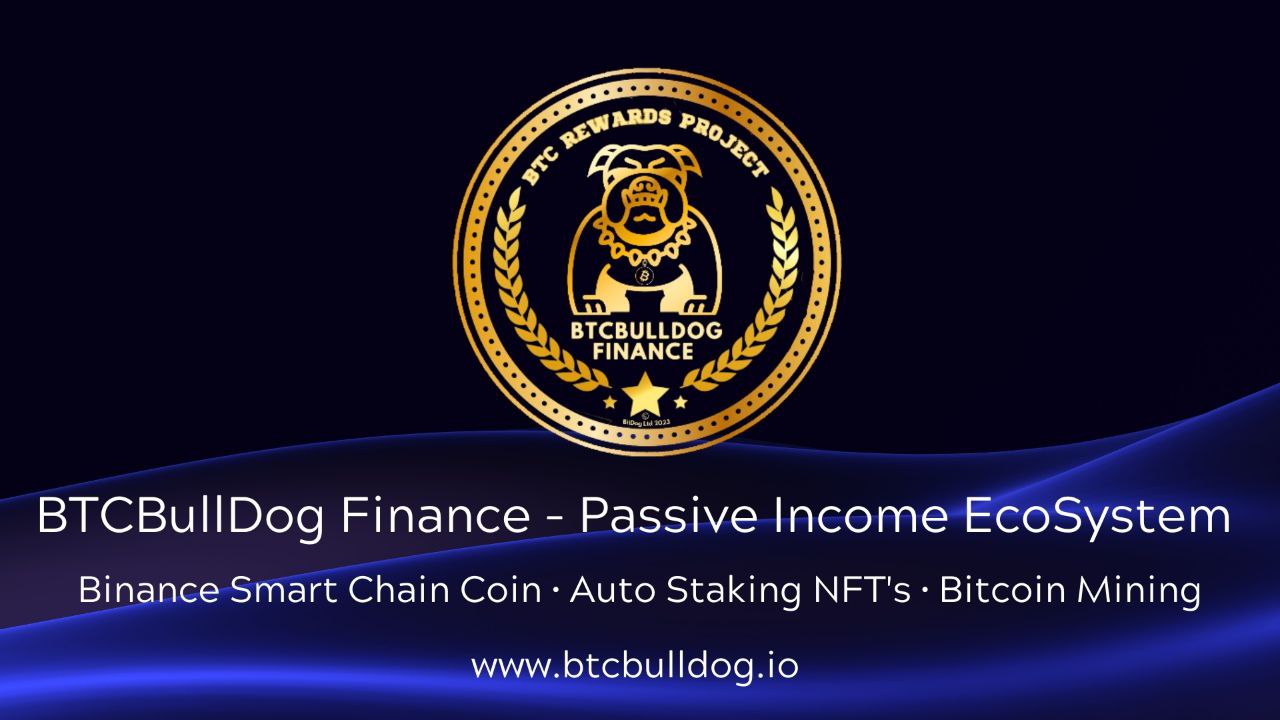 Recent Milestones
The project had a fair launch on 4 April 2022 and migrated to an updated and improved contract on 4 August 2023. BTCBullDog Finance recently celebrated a significant achievement of reaching a 1M market cap. Additional milestones include the completion of KYC and smart contract audits, showcasing its commitment to transparency and security.
Official Website: BTCBullDog Finance
Whitepaper: BTCBullDog Whitepaper
Twitter: BTCBullDog Twitter

Innovative Features & Utilities
BTCBullDog Finance offers a range of exciting utilities designed to benefit its community:
BSC Token: The $BitDogLtd Contract provides 2% BTCB Rewards, 2% Auto Reflections, and 12% Auto Liquidity.
Auto Staking NFTs: These NFTs offer 45% WBTC Rewards, with additional percentages allocated for development and artistry. The NFTs have been particularly popular among the community, providing a new avenue for passive income.
Bitdog Finance: This platform allows users to mine BTC with a 10% ROI per week, providing a low-risk passive income stream.
Strategic Partnerships
The project has also partnered with Flooz, facilitating an easier token buying experience for its community. This partnership enhances the BTCBullDog Finance ecosystem by simplifying the purchasing process and attracting new investors.
The Road Ahead
As BTCBullDog Finance moves into Phase 4 of its roadmap, the community can look forward to the introduction of the BitDog Wallet, which will offer enhanced security features and seamless transactions. Additionally, the team will be developing BitDog debit cards. The project also has ambitious plans for Phases 5 and 6, including the launch of the BitDog Blockchain and BitDog CEX.
Call to Action
Don't miss the opportunity to be part of this groundbreaking project. Join the BTCBullDog Finance community today and secure your financial future in the crypto space. To get involved, consider joining our newsletter or participating in our next community event.
For more information, please visit BTCBullDog Finance

Disclaimer: The information provided in this press release is not a solicitation for investment, or intended as investment advice, financial advice, or trading advice. It is strongly recommended that you practice due diligence (including consultation with a professional financial advisor) before investing in or trading securities and cryptocurrency.
CONTACT: BTCBullDog Finance
SUPPORT at BTCBULLDOG.IO