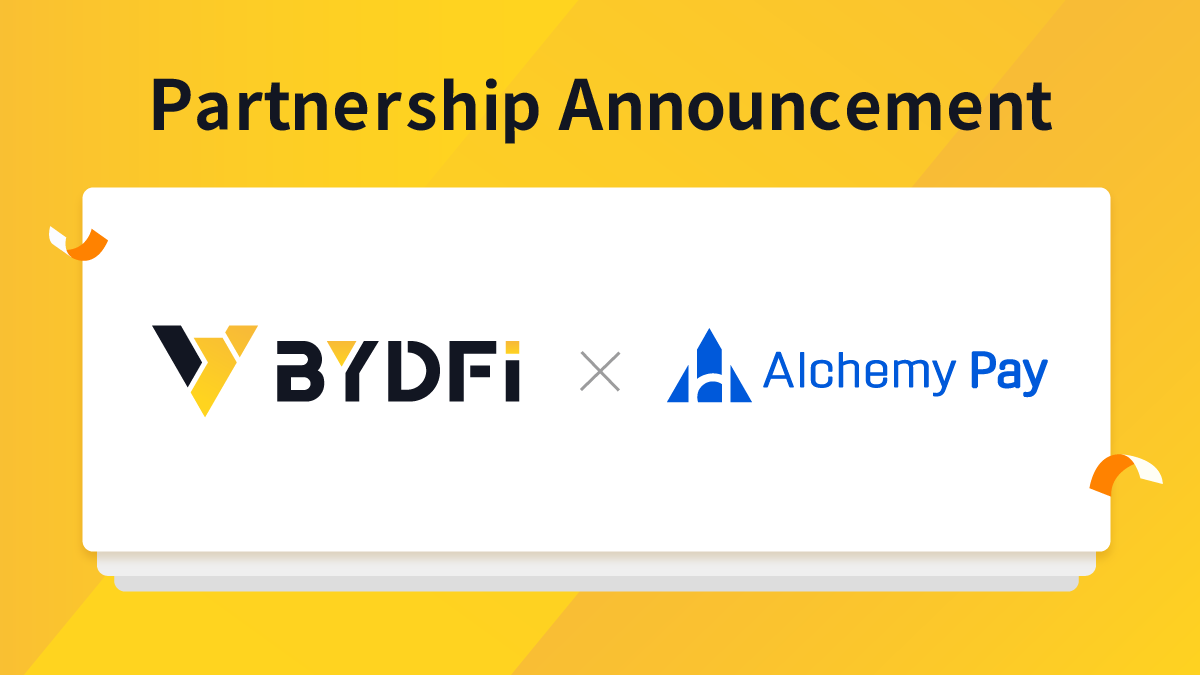 SINGAPORE, Aug. 10, 2023 (GLOBE NEWSWIRE) -- With the increasing adoption of digital currencies and the rapid development of the global digital payment market, BYDFi Cryptocurrency Exchange is pleased to announce a strategic partnership with Alchemy Pay. Alchemy Pay is a payment gateway company that offers seamless payment services connecting cryptocurrencies and global fiat currencies. The collaboration between BYDFi and Alchemy Pay enhances BYDFi's payment channels, providing users from various countries with a smooth trading experience.

Alchemy Pay's Ramp solution supports payments from 173 countries, including Visa, Mastercard, Google Pay, Apple Pay, popular regional mobile wallets, and domestic remittance services focusing on emerging markets. Now users are able to purchase crypto through Alchemy Pay's On-Ramp service on BYDFi, using their local fiat currencies and preferred fiat payment methods. By integrating Alchemy Pay's Off-Ramp in the future, BYDFi users can easily convert their cryptocurrencies into fiat currencies, with its fast withdrawal feature supporting the conversion of over 50 local fiat currencies. The partnership between BYDFi and Alchemy Pay further enriches the diversity and convenience of BYDFi's payment services.
Founded in 2017 and headquartered in Singapore, Alchemy Pay also places a strong emphasis on emerging markets, positioning itself ahead of competitors in this regard. By focusing on these developing regions, Alchemy Pay has gained a significant advantage, bolstering its influence in Latin America and Southeast Asia.
Michael Hung, CMO of BYDFi stated, "We are thrilled to collaborate with Alchemy Pay, which brings broader payment choices and convenient payment experiences to our users. Alchemy Pay's technological innovation in the payment sector and its global market layout align seamlessly with the vision of BYDFi Cryptocurrency Exchange."
About BYDFi
BYDFi is a leading cryptocurrency social trading exchange for individual investors. BYDFi has been offering professional, convenient, and innovative trading solutions to global users since 2020, including spot trading, lite contracts, perpetual contracts, and copy trading.
With the slogan "BUIDL Your Dream Finance" takes cryptocurrency trading to a whole new level. BYDFi aspires for its platform to afford users autonomy and leave a permanent imprint on the sector's progress.
BYDFi: https://www.bydfi.com
Media Contact: Jeanne Hsieh
Contact: media@bydfi.com
A photo accompanying this announcement is available at https://www.globenewswire.com/NewsRoom/AttachmentNg/4442fcdd-f9e9-480b-b6f9-7ff52cf6168e