Singapore, Aug. 14, 2023 (GLOBE NEWSWIRE) -- 1. What is the project, and what problem does it solve?
Centurion Invest is a global ecosystem with regulated licenses and operations in Europe (Lithuania and Estonia) and offices in Middle East, Africa, Canada, Southeast Asia and LATAM. At Centurion Invest, the core mission is to empower financial freedom leveraging mass adoption of Cryptocurrency & Blockchain. The Fintech Platform is an ecosystem bridging Fiat to Crypto and offering unlimited range of services and financial solutions : CI Exchange(Crypto Trading platform), CIX Crypto VISA Card, CI360 (Entreprise Payments Solution), CI Pay(Seamless Peer to Peer Payment solution).
2. What are the utilities of CIX token?
The Centurion Invest's ecosystem is powered by $CIX, a deflationary ERC20 token. When you use $CIX, you'll enjoy various perks such as loyalty rewards, referral bonuses, airdrops, staking rewards (APR upto 80%), trading fee reductions( up to 25%), priority Launchpad access, cash backs through the CIX Card, merchant rebates, and Visa crypto global card.
3. What parts does the project ecosystem include?
The Centurion Invest ecosystem consists of a vast catalog of products.
CI Exchange – Trade anywhere anytime,
CIX Global Crypto VISA Card – Inclusive & borderless solution,
CI360 – Grow your payment acceptance through blockchain technology,
CI Academy – Learn the Basics of Blockchain,
CI Labs – Bootstrap, Incubate, accelerate your Project,
CI Earn – Generate Passive income with Daily payout,
CI Pay – Send, receive, pay & get paid Instantly around the world,
CI Magnet – Monetize your Network & Become a Digital asset specialist,
CIX Token – Utility payment token at the heart of the ecosystem.
4. The token economics (distribution):
TOKEN NAME: CENTURION INVEST TOKEN
TOKEN TICKER: CIX
ISSUING ENTITY: CIX LABS
TOKEN TYPE: ERC-20
TOKEN TOTAL SUPPLY:  2,400,000,000 CIX
DISTRIBUTION MECHANISMS: IEO Issuing Mode
Decimals: 18
Token Distribution:
20% Founder
6% Board Members
6% Management Team
4% Employees
1% Airdrops
1% Users Inventive & Loyalty
4,75% Reserve
6,25% Bonus Reserve
8% First Phase: Pre sale (October)
10% Second Phase: Private sale (Nov-Dec)
18% Third Phase: Public sale (25/05/22 – 31/08/22)
15% Ecosystem
5. Project Development Roadmap
The Centurion Invest project is constantly evolving, with a roadmap that includes expanding operations across various regions worldwide, including the Middle East, Africa, Europe, Canada, Southeast Asia, and LATAM. The project is backed by NYC renowned VC GEM Digital, aiming to continue improving its ecosystem and offerings, such as launching new products, improving existing services, and expanding its partnerships with leading players in the industry.
Centurion Invest Token (CIX) Overview
Token Name: CIX
Total Supply: 2,400,000,000
Token Type: ERC-20
Coinstore.com Listing
Trading Pair: CIX/USDT
Trade Time: April 17th
Withdrawal Time: April 17th 
Centurion Invest Official Social Media
https://linktr.ee/centurion_invest

Centurion Invest Media Contact
Chiri Choukeir, Community and Growth Manager | chiri-at-centurionco.com

Arij Ridene, Content Writer | arij-at-centurionco.com
About Coinstore.com

Accessibility. Security. Equity.
As a leading global platform for cryptocurrency and blockchain technology, Coinstore.com seeks to build an ecosystem that grants everyone access to digital assets and blockchain technology. With over 2.5 million users worldwide, Coinstore.com aims to become the preferred cryptocurrency trading platform and digital service provider worldwide.
Coinstore.com Social Media
Twitter | Discord | Facebook | Instagram | Youtube | Telegram Discussion | Telegram Announcement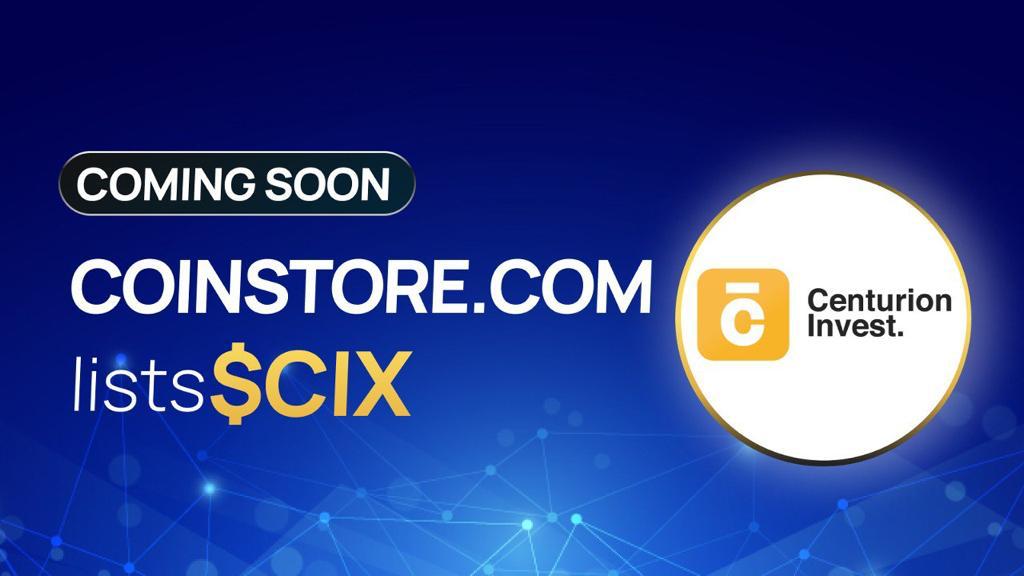 CONTACT: Coinstore Media Contact
Bommi Hua, Marketing Manager | Bommi.hua-at-coinstore.com
Jennifer Lu, Co-Founder | Jennifer.lu-at-coinstore.com