VICTORIA, SEYCHELLES, Aug. 03, 2023 (GLOBE NEWSWIRE) -- BitKeep, a leading Web3 multi-chain wallet, is excited to announce the launch of an exclusive event in collaboration with Simplex, presenting users with a valuable opportunity to experience the benefits of BitKeep's advanced Over-The-Counter (OTC) feature at half the transaction fees. This limited-time promotion, "50% Off Transaction Fees for BitKeep OTC," is set to provide crypto enthusiasts with unprecedented affordability and convenience in their trading journey. The event is scheduled to run until August 8th, 2023.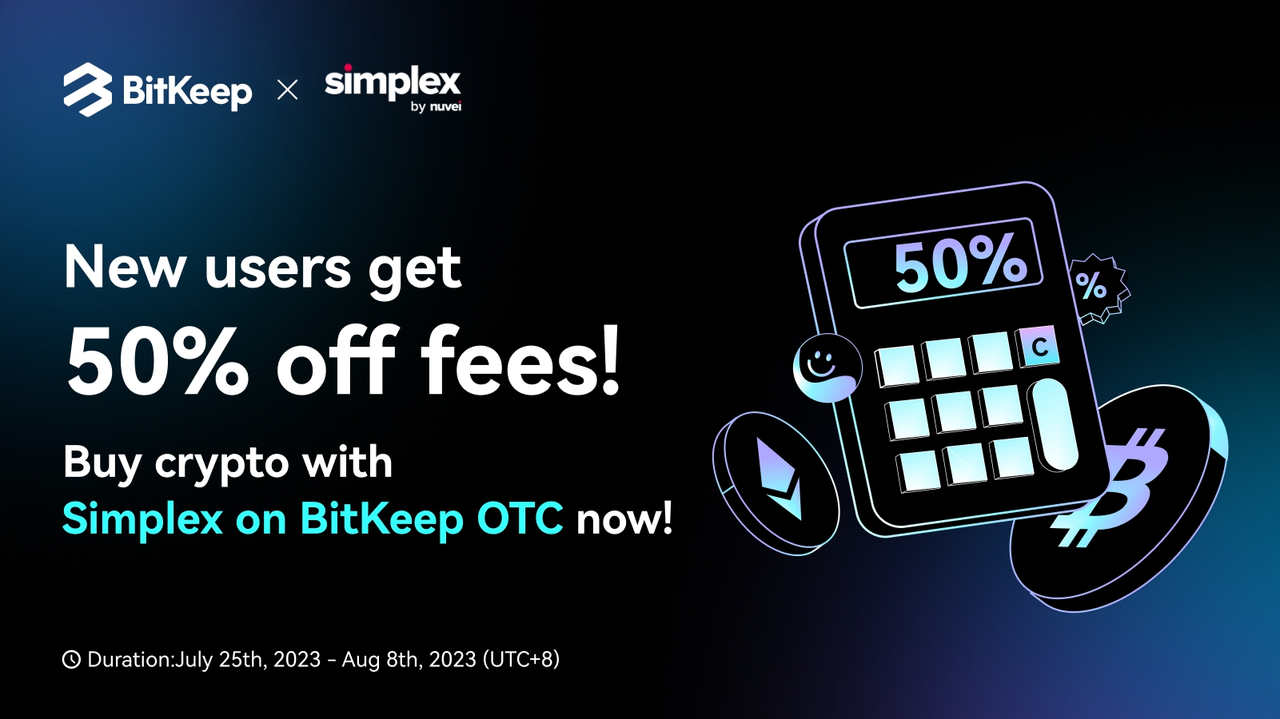 As an all-in-one Web3 multi-chain wallet, BitKeep boasts support for over 250,000 tokens across 90 blockchains and offers a comprehensive range of services, including wallet solutions, Swap, NFT marketplace, DApp browser, and Launchpad. By aggregating leading DEXs and NFT marketplaces, BitKeep ensures users have access to the best rates available in the market.
The introduction of OTC (Over-The-Counter) trading has been a game-changer in the crypto landscape, providing a critical off-exchange mechanism for seamless exchanges between fiat currency and cryptocurrencies. OTC channels empower buyers and sellers to efficiently trade and acquire their desired digital assets, streamlining the entire process and enhancing accessibility for users worldwide. Integrated seamlessly within the user-friendly interface of BitKeep Wallet, BitKeep OTC provides users with unparalleled ease when engaging in OTC trading. 
BitKeep OTC offers a wide array of fiat options, allowing users to trade cryptocurrencies such as USDT and USDC stablecoins with fiat currencies from 49 countries, including USD, EUR, JPY, KRW, VND, and more. This extensive selection provides flexibility and convenience for users worldwide. To facilitate seamless cryptocurrency purchases, BitKeep has integrated five stable payment channels - Banxa, Simplex, Moopay, AlchemyPay, and FaTPay. Users can choose from various payment methods, including credit cards, bank transfers, cash payments, and e-wallets, to suit their individual trading needs.
It also features a P2P marketplace with low barriers of entry, enabling direct trading between buyers and sellers. Through KYC verification, users can transact with a large pool of experienced and trustworthy cryptocurrency merchants, ensuring a safe and secure trading experience.
The rapid development of the cryptocurrency industry has fueled the need for secure and convenient trading solutions. BitKeep's integrated OTC feature marks a groundbreaking addition to BitKeep Wallet, providing both experienced users and newcomers with a secure and convenient way to purchase crypto - all within their wallet application. The ongoing "50% Off Transaction Fees for BitKeep OTC" event is just the beginning of BitKeep's commitment to enhancing cryptocurrency trading affordability and accessibility.
About BitKeep
Established in 2018, BitKeep has emerged as a frontrunner in the cryptocurrency industry, boasting a user base of 10 million across 168 countries worldwide.
The platform offers a comprehensive suite of services, including Swap, Asset Discovery and Management, NFT Marketplace, DApp Browser, and Launchpad. With support for over 255,400 cryptocurrencies and 20,000 DApps across more than 90 mainnets, BitKeep provides an unparalleled ecosystem for Web3 users.

Following a $30 million investment from Bitget Exchange earlier this year,
BitKeep will be undergoing a comprehensive brand upgrade and will be rebranded as Bitget Wallet. The brand upgrade, which is expected to be completed by August, will involve a round of improvements to the current product suite of BitKeep and will also introduce Bitget Swap, an integrated trading feature that leverages the trading technology and infrastructure from Bitget Exchange.
With Bitget Swap at its core, users will be able to seamlessly access the entire product ecosystem of Bitget Wallet with unparalleled ease. 

Follow BitKeep to stay up-to-date with all of our latest events, findings, and promotions, and let BitKeep be your premier gateway into the Web3 space.

For more information, visit: Website | Twitter | Telegram | LinkedIn | Discord


For media inquiries, please contact: media.web3@bitget.com

For business inquiries, please contact: business.web3@bitget.com

CONTACT: Tomás Damas Nunes
Public Relations Manager
Bitget
tomas.dn at bitget.com