LONDON , July 04, 2023 (GLOBE NEWSWIRE) -- In an ever-evolving financial landscape, MAIV (Multi-Asset Investment Vehicle) emerges as a beacon of inclusivity and accessibility, aiming to reshape how individuals engage with high-yield secure investments.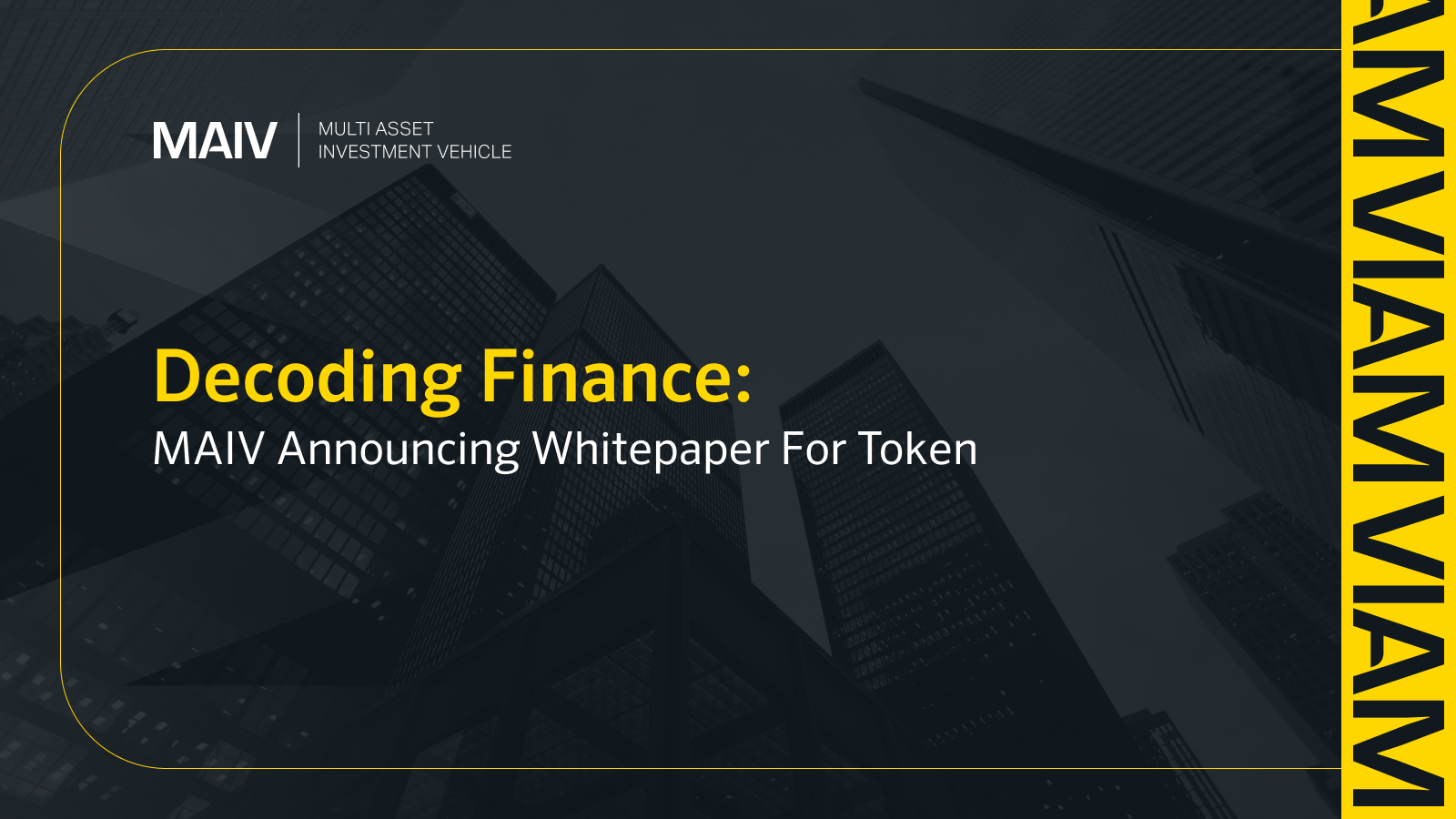 Leveraging the power of blockchain technology, MAIV presents a groundbreaking platform that bridges the gap between traditional finance (Tradfi) and decentralized finance (DeFi). At the core of this transformative ecosystem lies the MAIV token, a versatile digital asset poised to unlock a world of financial opportunities for its holders.
Here is everything you need to know about $MAIV and how it can be used for governance, staking, and more. 
The Purpose of $MAIV Token
MAIV envisions a future where anyone can become a certified investor and enjoy the freedom of financial independence.
Thanks to the advent of blockchain technology, these levels of freedom and control over personal finances can be achieved. You can now be an investor in any real-world project without having to fork out millions upfront.
MAIV token makes this possible by combining the security of real-world assets with high-yield investment opportunities, all underpinned by the blockchain. With two main investment products- fixed-rate return and equity investment- MAIV uses the $MAIV token to serve as the key instrument for governance, staking, seed access and portfolio management of these investment products.
Investors and users of the MAIV platform can use $MAIV tokens to vote, thus contributing to the governance of the platform. There is a weighted voting system that considers both the amount of $MAIV staked and the duration. This approach is designed such that it empowers token holders to influence platform decisions. 
In terms of transaction fees, MAIV's fees will typically amount to 3% of finance raised per project. What's even better is that the community will be able to decide through the governance feature how these funds are used.
Therefore thanks to governance, the community can leverage the power of the MAIV token to get more value and upside.
This approach to the design of the MAIV token is only the start of what is set to be a new era in the world of finance and investing.
$MAIV Features and Functions
At its core, MAIV enables access to secure, high-yield investments through the use of cryptocurrencies and the blockchain. 
However, MAIV is not blind to the inherent volatility of the cryptocurrency market. That is why MAIV combines the accessibility and transparency of cryptocurrencies with the security of the UK construction industry. Financing the construction of real-world assets, such as real estate projects means that value is secured.
This unique approach positions MAIV as a pioneer, bringing the benefits of blockchain technology to both seasoned investors and newcomers alike. Therefore, even when the crypto market remains volatile, MAIV holders can be sure that the value of their investment will remain stable and consistent with the UK construction industry.
Here is a breakdown of the main features and functions investors will enjoy through the MAIV token.
Governance: 
$MAIV token will enable token holders to vote for projects from a shortlist of fully appraised projects. Weighted voting considers both the amount of $MAIV staked and the duration. This approach not only gives token holders a say in which projects they want to see achieve financing, but also rewards long-term holders. What's more, token holders will decide how the 3% finance fees are used on the platform.
Staking:
Holders can also stake $MAIV tokens to earn additional tokens, thus further increasing their portfolio. MAIV enables users to set a staking duration, and the amount of $MAIV staked will affect the vote weighting of a user's profile.
Seed Access:
MAIV is an investment company that continually looks for promising projects that will be shortlisted for users to vote on. Therefore, through the $MAIV token, platform users will be able to gain access to seed round funding allocation of promising projects. Therefore, through staking $MAIV tokens, anyone will have ground-floor seed round access to some of crypto's most promising ventures. 
Portfolio Access:
As mentioned, MAIV will use its company profit to grow and increase the quality of high-value projects in the luxury real estate industry. This is a global approach that will grant $MAIV token holders first-class access to top-of-the-range investment projects at nearly zero costs. 

Conclusion
The MAIV token holds a central role in the MAIV ecosystem, driving platform growth and community engagement. It empowers holders with governance rights, allowing them to influence future development and use of funds. Staking the token offers additional rewards and amplifies voting power. Token holders gain exclusive access to early-stage investments through seed access. Additionally, the token enables users to utilize high-value assets within the MAIV portfolio. Overall, all these functions and benefits of the $MAIV token foster community collaboration, shaping the future of finance through active participation and inclusive opportunities.
Find MAIV
Whitepaper: https://maiv.finance/documents/whitepaper.pdf

Website: https://maiv.finance/
Twitter: https://twitter.com/MAIV_FINANCE/

CONTACT: Nick Taggart

Founder

MAIV

nick at maiv.finance