The 6,000 km rally over 10 days took place in February this year, starting in France and concluding in Morocco, with the aim of helping underprivileged children in Africa.
PARIS, June 22, 2023 (GLOBE NEWSWIRE) -- Deriv, one of the leading online brokers, has been actively participating in humanitarian efforts that are aligned with its core values of being reliable, fair, transparent, and responsible. Earlier this year, Deriv sponsored a team of two young professionals who successfully completed the 4L Trophy rally, an annual humanitarian car rally that raises funds for the cause of underprivileged children in Africa.

The 4L Trophy rally started in France and ended in Morocco, covering a 6,000 km journey over 10 days. It required participants to drive through challenging terrain, navigating their way through various checkpoints. A long journey for a noble cause: deliver stationery and textbooks for underprivileged children along the way.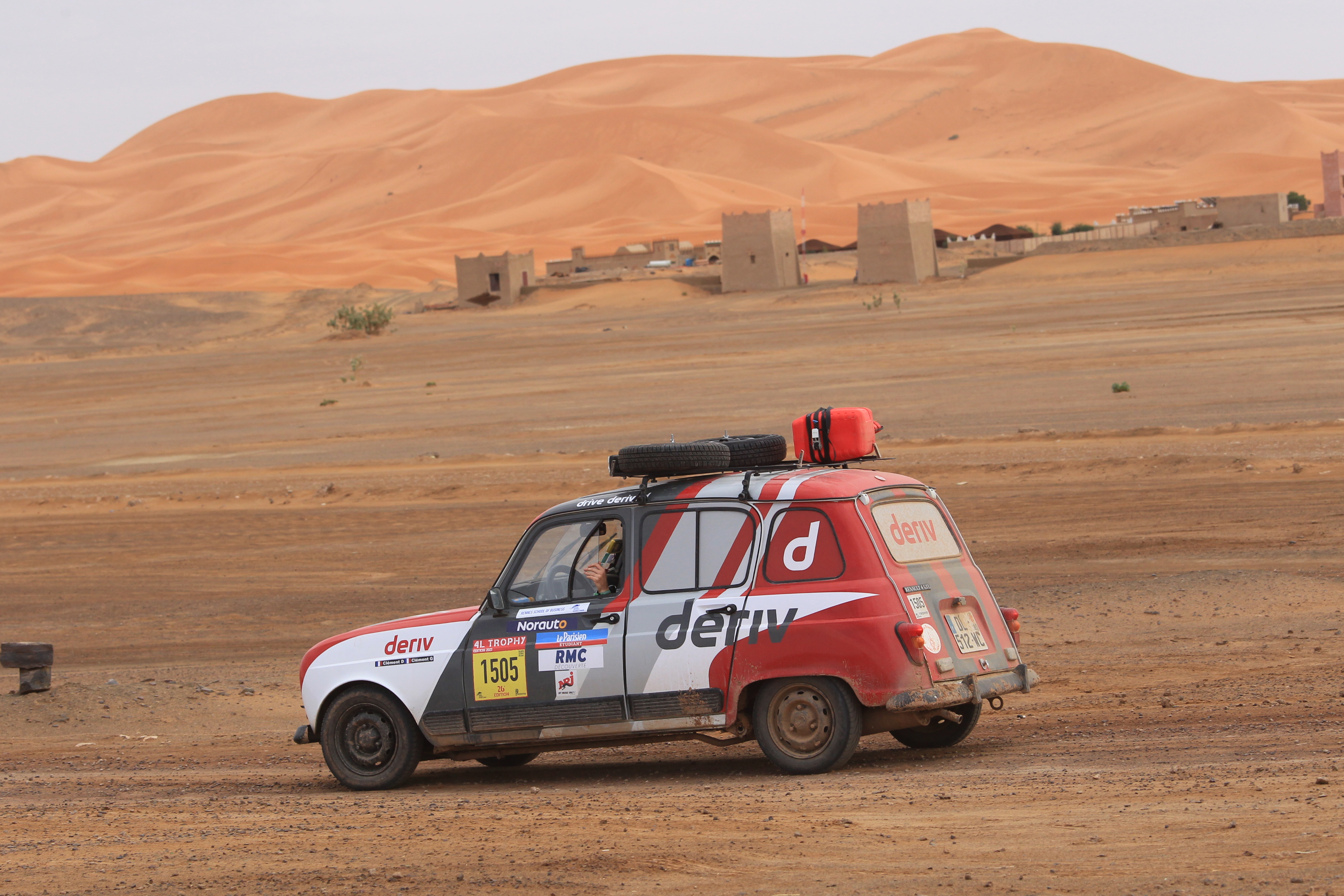 Deriv humanitarian ride through the desert in Morocco.
"The challenges of navigating unfamiliar terrain, camping in the middle of nowhere, and crossing the finish line were thrilling and rewarding," Clement David, one of the drivers sponsored by Deriv, said. "But what made the experience truly special was the opportunity to make a difference in children's lives by delivering much-needed school supplies."
Jean-Yves Sireau, founder and CEO of Deriv, said: "Deriv's participation in the 4L Trophy rally is a testament to our commitment to making a positive impact on the communities we serve. We believe in supporting causes that empower individuals and communities to thrive, and education is a critical component of that."
"We believe that businesses have a responsibility to give back to society," added Sireau. "Through our philanthropic efforts, we hope to inspire other organisations to do their part in making the world a better place."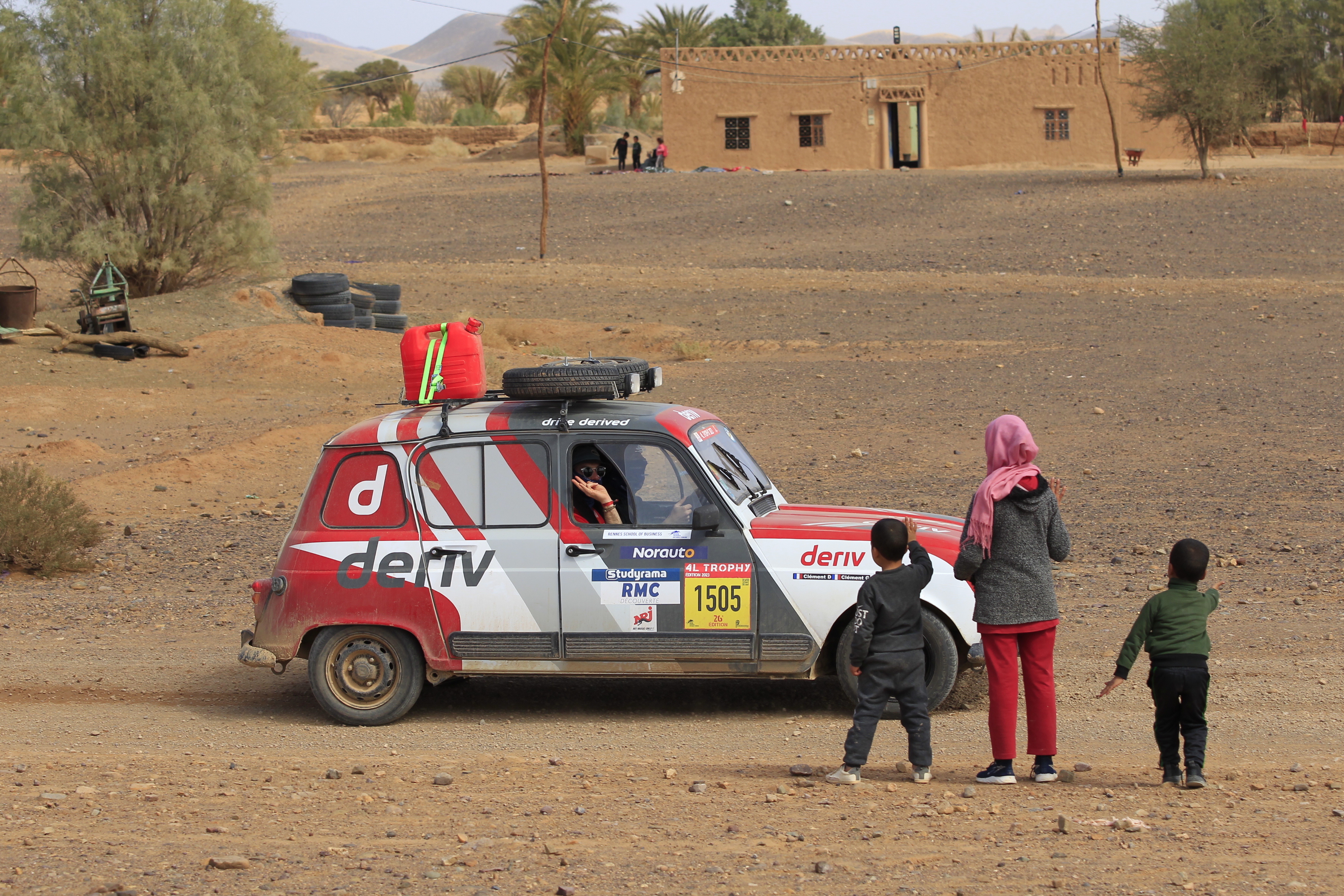 Deriv supports humanitarian drive in Morocco during the 4L Trophy rally.
The 4L Trophy rally is just one example of Deriv's involvement in humanitarian initiatives. Earlier this year, the company had also donated 11 boxes of clothes to Fundacion Unidos por Cristo (Asunción, Paraguay), a residential home that provides comprehensive care to children and adolescents at risk.
To learn more about Deriv and its humanitarian initiatives, follow Derivlife and the company's Instagram account.
About Deriv
Deriv started its journey in 1999. Its mission since has been to make online trading accessible to anyone, anywhere. Deriv's product offering includes intuitive trading platforms, over 200 tradable assets (in markets such as forex, stocks, and cryptocurrencies), unique trade types, and more. Deriv embraces its commitment to the community, elevating its humanitarian initiatives to new heights across its network of 20 offices spanning 16 countries.
PRESS CONTACT
Aleksandra Zuzic
aleksandra@deriv.com
Photos accompanying this announcement are available at:
https://www.globenewswire.com/NewsRoom/AttachmentNg/84da82a4-68fe-4100-b936-f179348cbb9e
https://www.globenewswire.com/NewsRoom/AttachmentNg/61b1b768-e495-4845-aaaa-b96adda137a6