GlobaleCrypto is a trusted leader in the cloud mining industry. With its transparent operations and a strong track record, it's the preferred choice for both institutional and individual miners.
ENFIELD, UNITED KINGDOM, Aug. 15, 2023 (GLOBE NEWSWIRE) -- As the world of cryptocurrencies continues to evolve, so do the methods of engaging with them. One standout player in the crypto mining arena is GlobaleCrypto, an established name renowned for its exceptional cloud mining services. This press release sheds light on GlobaleCrypto's offerings, highlighting its commitment to trustworthiness and range of plans catering to diverse preferences.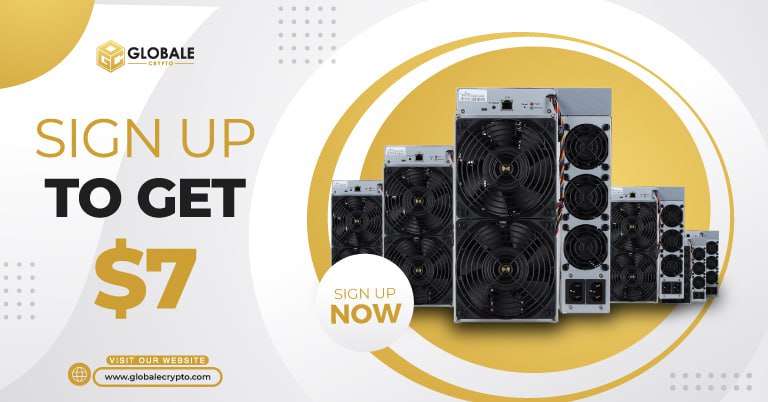 Introducing GlobaleCrypto: The Epitome of Trust in Cloud Mining
GlobaleCrypto has earned its reputation as a trusted and reliable cloud mining service provider. Offering an array of cloud mining plans, GlobaleCrypto serves both institutional clients and passionate digital asset enthusiasts. With a robust ecosystem of fintech services, GlobaleCrypto emerges as a dependable partner for individuals seeking to engage with the world of crypto mining.
Why GlobaleCrypto Stands Out?
GlobaleCrypto's distinction goes beyond being a mere cloud mining service provider; it is a testament to trust and commitment. Here's why GlobaleCrypto is a name to reckon with:
Transparency: The foundation of GlobaleCrypto's approach rests on transparency. Providing users with a clear insight into its services, processes, and potential mining outcomes ensures a solid foundation for mutual trust. Comprehensive details about the company can be found on its official webpage.
Proven Track Record: With a remarkable standing in the industry, GlobaleCrypto has positioned itself as a reliable entity in cloud mining. The expanding array of fintech services underpins its stature as a platform offering credible avenues for mining-related outcomes.
Diverse Plans: Addressing the varied preferences of its user base, GlobaleCrypto presents a wide array of cloud mining plans. Each plan is meticulously crafted to accommodate different earning potentials and investment thresholds. Whether the focus is on Bitcoin (BTC), Ethereum (ETH), or Litecoin (LTC), GlobaleCrypto has curated solutions to meet individual needs.
Exploring GlobaleCrypto's Cloud Mining Plans
GlobaleCrypto offers a spectrum of cloud mining designed to meet various mining objectives. Here are some notable products and their corresponding product prices:
Bitcoin Antminer S19 PRO: This product offers a daily mining potential of $324 for a period of 30-day duration. The Antminer S19 PRO guarantees high mining efficiency and profitability, making it an attractive choice.
Bitcoin Antminer S19j: This product can provide a daily mining potential of $135 over 30 days, the Antminer S19j stands out for its energy-efficient design and consistent performance.
Bitcoin Avalon-1366: This product can help to bring a daily mining potential of $39.12 for 30 days, the Avalon-1366 offers an accessible entry point for cloud mining with a smaller investment.
A Foundation of Trust: GlobaleCrypto's Reliability
In the realm of cloud mining, trust is the cornerstone. GlobaleCrypto has earned its reputation as a trustworthy name in the industry, delivering dependable cloud mining services. Its commitment to transparency is evident through detailed company information available on its official webpage, solidifying trust in its services and the potential for mining-related outcomes.
The Conclusive Vision on GlobaleCrypto
GlobaleCrypto's stature in the cloud mining domain is reflective of its dependability. By offering an array of plans, including the Bitcoin Antminer S19 PRO, Bitcoin Antminer S19j, and Bitcoin Avalon-1366, the platform caters to diverse preferences. With an established reputation and a growing fintech ecosystem, GlobaleCrypto is the preferred choice for those seeking reliable cloud mining solutions.

For more information, please visit www.GlobaleCrypto.com to explore the products and plans to embark on a journey with a trusted partner in the crypto mining sphere.
CONTACT: Zack Rios

Crypto Mining Services Limited

support at globalecrypto.com