The $HODL project has opened their presale: is this the next big thing?
Miami, FL, Oct. 24, 2023 (GLOBE NEWSWIRE) -- On October 24th, $HODL opened their fairlaunch and presented their project that aims to revolutionize the way people hold cryptocurrencies. The fairlaunch is already attracting a lot of attention from crypto investors, and the team claims that this is just the beginning of their journey. But what exactly is the $HODL project?


$HODL is a memecoin based on a famous cryptocurrency meme. This meme originated in 2013 when a Bitcoin enthusiast named GameKyuubi posted a rant on a forum. Instead of writing "holding," he accidentally typed "HODLING." It eventually became an acronym: "Hold On for Dear Life!", or HODL, and turned into a humorous term used by everyone in the crypto space to mean "keep your assets and never sell."

Although $HODL is based on this meme, it is not just a memecoin with nothing else to offer. At the core of their ecosystem is a mechanism called the anti-seller shield. It is simple yet clever: anyone can buy their tokens without being taxed, but as soon as they sell, they will be taxed at a rate of 6%. This mechanism serves as an incentive to think twice before selling and helps regulate the ratio of sells compared to buys. It aligns perfectly with their narrative as GameKyuubi, who held Bitcoin, made much more profit than if he had sold them.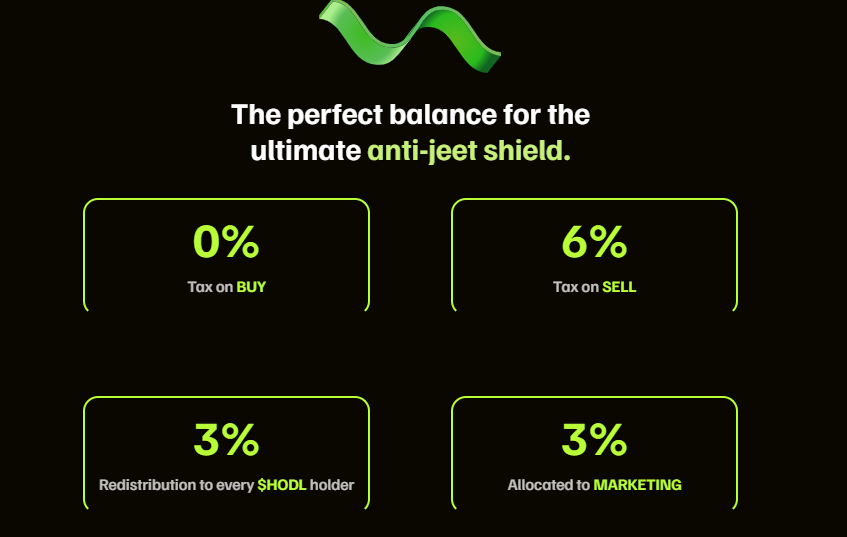 This comes along with a smart utilization of the tax collected by the team on every sale. Because this mechanism is designed to reward "hodlers," 3% of the tax is allocated for redistribution. This means that 3% of the total sales volume will be redistributed in tokens to every holder's wallet. It acts as compound interest based on the number of tokens the receiver holds. The remaining 3% is used for marketing, which is crucial for a cryptocurrency to reach a new audience. This tax is entirely designed to be profitable for the entire community.
This project has the potential to be the next big thing and should be closely monitored by anyone interested in investing in something unique, enjoyable, and cleverly designed. We encourage you to conduct your own research and invest wisely.

For more information, please refer to HODL website and subscribe to all social Media Handles.

Disclaimer: The information provided in this press release is not a solicitation for investment, or intended as investment advice, financial advice, or trading advice. It is strongly recommended that you practice due diligence (including consultation with a professional financial advisor) before investing in or trading securities and cryptocurrency.
CONTACT: Nicole Bratt
Contact-at-hodl-token.io