MIAMI, FL, June 20, 2023 (GLOBE NEWSWIRE) -- The highly anticipated launch of Doge Poop ($DOGEPOOP), a revolutionary and entertaining satirical meme coin, is officially announced. With its mischievous and punny nature, $DOGEPOOP aims to bring laughter, fun, and a touch of mischief to the world of cryptocurrencies.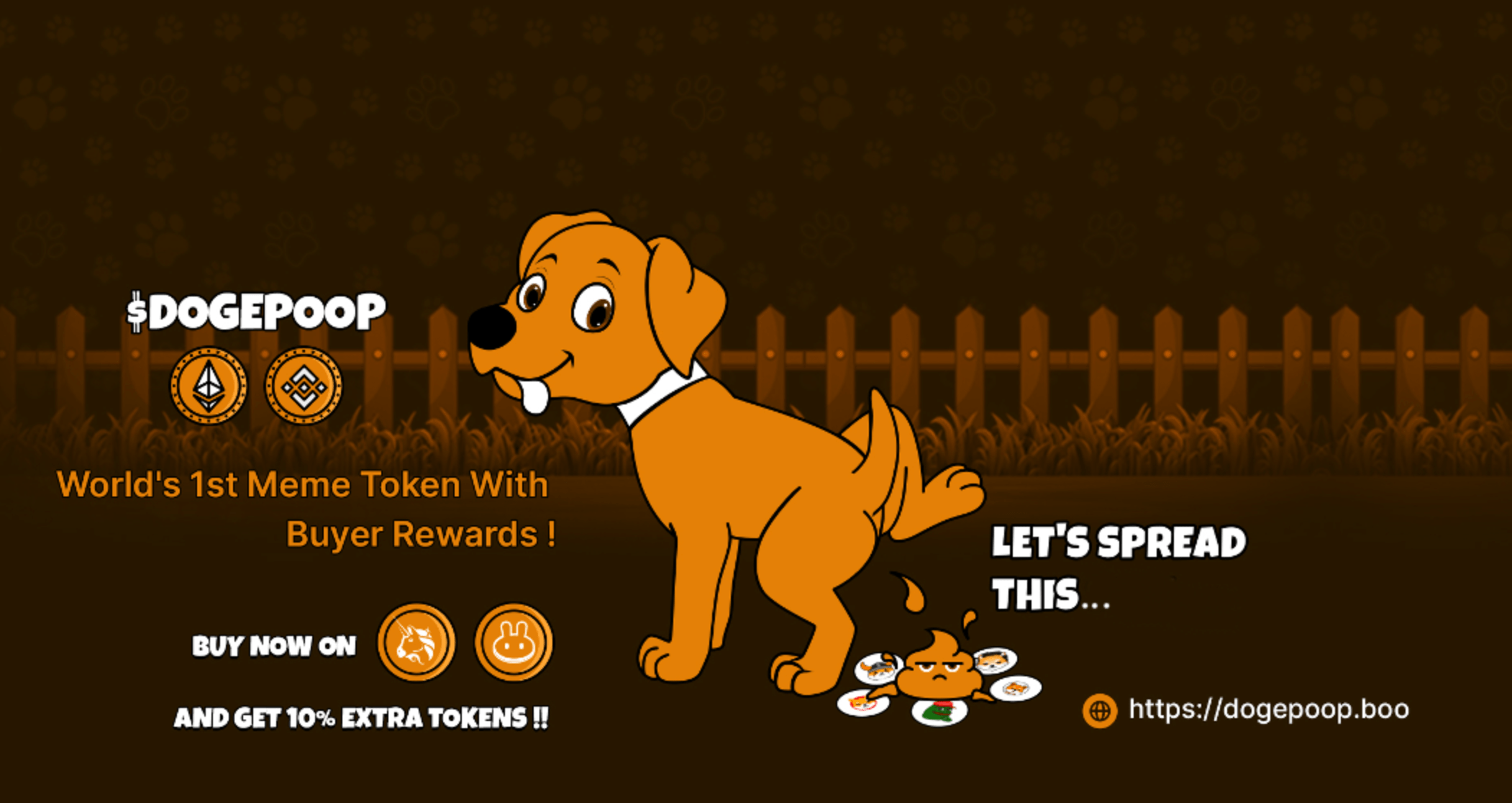 $DOGEPOOP is here to assert the dominance of dogs and show the world that they are the true rulers of the meme world. Inspired by a dream visit from Doge's Holy Spirit, the founder, Dogetoshi, was awakened to a great injustice. Other tokens, such as $PEPE, had begun claiming that "The dogs have had their days, it's time for Poops to take reign." This claim was not acceptable to passionate Doge lovers.
Fuelled by a sense of humor and a strong desire to restore balance, Dogetoshi embarked on a mission to spread the message far and wide: "Dogs are Dogs, Poops are poops." Thus, $DOGEPOOP was born—a token that embodies satire, puns, and mischievous fun like no other.
$DOGEPOOP aims to be the most entertaining and satirical meme token of all time, offering a unique and engaging experience for its holders. The team behind $DOGEPOOP firmly believes that humor has the power to connect people and build a vibrant community. By blending humor and satire, $DOGEPOOP seeks to revolutionize the perception and engagement of meme coins.
Transparency and security are paramount for $DOGEPOOP. The token has undergone a comprehensive KYC process and an audit, and its contract has been renounced. This commitment to transparency ensures a safe environment for all $DOGEPOOP holders, providing them with peace of mind.
In terms of tokenomics, $DOGEPOOP offers a 10% buyer reward for purchases made on Uniswap V2, granting additional benefits to buyers. Furthermore, a 10% sell tax is applied exclusively to transactions on Uniswap V2, contributing to the stability and integrity of the $DOGEPOOP ecosystem. It is important to note that other transfers are tax-free, enabling seamless and feeless transactions between holders.
To ensure a fair and balanced ecosystem, a minimum of 1000 $DOGEPOOP and a maximum of 1 billion $DOGEPOOP are set for transactions, applicable to the Uniswap V2 pair address only.
To participate in the presale and secure a share of $DOGEPOOP, interested individuals can visit the official presale link: Presale Link.
The token distribution for $DOGEPOOP is as follows:
Total Supply: 1 trillion $DOGEPOOP
Presale: 40% (400,000,000,000)
Liquidity: 22.42% (224,200,000,000) with LP locked for 1 million days.
Staking Rewards: 30% (300,000,000,000)
CEX Listings: 5.08% (50,800,000,000)
Rewards: 2.5% (25,000,000,000)
To stay connected and join the $DOGEPOOP community, please visit the official channels:
Join in celebrating the rise of $DOGEPOOP as the most hilarious, satirical, and mischievous meme token of all time. Together, the $DOGEPOOP community will showcase the true power of dogs and demonstrate that the reign of poops is nothing more than a passing trend.
Disclaimer:
The information provided in this release is not investment advice, financial advice, or trading advice. It is recommended that you practice due diligence (including consultation with a professional financial advisor) before investing or trading securities and cryptocurrency.
CONTACT: Eric James

Doge Poop

dogetoshi at dogepoop.boo