LONDON, UK, Oct. 27, 2023 (GLOBE NEWSWIRE) -- OTX, Open Trade Exchange, is excited to unveil its groundbreaking blockchain technology, setting new standards in the world of cryptocurrency. Pioneering a transformative approach, OTX is poised to redefine how the world views Centralized Exchanges (CEX), Decentralized Exchanges (DEX), and marketplaces.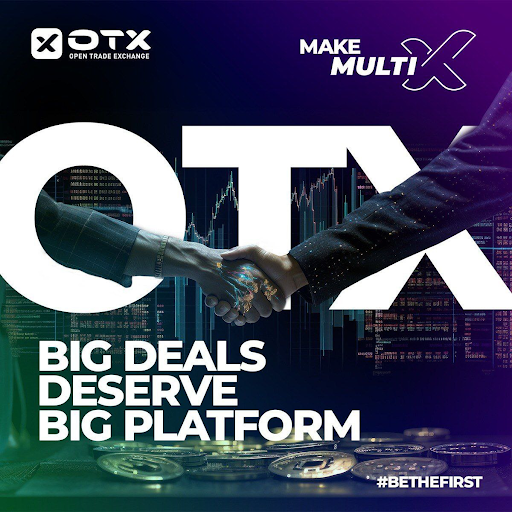 Unparalleled Blockchain Speed
At the heart of OTX lies its fastest blockchain technology. Catering to the ever-growing demands of the digital age, OTX promises unmatched transaction speeds, ensuring efficient and seamless trading experiences for its users.
Robust CEX and DEX Platform
By integrating both Centralized and Decentralized Exchanges, OTX offers the best of both worlds. Users can now enjoy the flexibility of a DEX with the robustness and security of a CEX, all under one roof.
Revolutionary Marketplaces
Beyond mere exchanges, OTX provides cutting-edge marketplaces, enabling users to trade and transact in a myriad of digital assets and services, ensuring OTX isn't just another crypto platform, but a comprehensive digital ecosystem.
Ahead of the Competition
While most platforms struggle with scalability and speed, OTX's advanced infrastructure and innovative approach place it leagues ahead. By understanding the evolving needs of traders, OTX has strategically positioned itself to offer solutions that no other platform currently provides.
Join the OTX Community & Claim Your Free Airdrop
In a bid to expand its vibrant community, OTX is offering a limited-time airdrop to early adopters. Not only does this provide newcomers with a warm welcome, but it also gives them a tangible stake in the future of OTX.
OTX is more than just a cryptocurrency platform; it's a revolutionary movement set to shape the future of digital transactions. Whether you're a seasoned trader or new to the crypto world, OTX invites you to be part of this transformative journey.
Social Handles: 
Telegram: https://t.me/OTXexchange 
X (Twitter): https://twitter.com/OTX_Exchange 
Airdrop claim from here: https://bit.ly/4708pJT 
For media inquiries, please contact:
Company: OTX Exchange
Name: Joe Brosnan
Website: www.otx.exchange 
Email: info@otx.exchange
Location: UK/London
Number: +44 7311 184874
CONTACT: Company: OTX Exchange
Name: Joe Brosnan
Website: www.otx.exchange 
Email: info at otx.exchange
Location: UK/London
Number: +44 7311 184874