Dubai, UAE, Aug. 30, 2023 (GLOBE NEWSWIRE) -- The digital upheaval has characterized the commencement of the 21st century. The rise of digital assets and blockchain technologies is a crucial pillar of this revolution, reshaping the financial world and offering us a glimpse into a future where decentralization, privacy, and global accessibility are not just ideals but the norm.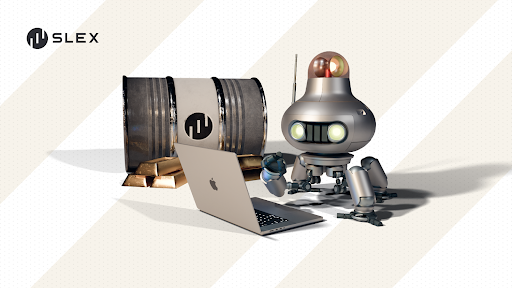 SLEX is a comprehensive platform integrating commodities, futures trading, and AI-powered trading features. The platform aims to automate the trading process and improve the efficiency of digital assets trading. SLEX seeks to overcome the deficiencies of current digital assets trading platforms by offering a superior, all-encompassing trading ecosystem. The platform will be launched on 30  August 2023.

SLEX V1 features
SLEX Centralized Exchange introduces several fundamental functionalities to streamline digital assets trading while upholding the highest security standards. With our development plans for 2024, which we will go into more detail about below, our team plans to expand digital assets trading.
Deposits of digital assets;
Withdrawal and Storage;
Trade in digital assets on the spot market.
While the launch version has these substantial functionalities, SLEX is continuing. The platform will integrate even more exciting digital assets features that amplify its utility and convenience in the coming months.
Convert digital assets;
Purchase of digital assets using Fiat;
Multi-Level Referral Function.
SLEX is more than just a digital assets trading platform - it's an entire ecosystem designed to serve the needs of traders in this rapidly evolving digital asset market. With its launch, SLEX is poised to revolutionize the digital assets industry.

SLEX Will Change digital assets Industry
SLEX will offer innovative and unique features set to transform the digital assets industry and build an integrated and comprehensive trading platform.

Commodity Trading
Within a year, SLEX will be the first digital assets platform that will allow its users to trade physical assets such as gold, grain, corn, coffee, and more using tokenization. This feature brings commodities to the digital assets space, democratizing access to a class of assets previously accessible only to institutional investors or through specialized brokers.
AI Technologies and Trading Bots
SLEX Centralized Exchange will offer two types of digital assets trading bots: 
User-guided bots, which require users to set parameters to guide their actions.
Fully autonomous AI robots can trade around the clock without human intervention.
This offers a significant advantage for users, allowing them to execute trades at any time of the day, reacting swiftly to market changes even when they are not actively monitoring the markets.
SLEX aims to leverage the power of technology and AI learning to provide users with efficient, automated, and strategic trading options. In the initial stages, SLEX will introduce three types of digital assets trading bots:
Grid Bot;
Dollar Cost Averaging (DCA) Bot;
AI digital assets Trading Bots.
These bots offer unique functionalities catering to different trading styles and strategies. Taking automation to the next level, SLEX will offer AI digital assets Trading Bots. These bots are powered by sophisticated algorithms that execute trades, automate buy-sell pricing, and analyze vast market data. They are designed to handle various levels of risk, ranging from low to high.

Futures Trading
Futures digital assets trading is another "must have" feature that SLEX aims to implement next year. With this functionality, users can access tools necessary for futures digital assets trading, including limit orders, stop losses, and leverage digital assets trading. This will allow users to hedge their risks, speculate on the future price movements of assets, and earn profits regardless of the market's direction.

Become a Part of Comprehensive Future
As we look to the horizon of the digital assets landscape, one platform stands out from the rest: SLEX. More than just another digital assets exchange, SLEX is an innovative digital assets platform poised to revolutionize digital assets trading.

In approximately a year and a half, SLEX Centralized Exchange will take an unprecedented leap by integrating commodities trading, becoming the first digital assets platform to offer such a feature. This groundbreaking step will allow users to trade physical assets like gold, grain, and corn using tokens - all within the SLEX digital assets platform.
The future of digital assets trading is here: SLEX Centralized Exchange. Be part of the revolution and game-changing process, and be part of SLEX, where you can craft the future of trading. Join us at the stage of the V1 launch, experience the advantages of early adoption, get a $20 Welcome Bonus before the launch, and let's journey together to the forefront of the digital assets revolution.
https://slex.io/

Disclaimer: The information provided in this press release is not a solicitation for investment, or intended as investment advice, financial advice, or trading advice. It is strongly recommended that you practice due diligence (including consultation with a professional financial advisor) before investing in or trading securities, commodities, and cryptocurrency.
CONTACT: Slavi Kutchoukov
SLEX
Business at slex.io