Tallinn, Estonia, Oct. 18, 2023 (GLOBE NEWSWIRE) -- In a move to advance global crypto adoption and simplify cryptocurrency purchases and help people purchase crypto without any headaches. 
Swapin, a licensed and leading crypto payment solution provider, has launched SwapinBuy, the easy crypto on-ramp solution.
Part ways with exorbitant card fees and embrace SwapinBuy, a seamless, secure, and user-friendly solution for purchasing crypto directly from your bank account. 
SwapinBuy is now available for our valued individual and business customers in the European Economic Area (EEA), and Switzerland.
"Just imagine – now you can top-up your crypto wallet in every exchange, marketplace, or other Web3 platform without expensive card fees. On top of that, Swapin's Dedicated IBANs feature will make your crypto transactions smoother and faster than ever before." – Evald-Hannes Kree, CEO and Founder of Swapin
SwapinBuy: Your Gateway to Cryptocurrency
SwapinBuy offers a straightforward and reliable method for acquiring cryptocurrencies using Euro (EUR). This service caters to their customers with Basic and Full verification levels and our business clients with verification levels 1 and 2 across the EEA, and Switzerland.
Currently, SwapinBuy empowers you to purchase USDT, BTC, and ETH using Euros, with support for instant SEPA payments. Stay tuned as we expand our payment methods and cryptocurrencies for your on-ramp transactions.
For this initial month, we're extending a remarkable offer to our users – a Zero Swapin Fee on all SwapinBuy transactions, meaning you'll only bear the network fee for blockchain transactions. 
This offer is valid until October 31st, so seize the opportunity and start swapping today!
Why Opt for SwapinBuy  SwapinBuy bestows four key advantages:

Send the crypto to any wallet: Buy cryptocurrencies and send them to any wallet address.
Flexible Transaction Volumes: Accommodates various transaction amounts from 5 EUR to 10M EUR.
Non-Custodial Approach: Your acquired crypto goes directly to your designated wallet; Swapin doesn't retain your funds.
Dedicated IBANs: Facilitates EUR payments from your bank account to a dedicated IBAN issued in your name.
Buy Cryptocurrency with SwapinBuy - It's Effortless 
Here's how to navigate the process:
1. Log into your Swapin account or sign up if you still need to become a customer. Proceed to the SwapinBuy section and click on Buy Crypto.'
2. Input Transaction Details: Select the cryptocurrency you wish to acquire and specify the amount of fiat currency you intend to use.
3. Fund Transfer: Swapin provides a Dedicated IBAN issued in your name. Channel your fiat funds from your bank account to the provided IBAN.
4. Crypto in Your Wallet: As soon as Swapin receives your fiat payment, we'll swiftly convert it to cryptocurrency and dispatch it to your designated wallet within minutes.
We have even prepared a step-by-step video guide of the process, available for your convenience on YouTube, you can check it out.
If your bank account supports Instant SEPA, you'll experience a transaction time of mere minutes. In other cases, please anticipate a wait of up to 1 business day. 
Using this IBAN checker, you can verify whether your bank account supports instant SEPA payments.
About Swapin
Swapin is an EU-licensed, regulated crypto-to-fiat payment processing company offering a wide suite of solutions to bridge the gap between digital assets and traditional banking. Swapin's non-custodial approach ensures users maintain control over their assets while benefiting from seamless crypto-to-fiat conversions.
For more information about SwapinBuy, please visit the Swapin Blog.
You can also follow Swapin on their socials to get notified of any updates.
LinkedIn
X(Twitter)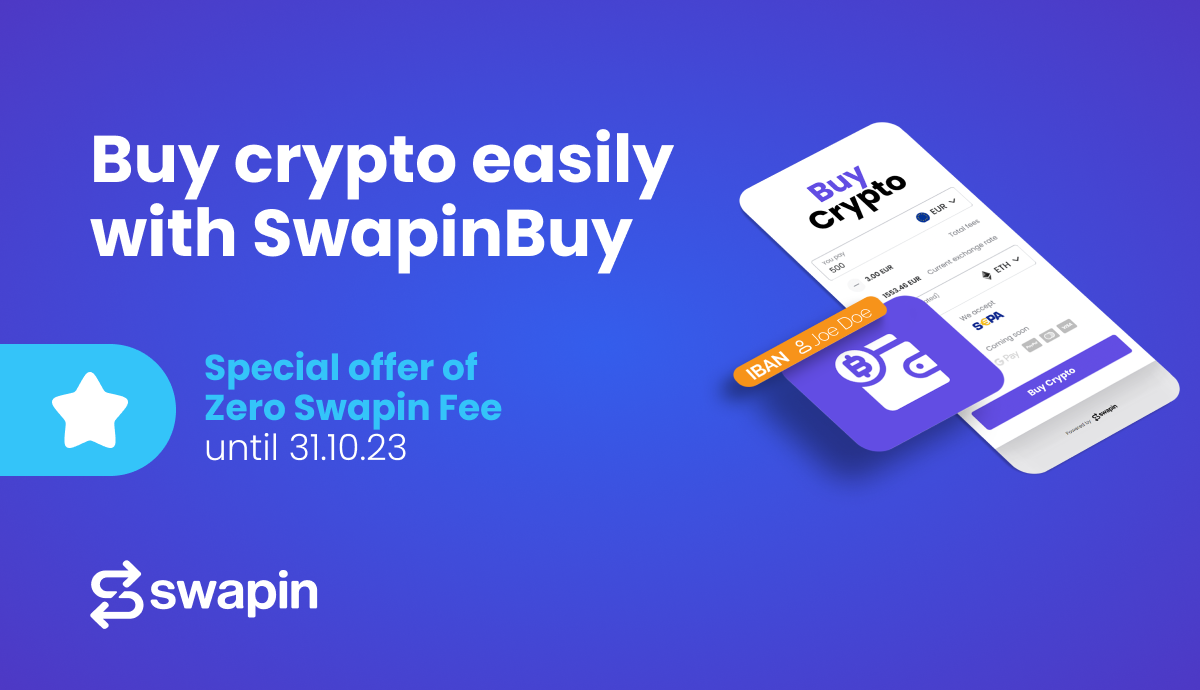 CONTACT: Alexandra Lartey
CMO
Swapin
alexandra-at-swapin.com