New York, NY, Nov. 08, 2023 (GLOBE NEWSWIRE) -- In the ever-evolving world of decentralized finance, having a reliable and intelligent trading assistant is essential. 

Enter WagieBot, a state-of-the-art trading bot designed to help cryptocurrency enthusiasts and traders take control of their trading experience for both professionals and beginners. With remarkable speeds that outshine other well-known decentralized exchanges like Uniswap by a staggering 40x, WagieBot sets the gold standard for efficient and user-friendly cryptocurrency trading.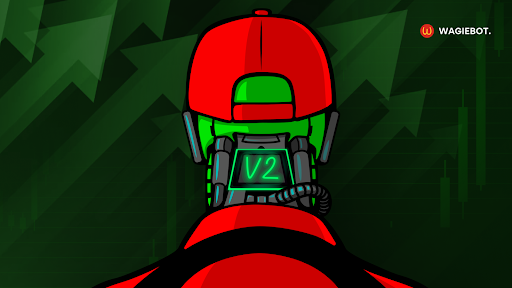 The bot, available on Ethereum, Binance Smart Chain and Arbitrum, offers the following set of key features:
1. Comprehensive Trade Tracker: WagieBot boasts one of the most advanced trade trackers in the industry. It automatically records all your buys and sells, offering real-time insights into your profit and loss. The trade tracker also supports Dollar-Cost Averaging (DCA) and advanced order types like Stop-Loss and Take Profit.
2. In-Depth Token Information: Upon pasting any contract, WagieBot automatically fetches comprehensive token information, including liquidity pool data, market capitalization, and token taxes. This ensures you have all the essential data at your fingertips for informed trading decisions.
3. Advanced Buy and Sell Menus: The bot provides an intuitive and advanced buy/sell menu with customizable settings. You can seamlessly adjust wallet-specific settings, enabling you to bring your own presets.
4. Anti-MEV Transactions: WagieBot offers Anti-MEV transactions that enhance transaction privacy. 
5. Copy Trading: The bot's copy trading suite allows users to mimic any other user across all supported chains in real-time. It's a powerful tool for those looking to leverage the expertise of successful traders.
6. Gas Estimation and Optimization: The bot optimally calculates gas costs, providing accurate estimates for each transaction. It ensures that you're not overpaying for gas while keeping your transactions swift and efficient.

Why Choose WagieBot:
WagieBot has quickly gained a reputation as a robust and user-friendly trading assistant. Its focus on providing a secure and seamless trading experience has made it a top choice for traders worldwide. It operates with transparency, offering a safer alternative to some other trading bots on the market. With features to look forward to, such as Advanced Anti-Rug and Token Sniping, WagieBot is set to take DeFi trading by storm.
Sniping refers to the practice of quickly participating amongst the first in a newly launched token sale on a decentralized platform. WagieBot can help beginners understand the intricacies of sniping, providing step-by-step guidance on how to participate safely and avoid common pitfalls.
A rug pull can occur when developers decide to take out the liquidity of a DeFi project, increase sales tax to 100%, blacklist wallets and a number of other possibilities, after attracting substantial investments, leaving investors with worthless tokens. WagieBot detects this and sells the traders tokens before the rug pull scam happens and saves part of their investment, making Anti-Rug a must-have in every traders toolkit.
Join the Revolution:
If you're interested in enhancing your cryptocurrency trading experience, WagieBot is ready to assist you. Join the thriving WagieBot community and take advantage of its cutting-edge features and expert guidance.

About WagieBot:
WagieBot is a leading cryptocurrency trading assistant that provides traders with a suite of advanced tools and features to navigate the decentralized crypto markets. Designed with a focus on user privacy and security, WagieBot has quickly become a go-to choice for traders seeking to optimize their trading experience.

Website: https://wagiebot.com
Official Bot: https://t.me/wagiebot
https://coinmarketcap.com/currencies/wagie-bot/

Disclaimer: The information provided in this press release is not a solicitation for investment, or intended as investment advice, financial advice, or trading advice. It is strongly recommended that you practice due diligence (including consultation with a professional financial advisor) before investing in or trading securities and cryptocurrency.

CONTACT: Brian Graham
hello(at)wagiebot.com