NEW YORK, Feb. 21, 2023 (GLOBE NEWSWIRE) -- It was announced today that KingsCrowd Capital, a data-driven venture capital fund, has invested in Unbanked Inc after the company achieved a "Top Deal" rating from the venture fund's parent company KingsCrowd. Unbanked is a US-based fintech startup that connects traditional banking products with blockchain and digital assets. It is known as the leading provider of white-label crypto card issuance and program management service for Web3 companies in the US and internationally.

Unbanked has made headlines recently with its Mastercard partnership and as the latest winner of the Shark Pitch Competition judged by celebrity investor Kevin O'Leary. Unbanked took 1st place in the competition and was awarded a $25,000 cash prize. Kevin O'Leary stated, "If I had to put two million bucks to work I'd probably put it in there right now." As part of the Shark Pitch competition, Unbanked opened a limited number shares via a SAFE with a 20% discount for individuals looking to invest.
KingsCrowd Capital is known for its data-driven approach to investing. The fund uses a rigorous two-step process for identifying promising startup investment opportunities in the online private market. First, it identifies startups that have received high ratings through KingsCrowd's patent-pending rating algorithm. Then the KingsCrowd Capital team does further diligence to pick out the startups with the highest potential. Startups like Unbanked that reach "Top Deal" status have risen to the top 10% of the due diligence funnel on the KingsCrowd ratings and analytics platform. Unbanked received a 4.9 out 5 score and the full report is available on the KingsCrowd website.
"Our investment research team has followed Unbanked for over a year and spent a lot of time talking with their team during our due diligence," said Ahmad Takatkah, CIO at KingsCrowd. "During our conversations it became clear that Unbanked has built something incredibly special and defensible in the fintech industry which made it a great fit for our portfolio."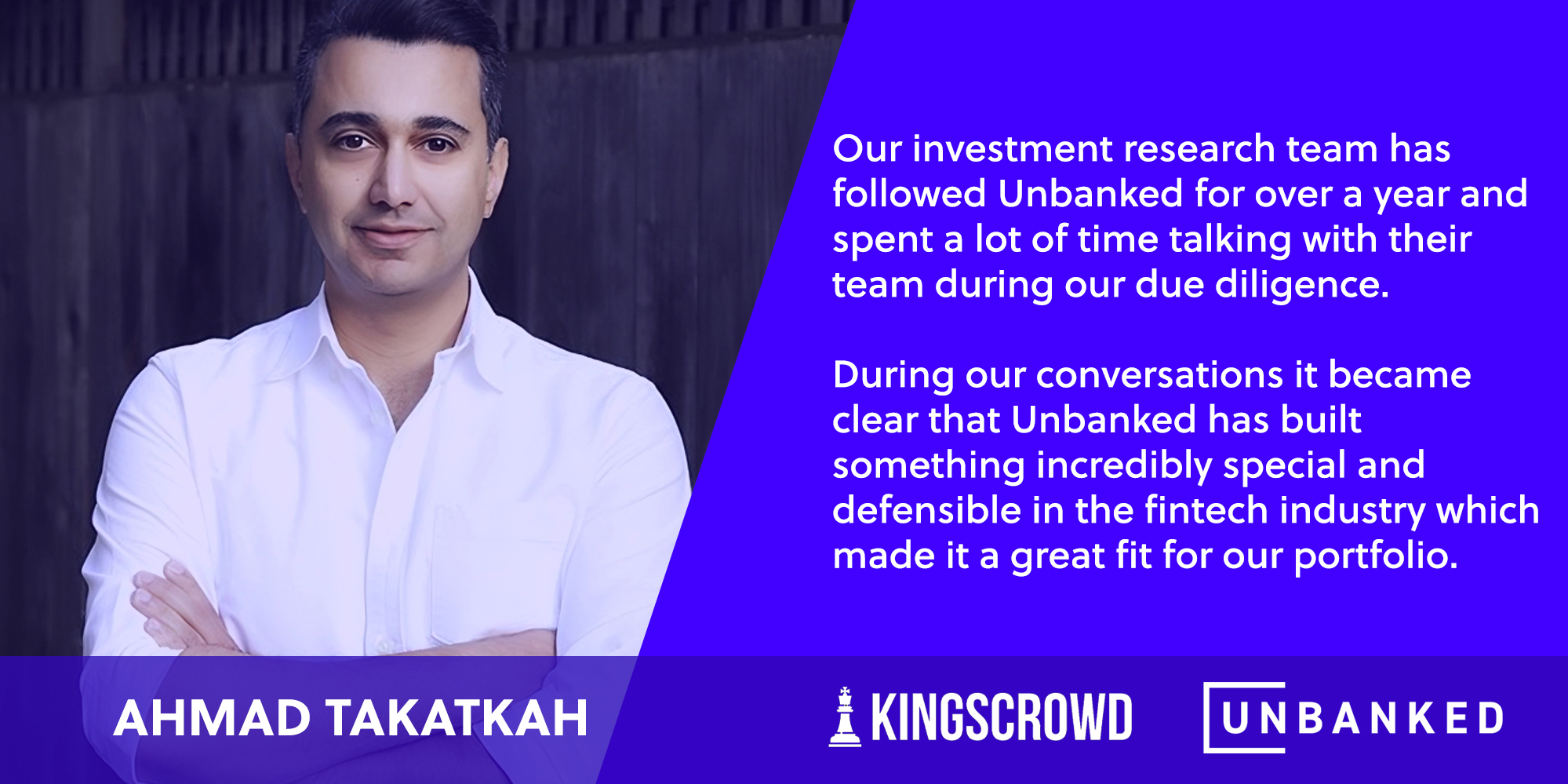 Unbanked provides fintech infrastructure and program management for many popular cryptocurrency-powered debit cards. Clients include Litecoin Foundation, StormX, Nexo, and Stacks who use Unbanked's crypto-friendly banking-as-a-service platform to operate their own crypto cards. Unbanked's fintech suite includes card issuance, compliance monitoring, liquidity engine, modular API, and other financial products that act as an easy gateway from dollars to digital currencies and back.
"I am thrilled to have KingsCrowd invest in Unbanked, but also share their research and analysis with other investors," said Ian Kane, Co-founder and Co-CEO of Unbanked. "Their team was thorough and spent the time to really understand our business and what makes Unbanked unique - I believe that shows in their report."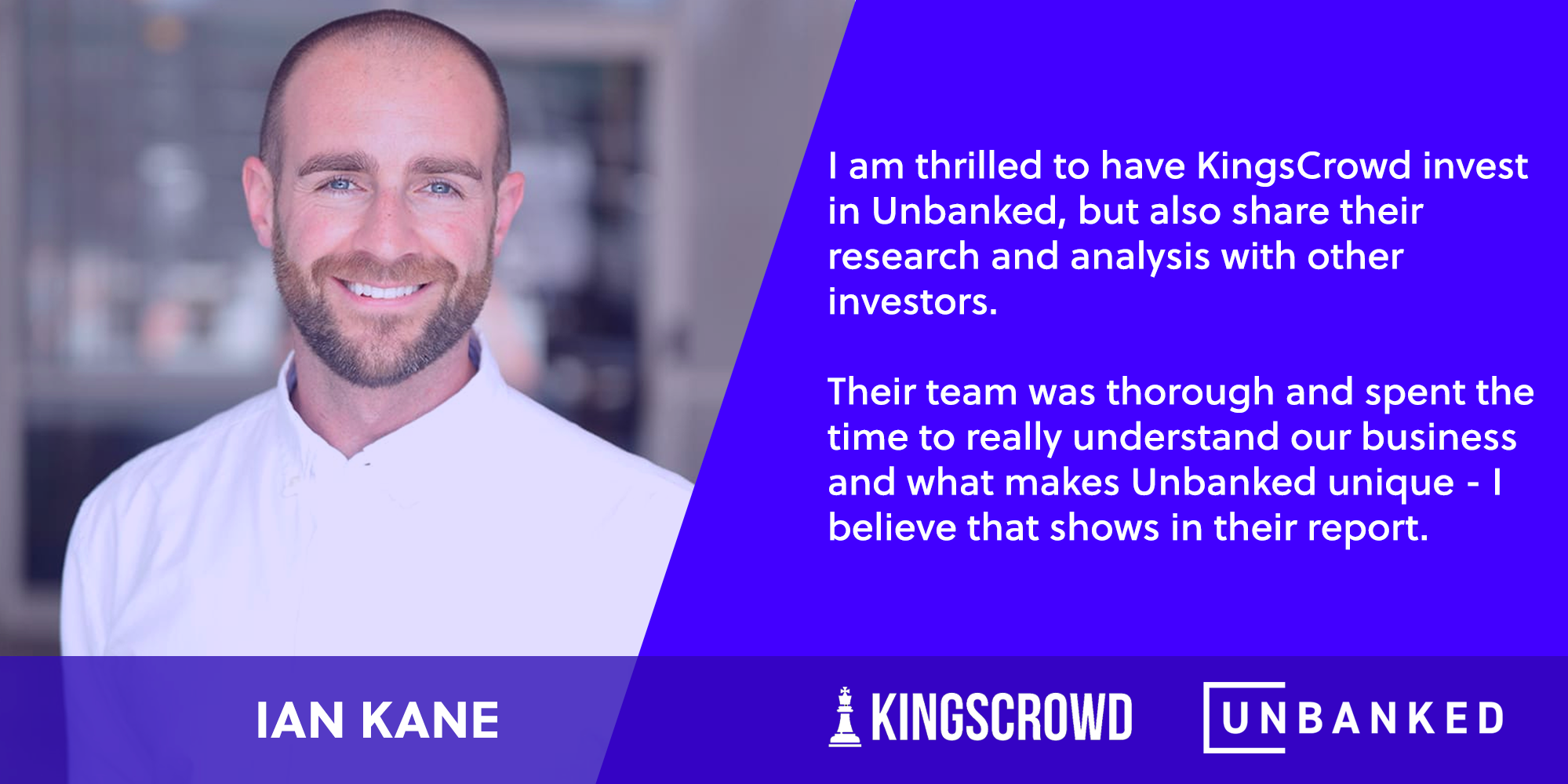 Learn more about investing in Unbanked Inc.
About Unbanked
Unbanked is a global fintech solution built on blockchain. Predicated on the ethos that financial access and control is a fundamental human right, Unbanked connects traditional enterprise, fintech, and banking systems with blockchain infrastructure, expanding the utility of cryptocurrency for investing and everyday purchases. The company has a suite of highly bespoke financial products which enable both the banked, unbanked, and underbanked to create a financial experience as unique as the life they live. You can learn more about Unbanked at Unbanked.com.
About KingsCrowd
KingsCrowd helps investors navigate the startup investing market and make informed, data-driven investment decisions. KingsCrowd's proprietary startup rating algorithm analyzes more than 300 data points on every startup to provide trusted insights, analytics, and ratings. By providing institutional-grade data and analysis that all stakeholders can trust, KingsCrowd enables anyone to "invest like a venture capitalist." KingsCrowd ensures that investors never miss out on promising private market investments while eliminating hours of work spent searching for and vetting deals. For more information, visit KingsCrowd at kingscrowd.com.
Photos accompanying this announcement are available at
https://www.globenewswire.com/NewsRoom/AttachmentNg/f3b54c84-ffca-4136-82ce-f17f47b6819b
https://www.globenewswire.com/NewsRoom/AttachmentNg/affa1de7-6bb6-41b9-af7c-01bef8397ea9
https://www.globenewswire.com/NewsRoom/AttachmentNg/f66e5c50-1654-461a-af81-4f42ddef653d
CONTACT: Ian Kane
marketing@unbanked.com