Singapore, June 27, 2023 (GLOBE NEWSWIRE) -- The DBOE (DeFi Board Options Exchange) proudly welcomes James Harris as an advisor, marking a significant milestone in the advancement of decentralised options trading. With an impressive background in traditional finance and cryptocurrency, Harris is poised to fortify the project's industry connections, establish partnerships with institutions, venture capitalists, and investors, and position DBOE as a leading player in the field.
DBOE stands as a secure and capital-efficient platform, set to revolutionise custodial services through decentralised option trading. Since its establishment in 2022, DBOE has been committed to addressing the challenge of over-collateralisation within the DeFi environment, driving enhanced capital efficiency and fostering broader adoption of DeFi in everyday transactions.
James Harris's Profile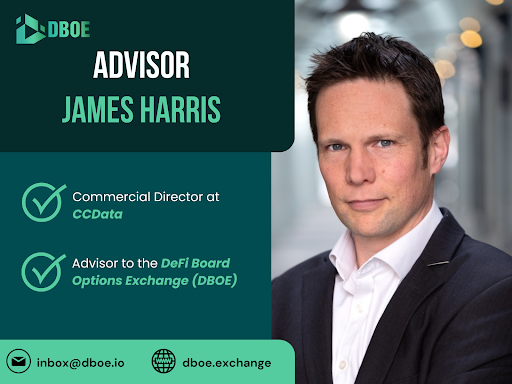 James Harris offers a profound depth of expertise, underpinned by a distinguished career that spans significant roles at renowned financial institutions, including Citi and Standard Chartered Bank. His leadership and strategic acumen were further refined during his tenure at Diginex, where he served as Head of Custody following its 2019 acquisition of Altairian Capital, a digital asset manager / custodian he co-founded.
Since 2020, Harris has served as the Commercial Director at CCData (formerly known as CryptoCompare), a globally recognised provider of cryptocurrency market data. Under Harris's commercial leadership, CCData has seen substantial growth in data and index revenues over a span of just three years. Furthermore, Harris has been instrumental in establishing a robust redistribution network in partnership with industry leaders such as LSEG Data, Xignite, and SIX.
In recognition of his industry knowledge and thought leadership, Harris is a sought-after speaker at both TradFi and digital asset conferences and events, and regularly appears on platforms and podcasts to share insights into digital asset market data and services.
DBOE Surges Forward with Advisor James Harris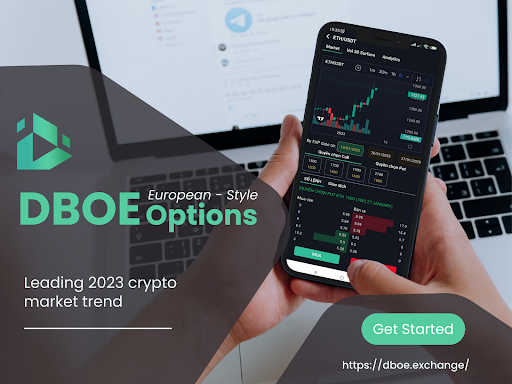 DBOE acknowledges the significant value James Harris brings as an advisor. His role will be to utilise his extensive network and industry knowledge to establish connections with institutional entities, venture capitalists, and investors, ensuring DBOE's alignment with industry standards and success within the financial ecosystem.
Harris commends DBOE's commitment to providing a secure, capital-efficient platform for decentralised option trading and its innovative approach to addressing the over-collateralisation challenge in the DeFi space. He is looking forward to contributing his expertise to drive DBOE's success.
With Harris and other industry experts as advisors, DBOE is poised for growth, forging partnerships and driving revenue. Traders can anticipate a seamless experience with decentralised, secure, and efficient options trading aligned with Web3 principles.
The DBOE Exchange, set to launch in the middle of 2023, offers easy decentralising trading and safe risk management of Crypto options to users worldwide, marking a significant milestone in the evolution of DeFi trading sector.
Website: https://dboe.exchange | https://academy.dboe.io

CONTACT: Anne Vu - Public Relations
DeFi Board Options Exchange (DBOE)
inbox-at-dboe.io