Vilnius, Lithuania, May 15, 2023 (GLOBE NEWSWIRE) -- Lama has announced the launch of its crypto-to-fiat debit card, backed by Visa, for their users to spend their digital assets anywhere.
Lama, a registered crypto exchange in Europe, will allow new and existing Lama users to select and spend from various digital assets linked to their cards at the point of sale.
Residents in EEA countries can register their interests by downloading the Lama app on both Apple and Google Play stores, depositing or withdrawing their crypto, and getting a physical or virtual debit card to spend their assets anywhere.
The new Lama Visa card offers seamless on/off ramping between fiat and digital assets for a smoother user experience, eliminating any unnecessary hassles for Lama users. The card will also offer cashback rewards and other benefits, making it a more attractive option than traditional debit cards offered by banks.
Lama card holders can fund their Lama accounts using different cryptocurrencies, including BTC, ETH, BNB, BUSD, USDT, USDC, and more. Crypto funds are linked to Visa cards so users can convert to fiat in real-time, connect with their Apple Pay, and spend in any physical or online store.
"We are excited to offer our customers a more seamless way of accessing and spending their digital assets. With our crypto debit card, customers can easily use their crypto holdings for everyday transactions without the need for conversion to fiat currency," said Dr. Jocelyn Braun, co-founder & CEO of Lama.


Founded in 2021, Lama has already gained thousands of satisfied customers. Lama prides Itself on privacy, security, and compliance, and its ultimate goal is to facilitate and accelerate the adoption of cryptocurrencies on a global scale through its innovative platform.
The crypto debit card is available to residents in EEA countries and can be ordered directly from the Lama app. The card will be linked to the customer's digital wallet, allowing them to easily manage their crypto holdings and transactions.
With its crypto debit card issuance, Lama continues to be at the forefront of the crypto revolution in Europe, providing innovative solutions that make crypto more accessible and user-friendly.
About Lama
Lama is a registered crypto provider offering services for both consumers and businesses. A platform that allows users to pay and receive payments in both fiat and cryptocurrencies and save, store, earn and manage digital currencies through one user-friendly and trustworthy app.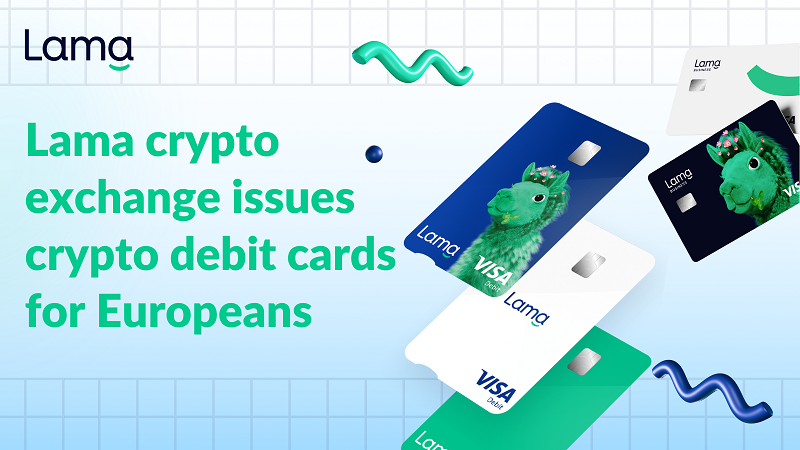 CONTACT: Jocelyn Braun
Co-founder and CEO
Lama Technology
hello-at-mylama.eu
https://www.mylama.eu/