DUBAI, UAE, Oct. 03, 2023 (GLOBE NEWSWIRE) -- The crypto market is rife with exchanges, each striving to be the best, but one platform continually outshines the rest—Millionero. As an award-winning crypto exchange, Millionero combines user-friendliness with robust security measures that set it apart as the ultimate choice for beginners and seasoned traders.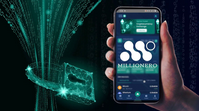 In the complex crypto landscape, Millionero was founded with a clear mission: to make cryptocurrency trading accessible and uncomplicated. Its user-friendly design and robust security protocols have transformed it into the go-to platform for novices and experts.
Millionero's ascent to prominence is marked by its impressive collection of awards and the unwavering trust of its ever-expanding user base. The platform's commitment to user satisfaction has garnered recognition from industry experts and enthusiasts alike.
Since crypto security is non-negotiable, Millionero has elevated the industry standard by implementing state-of-the-art security protocols that ensure the perpetual protection of user funds and data. Millionero delivers peace of mind to its traders through multi-layered encryption and cold storage solutions.
Importantly, navigating the complexities of a crypto exchange should never feel like rocket science. Millionero's intuitive interface ensures that novices and seasoned traders can efficiently execute trades, making the trading experience smooth and accessible.
Millionero allows traders to use any cryptocurrency as collateral, eliminating the need to sell for USDT to open positions. With the ingenious Perpetuals Max Collateral System, only 1% of the trading volume is reserved for each position, while the traders have the remaining 99% for additional positions. 
For illustration, when a user opens a $100 long or short position with a 1x leverage, Millionero will lock just $1 for that position, leaving the rest $99$. This enables users to maximize their capital while minimizing risk—a boon for beginners.
Besides, for those new to the crypto world or seeking diversification, Millionero offers a Copy Trading feature. This innovative tool empowers users to mirror the strategies of seasoned traders on the platform, tapping into their expertise for enhanced gains.
Millionero values its user community and rewards loyalty through a 5-Level Referral System. Users earn commissions from direct referrals and referrals made by their network, spanning five levels. This multi-tiered system ensures that Millionero users are incentivized to expand the platform's reach.
Furthermore, Millionero is on an ambitious trajectory, poised to expand into new markets. Its commitment to serving a global user base drives these expansion plans, intending to offer a broader range of trading pairs and opportunities.
Moreover, innovation remains at the heart of Millionero. The upcoming mobile app is a testament to this commitment, providing traders with even more convenience and accessibility.
Ultimately, in an industry where simplicity and security often seem at odds, Millionero brings them together seamlessly. With a strong track record of awards and expansion plans that aim to serve even more users, Millionero is the go-to choice for those seeking a beginner-friendly exchange with robust security.
Media Contact
Company: Millionero
Contact person: Messaoud Boukoufallah
Email: messaoud@millionero.com

Country: Dubai, UAE
CONTACT: Media Contact
Company: Millionero
Contact person: Messaoud Boukoufallah
Email: messaoud at millionero.com
Country: Dubai, UAE