Los Angeles, CA, Aug. 03, 2023 (GLOBE NEWSWIRE) -- PlayEstates, the REIT-certified blockchain property company, has achieved a groundbreaking milestone with the beta launch program "EstateLabs", with 10,000 users onboarded and the website experiencing a peak traffic of 60,000 to date. A total dividend pool of $5000 has been distributed to the users. The program is established to increase user understanding on fractionalised real estate investment through blockchain, and to build user confidence towards the platform.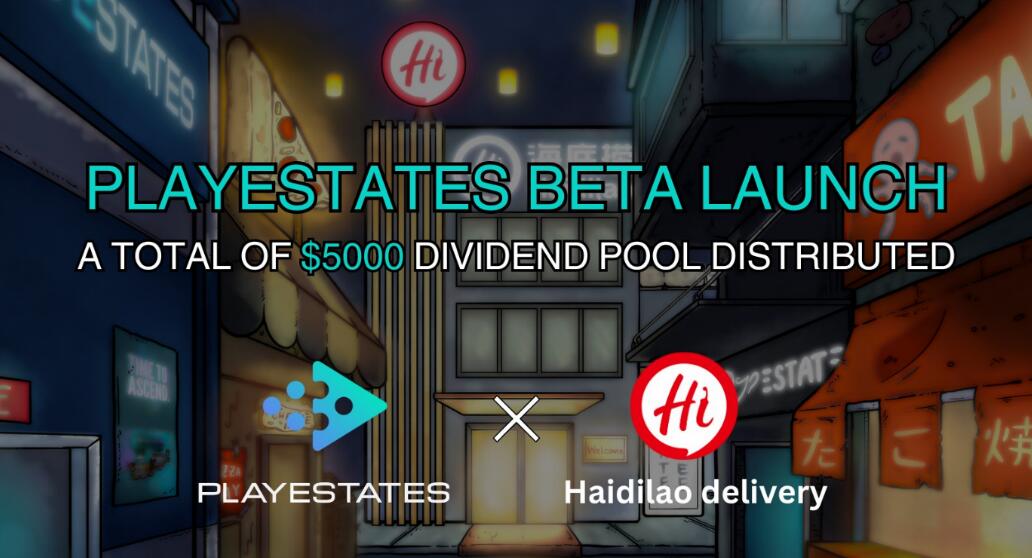 Empowering Real Estate Ownership for Everyone
As the rise of Real World Assets (RWA) gains momentum, PlayEstates finds itself in a strong position as a pioneer in the industry. Its innovative approach of fractionalized and tokenized real estate assets via blockchain technology is paving the way for investors to access tangible assets previously limited to traditional real estate investment.
Leveraging blockchain technology and tokenization, PlayEstates introduces a revolutionary concept - fractional ownership of real estate properties through Property NFTs (PNFTs), where users can now invest in real estate from as low as $10 from anywhere.  Founder William Guo and his team of seasoned real estate experts meticulously curate each property to be tokenised on the PlayEstates platform. Currently, the pipeline boasts properties worth $23 million, located in major cities like LA, Seattle, Miami, and Houston.
Secured $700k in Equity Funding, Commences Hybrid Token and Equity Seed Round
PlayEstates has successfully raised $700,000 in equity funding during the initial stages of its seed round. The company, backed by a dedicated founding team, also completed a private angel round, securing $500,000 in funding.
Currently, PlayEstates is conducting a cutting-edge seed round, combining both token and equity offerings. The round has attracted interest from renowned Limited Partners (LPs), including Valta, a Seattle-based property management group/fund with similarities to Airbnb. Additionally, Genesis Commercial Capital, a Los Angeles-based family office managing $3.1 billion in assets under management (AUM), and Propnex, a Hou/LA-based family office specialising in real estate development, investment, and management, have joined as LPs. PlayEstates aims to raise $3 million through both equity and token sales. The hybrid approach enhances liquidity and creates new investment opportunities in the real estate sector.
A Game-Changing Collaboration with HaiDiLao Delivery
Beyond redefining real estate investment, one of PlayEstates vision is to bridge the gap between the crypto and real worlds. The partnership with HaiDiLao Delivery, a well-known franchise company, exemplifies this vision. PlayEstates users  are able to enjoy a 15% discount on the entire HaiDiLao Delivery menu at any of the 20 outlets in Singapore by applying the PlayEstates discount code during checkout. The collaboration's expansion into other regions like Malaysia and Indonesia ensures benefits for a broader audience across Southeast Asia.
Making Real Estate Accessible Globally
PlayEstates offers a game-changing approach to traditional real estate investment through fractional ownership of high-value properties via PNFTs. Investors benefit from:
· Low entry barriers, eliminating substantial upfront investments.
· Diversified risk management by investing in multiple properties at lower costs.
· Passive income in the form of dividends and rental earnings directly to digital wallets.
· Property capital appreciation, offering potential returns over time.
· Easy liquidation on the marketplace, ensuring flexibility and liquidity.
· On-chain credit, facilitating decentralized access to financial data.
· Upcoming financial derivatives derived from real estate, providing exposure without tangible property ownership.
· Liability control through individual LLC management, safeguarding owners from personal debts or liabilities.
In a Web3 space where the tangible value of NFTs is debated, PlayEstates' property-backed NFTs provide stability and genuine real-world value to holders. Unlike NFTs prone to wild price fluctuations, these revolutionary NFTs redefine ownership with tangible asset backing.
About PlayEstates
PlayEstates is the pioneer in blockchain-based real estate investment, transforming the market by enabling global homeownership as low as $10 through fractionalisation and tokenisation properties via blockchain technology. PlayEstates empowers users to buy, sell, and trade real estate assets worldwide in their secondary market. Own a piece of  property everywhere, from anywhere to enjoy property capital appreciation, collect rental income and earn daily dividend yield. 
Join the PlayEstates community here : https://discord.gg/playestates 

For media inquiries or more information, please contact:
Email: playestates(at)gmail.com
Website: www.playestates.com 
Twitter: twitter.com/PlayEstates

Disclaimer: The information provided in this press release is not a solicitation for investment, or intended as investment advice, financial advice, or trading advice. It is strongly recommended that you practice due diligence (including consultation with a professional financial advisor) before investing in or trading securities and cryptocurrency.
CONTACT: Jessi Ruan
jessi-at-playestates.com