Victoria, Seychelles, Nov. 15, 2023 (GLOBE NEWSWIRE) -- ReHold is excited to announce the launch of its latest feature, 'Swaps,' now available to DeFi traders seeking a user-centric and efficient swapping experience. This addition further cements ReHold's position as a comprehensive and innovative DeFi platform, offering a one-stop solution for DeFi enthusiasts.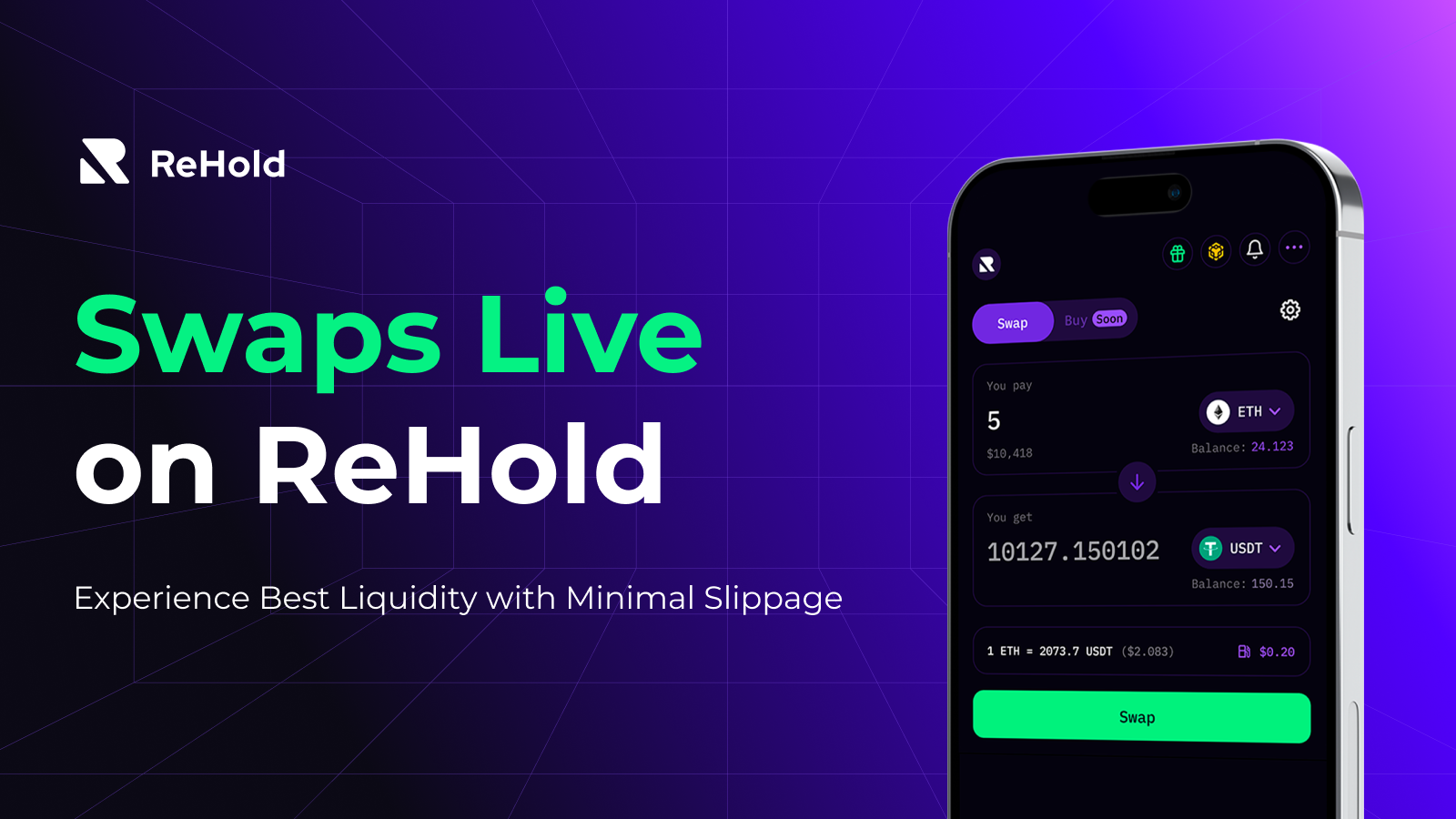 What is ReHold Swap 
ReHold Swap provides a straightforward and efficient way for users to exchange cryptocurrencies. Leveraging multiple decentralized exchanges ensures the best possible rates with minimal slippage. This seamless exchange process, free from centralized control, guarantees competitive prices and prioritizes user safety.
With the highly anticipated Swap feature now available on ReHold, it will complement the existing offerings on its platform. This includes the Dual Investment feature, which provides users with the opportunity to earn annual percentage rates (APRs) of up to 220% on a variety of cryptocurrencies, including BTC, ETH, MATIC, AVAX, ARB, PEPE, and stablecoins like USDC, USDT, DAI, and now also EURC.
Why Swap on ReHold
ReHold offers a seamless transition for DeFi traders, blending Swaps and Duals in a cohesive, user-friendly environment. This integrated approach significantly simplifies trading strategies, establishing ReHold as the go-to platform for both novices and seasoned traders.
The platform's Swaps are uniquely compatible with all seven supported chains from the outset, including Ethereum, Binance Smart Chain, Polygon, Arbitrum, Optimism, Avalanche, and Base. This extensive support showcases ReHold's commitment to accessibility and diversity in blockchain technologies.
A key strength of ReHold is its constant liquidity. The platform ensures uninterrupted liquidity for its Swap feature, enabling traders to execute transactions of any size at any time, free from market limitations. This consistent liquidity is maintained through dedicated and actively managed pools populated with various cryptocurrencies from multiple liquidity providers.
ReHold's Swap is renowned for consistently offering the best prices, regardless of the cryptocurrency exchange or transaction volume. The Swap feature is engineered to meticulously scan multiple decentralized exchanges (DEXs) and liquidity pools, ensuring users can access the most competitive rates. This commitment to providing the best prices is a significant factor in ReHold's popularity in the DeFi space.
Another distinctive aspect of ReHold's Swap is its intelligent routing system across DEXs. Unlike platforms that depend on a single DEX for liquidity, ReHold evaluates multiple DEXs and liquidity pools in real-time, ensuring the best prices for its users. This innovative routing system helps mitigate price impacts and reduce excessive fees, further distinguishing ReHold Swap in the DeFi landscape. This approach is particularly noteworthy compared to other DeFi Swaps, often limited to a single or a few DEXs.
"At ReHold, we're redefining the DeFi landscape with innovations that transform user experiences. Our latest Swap feature, alongside the acclaimed Dual Investment, reflects this vision - delivering practical, user-centric solutions in the cryptocurrency world. This is more than development; it's our way of ushering in a new era of digital finance," says Renat Gafarov, CEO of ReHold.
The combination of Swap and Dual Investments sets ReHold apart as an exceptional offering. Users can seamlessly exchange cryptocurrencies for more suitable alternatives and then invest in ReHold's flagship product, Dual Investment, to achieve higher annual percentage rates (APR).
Like many of ReHold's features, Swap is entirely free to use and offers a high level of security, thanks to the foundational engineering work conducted by the core team and comprehensive security audits performed by reputable blockchain audit firms, PeckShield and CertiK.
Michael Semin, the CTO of ReHold, remarks, "In the realm of DeFi, we believe simplicity and security should go hand in hand. With the introduction of our Swap feature, we're not just adding another tool; we're elevating the user experience to a new level of ease and trust."
ReHold's growth has been nothing short of remarkable. Most notably, the team recently achieved a total trading volume exceeding $200,000,000, emphasizing its influence within the DeFi sector and across the broader cryptocurrency market.
Creating a Comprehensive DeFi Ecosystem
ReHold adding Swaps is a significant step toward creating a comprehensive DeFi ecosystem. It offers DeFi traders a hassle-free trading experience backed by cutting-edge technology, liquidity, and a commitment to excellence.
About ReHold
ReHold, an innovative DeFi protocol, offers the first Dual Investments in the sector. It guarantees high returns by strategically managing price ranges in DEXs' Liquidity Pools for concentrated liquidity. This approach enables substantial earnings from short-term trades, optimizing investment returns within 12- or 24-hour hours.
Website | Twitter | Whitepaper | CertiK Audit | Galxe | Telegram | Discord | Medium | CMC | Trustpilot | Documentation | GitHub
Disclaimer: The information provided in this press release is not a solicitation for investment, or intended as investment advice, financial advice, or trading advice. It is strongly recommended that you practice due diligence (including consultation with a professional financial advisor) before investing in or trading securities and cryptocurrency.

CONTACT: For media inquiries: 
Renat Gafarov
support-at-rehold.io