Building the Future of Online Gambling with $SCORP
New York, NY, Sept. 04, 2023 (GLOBE NEWSWIRE) -- SCORPION is the Future Leading Crypto Gambling Platform. Providing more than 30'000 bet opportunities monthly, 210 casino games, and 160 live games.

Over $900,000 Raised with already 2400+ Participants!
Huge Market Opportunity
Scorpion Casino aims to become the leading platform in the global online betting market, worth $59.2 Billion annually.
THE GLOBAL ONLINE GAMBLING MARKET SIZE WILL BE WORTH $145.6 BILLION BY 2030.
Scorpion Casino lets you dive into a new realm of live dealer casino gaming with a fun, fast, provably fair, and immersive gaming experience.
What is SCORPION CASINO?
The SCORPION ecosystem is your one-stop-shop for online gambling, powered by the $SCORP token. With over 30,000 monthly betting opportunities, 210 casino games, and 160 live games, there's no shortage of thrilling options. Plus, our licensed, transparent, and provably fair platform ensures a secure and trustworthy gaming experience for all.
WHAT IS $SCORP Token?
More than a simple Casino Token
The $SCORP token is the one-stop token that will facilitate all forms of gambling with a licensed, transparent, and provably fair crypto platform. It comes with different advantages and use cases. Crypto casinos are booming, and it's your turn to benefit.

Play with $SCORP on Scorpion Casino
Earn passive income for holding $SCORP
Receive weekly bonuses and free games
Participate in our affiliate reward system
Plus many more exciting features!
Get in on the action and experience the benefits of the $SCORP token for yourself. Join the SCORPION community today!

Tokenomics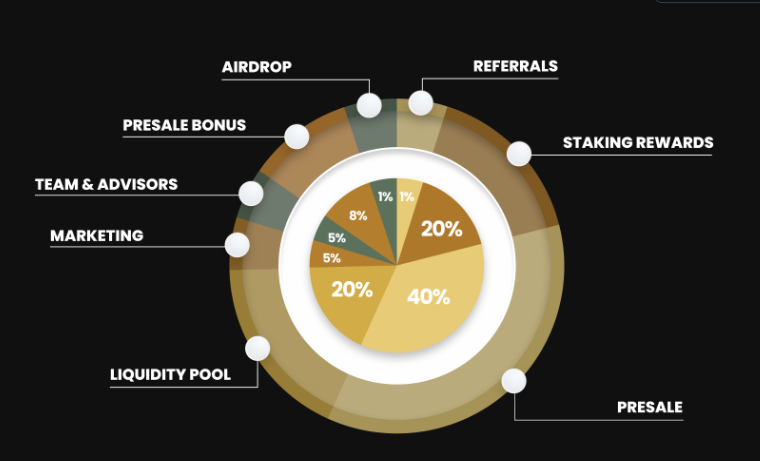 HOW DOES IT WORK?
Curious about how the Scorpion Casino ecosystem works? Here's a simplified explanation.
Scorpion Casino is a global Crypto Casino and Sports Betting platform generating daily revenue. This income drives the growth of the $SCORP Token through an integrated daily Buy-Back, Burn and Reward System.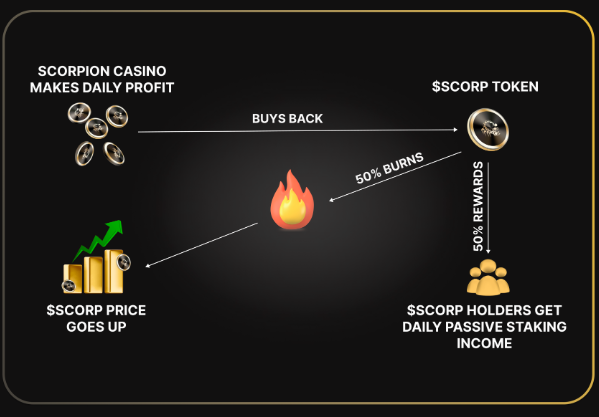 HOW DOES IT WORK
Step 1: Buy Back
The Scorpion Casino smart contract buys $SCORP tokens daily from public exchanges using a part of its profits. During this process the price of $SCORP goes automatically up.
Step 2: Burn
The Scorpion Casino smart contract automatically burns half of the $SCORP tokens that it purchases daily. This process reduces the circulating supply of $SCORP tokens, which makes the remaining tokens more valuable.
Step 3: Reward
The Scorpion Casino smart contract automatically transfers half of the $SCORP tokens it purchases daily to the staking pool. This staking pool daily distributes rewards to $SCORP holders based on the number of tokens they hold, generating daily profits for them.
ONLINE GAMBLING IS THE FUTURE
Gambling is one of the oldest and most lucrative industries in the history of mankind and digitization is just the next logical step. People have been gambling for the last 3,000 years, regardless of location, time, or market conditions. Gambling is hard-wired in human psychology. This makes an online gambling platform one of the most interesting opportunities to generate cash flow with passive staking income, and build long-term wealth.
For more information, visit Website | Twitter | Telegram | Linktr.ee |
Disclaimer: The information provided in this press release is not a solicitation for investment, or intended as investment advice, financial advice, or trading advice. It is strongly recommended that you practice due diligence (including consultation with a professional financial advisor) before investing in or trading securities and cryptocurrency.
CONTACT: Jack K Scott
Scorpion Casino
info-at-scorpion.casino