CALIFORNIA CITY , CA, July 27, 2023 (GLOBE NEWSWIRE) -- In an era marked by digital expansion, the innovative blockchain venture, Soteria, embarks on a daring journey to cultivate a self-sustaining ecosystem dedicated to safeguarding the volatile world of cryptocurrencies. As the world's first-ever blockchain-driven law enforcement agency, Soteria spearheads a radical shift in cryptocurrency protection – a transformative epoch integrating community-led action with entrepreneurial investment.

At the heart of Soteria's operations is Gotham, their exclusive platform that employs a multi-faceted strategy to reshape the ever-evolving cryptocurrency landscape. As a pioneer in this field, Soteria's mission revolves around empowering up-and-coming entrepreneurs with essential resources for successful business ventures while ensuring robust protection for investors against the prevalence of scams, fraud, and other cybercrimes lurking in the corners of the crypto domain.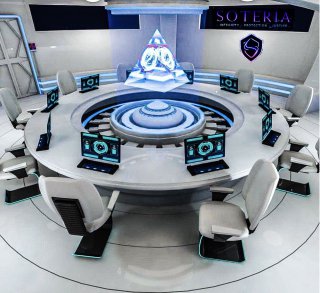 In its unyielding drive to safeguard investors and inspire entrepreneurship, Soteria announces the strategic acquisition of Hyperion. This profit-driven firm has generated a staggering $9 million within three years. This noteworthy consolidation amplifies the organization's reach and credibility.
Embracing a progressive approach, Soteria proudly unveils the world's first-ever Hold2Earn (H2E) business model within the crypto sector. Holders of the company's indigenous token, CIA (Crypto Intelligence Agency), are promised stable monthly profits drawn from 25% of the total monthly profit distributions across every revenue channel under the Soteria-Hyperion alliance, both current and future. The H2E benefits kick in immediately following the outset of the ICO/Presale, once Phase 1 has been completed. Distributions are proportional to the amount of $CIA tokens an investor holds. An investor with 10% of $CIA would receive 10% of the payout. This groundbreaking model signifies a momentous shift in crypto investment norms, offering holders tangible value and real-world returns.
Reflecting its unwavering commitment to supporting entrepreneurs, Soteria introduces an Elevation-Zone, a pioneering platform designed to secure funding and resources for nascent business owners. Dubbed the blockchain equivalent of the popular TV show "Shark Tank," this unique platform endorses crypto projects and conventional businesses, simplifying tokenizing real-world assets and services.
The CIA token is positioned at the nucleus of Soteria's efforts, meticulously designed to protect diligent, law-abiding ICO/Presale community investors from fraudulent schemes. To fortify its cyber defense, Soteria has assembled an elite team of in-house hackers, computer programmers, and law enforcement professionals to neutralize such malicious activities. This bold initiative paves the way toward a future of enhanced accountability and security in the volatile realm of cryptocurrencies.
Soteria's innovative profit distribution model is another unique facet, providing monthly FIAT profit payments to CIA token holders. The investors are entitled to share 25% of all revenue accrued under the Soteria brand, establishing an official legal partnership with the firm. These profit distributions can be meticulously tracked via the "Partners Portal," infusing a layer of transparency and fostering investor confidence.
Soteria represents a landmark achievement within the crypto industry, meticulously blending safety, profitability, and entrepreneurial spirit to form a more secure, inclusive foundation for the broader crypto ecosystem. Investors, entrepreneurs, and crypto enthusiasts can discover more about Soteria's revolutionary endeavors at Soteriapreico.net

In its essence, Soteria is a trailblazer – the world's first blockchain-based law enforcement agency that is relentlessly working towards constructing a safe, profitable, entrepreneur-centric ecosystem. Soteria's proprietary platform, Gotham, is enhanced by its partnership with the established firm Hyperion and employs a unique Hold2Earn (H2E) business model that offers monthly profit payouts to CIA token holders. By fostering an environment of security and growth, Soteria is reshaping the crypto landscape with an unwavering mission to eradicate scams and promote the development of budding businesses.
Soteria extends a warm invitation to investors to contribute to this unparalleled initiative. Its mission to combat scams led them to partner with Assure DeFi. Assure DeFi's rigorous screening and fraud pursuit have made them the verification gold standard. 
Soteria is hosting a grand giveaway for their "holders" and prospective investors to commemorate the pre-ICO and ICO-presale phases. Four fortunate "holders" will stand a chance to receive a generous $250,000 check or become the proud owner of a brand-new Lamborghini. The entire giveaway process will be live-streamed to maintain transparency, from selecting winners to distributing the prizes. Two of the prizes will be given away to the top two $CIA holders and the other two will be chosen at random. 
Join Soteria to contribute to a safer digital landscape and stand a chance to win life-altering prizes. Help them wage war against scams and enjoy the journey. Ready to make a tangible difference and possibly enrich your life? Join Soteria, and let's pioneer a secure crypto future together.
https://t.me/SoteriaAllianceOfficial
https://twitter.com/@SoteriaAlliance
https://instagram.com/soteriaallianceofficial?igshid=MjEwN2IyYWYwYw==
https://www.soteriapreico.net/

Joshua Lowe FounderCEO@SoteriaAlliance.com

Sten Wie, sten@assuredefi.com


Disclaimer: The information provided in this press release is not a solicitation for investment, or intended as investment advice, financial advice, or trading advice. It is strongly recommended that you practice due diligence (including consultation with a professional financial advisor) before investing in or trading securities and cryptocurrency.

CONTACT: Joshua Lowe (SOTERIA)
FounderCEO@SoteriaAlliance.com
Sten Wie( Assure DeFi) 
sten@assuredefi.com