Prague, Czech Republic, March 03, 2023 (GLOBE NEWSWIRE) -- Stackswap, a growing decentralized platform on Bitcoin, is pleased to announce its listing on Bittrex Global Exchange. Bittrex is a popular cryptocurrency exchange that provides fast and secure trading of a wide range of digital assets. It offers advanced trading tools and features and is known for its strong commitment to security and compliance.
"We're excited to partner with Bittrex Global and offer our users a seamless trading experience with access to even more liquidity," said Stackswap CEO, Sungmin Aum. "Our goal has always been to make DeFi accessible to everyone while keeping with the original philosophies and values, and this listing brings us one step closer to achieving that goal."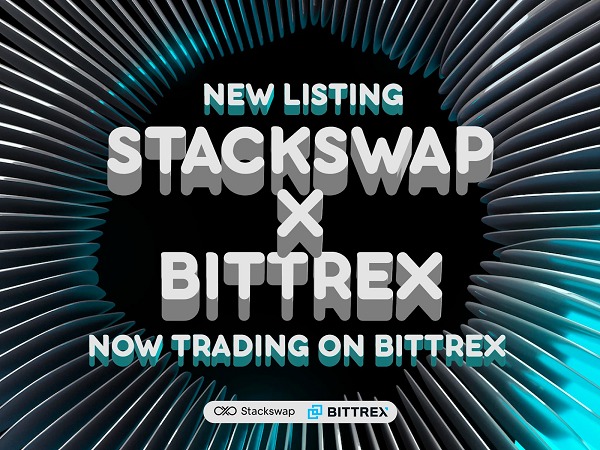 Stackswap is a decentralized crypto-based exchange and marketplace for crypto investors of all skill levels, adhering to the principles of crypto and providing financial investment products for the DeFi (decentralized finance) sector. On the Bitcoin Network, Stackswap uses the Stacks blockchain to create and trade tokens. Stackswap plans to reach its target market by being the go-to DEX for successful Web 2.0 models to transition to Web 3.0, as well as creating a fully on-chain orderbook DEX.
While the more popular current models use a hybrid on- and off-chain system, Stackswap is committed to creating a fully on-chain model by taking advantage of multi-chain capabilities that will link chains like Ethereum and Polygon with Stacks and ultimately Bitcoin. This will be done in order to uphold the platform's decentralization ethos.
A larger pool of traders and investors will be able to access Stackswap thanks to its listing on Bittrex Global, which will boost its exposure and liquidity. Furthermore, because Bittrex Global is renowned for its strict listing requirements, dedication to security, and compliance, it will increase user confidence in the platform.
Stackswap helps users take advantage of AI by providing price forecasts and suggesting optimal order prices and amounts is an innovative way to leverage the power of artificial intelligence in the cryptocurrency market.
The analysis of enormous quantities of data by AI can reveal patterns and trends that humans might find challenging or impossible to notice. Price forecasts and other information that could assist traders in making wiser investment choices can be produced by applying AI algorithms to data from the cryptocurrency market.
In addition, Stackswap was developed for users looking for an environment to connect with businesspeople who have intriguing ideas. Entrepreneurs can also turn to Stackswap for a speedy, code-free way to launch their projects and gain access to prospective investors who are already using the platform.
Stackswap platform offers a range of features for individuals and organizations looking to venture into crypto space this includes: 
The Token Launchpad: Offers a simple method for new projects to tokenize their assets and launch their own tokens, is one of the platform's most fascinating features.


By offering a variety of tools and resources to aid new projects in getting off the ground, the StackSwap Token Launchpad is intended to streamline the process of launching a new token. The platform provides users with an intuitive user interface that walks them through the process of developing a new token, from setting up the smart contract to minting the initial quantity.
Companies that want to transition from Web 2.0 to Web 3.0 can easily take the necessary steps with Stackswap's Token Launchpad, so as not to get left behind by the business models of the future. Stackswap can advise companies that plan on transitioning to a more decentralized model.
For early-stage entrepreneurs to quickly launch their projects, the Token Launchpad allows entrepreneurs to save time, and perhaps more importantly, money. By offering a pre-audited token that can launch in minutes, Stackswap's Launchpad cuts down hours of work and potentially hundreds of thousands of dollars in development fees, not to mention the cost of auditing token contracts to ensure safety.
The Stackswap Token Launchpad offers a variety of pre-built templates and customization options, enabling users to quickly and easily create tokens that meet their unique requirements. This is one of the tool's biggest benefits. This enables new projects to start their tokens without needing a lot of technical expertise or knowledge.
Swap: Swapping your tokens in pools with their automated market maker (AMM). AMMs are protocols built on smart contracts that make it possible to trade one token for another without the use of a centralized exchange.

Pool: Pool your tokens to earn transaction fees from a percentage of total trading volume. If you deposit 10% of the total tokens in a pool, you would earn 10% of the trading fees allocated for the liquidity providers of the pool in the Stackswap DEX. These fees are usually paid out in the form of the Stackswap DEX's native token STSW or the token that is being traded in the pool.

Farming: Farm by locking in LP tokens for extra rewards paid in STSW. When users lock in LP (liquidity provider) tokens, they are effectively staking tokens in a liquidity pool on Stackswap decentralized exchange (DEX). By doing this, they are helping to provide liquidity to the market and earn a portion of the trading fees generated by the Stackswap DEX.

Staking: STSW tokens for governance (vSTSW) tokens, as well as additional STSW rewards. When users stake STSW tokens, they are locking them up in a smart contract for a set period of time. In return, they receive vSTSW tokens, which represent a share of the governance rights of the STSW protocol.

NFTs: Mint NFTs generated by Stackswap's AI deep-learning machine. Minting NFTs generated by the AI deep-learning machine offers several advantages over traditional NFTs. For example, the process produces highly unique digital assets that are difficult or impossible to replicate, increasing their value and desirability. Additionally, these AI-generated NFTs can be created more quickly and efficiently than traditional NFTs, allowing for greater scalability and accessibility.


Stackswap, a leading decentralized platform, aims to make DeFi accessible to everyone and expand its exposure and liquidity. With its focus on decentralization, innovation, and user-friendliness, Stackswap is poised to make significant strides in the DeFi sector.
About Stackswap
Stackswap is a decentralized platform for buying, selling, and exchanging tokens. The platform offers a range of features designed to simplify the process of creating and managing tokens, including a Token Launchpad for new or existing projects to easily start their own tokenized projects. The STX token is used to power transactions on the platform and to incentivize users to participate in the network.
More on Stackswap
Website: http://app.stackswap.org

Discord: http://discord.gg/stackswap

Twitter: https://twitter.com/Stackswap_BTC

CONTACT: Media Contact: communication(at)stackswap.org
Company: Stackswap

PR Contact: Arpita Karmakar
Website: https://newscoverage.agency/
Email: touch(at)newscoverage.agency
Telegram: @Arpita_nca